Minister of Tourism meets with island authorities; plans discussed on how to improve tourism product
Friday, May 7th, 2021
The Minister of Tourism and Diaspora Relations, Honourable Anthony Mahler, visited San Pedro Town on Wednesday, May 5th, where he met with Area Representative the Honourable Andre Perez and Mayor Gualberto 'Wally' Nuñez to discuss the tourism needs of the island and how to deal with the Sargassum influx. Mahler has been touring the different tourism areas across the country. His stop on the La Isla Bonita emphasized the need for a plan to continue growing tourism at this popular destination.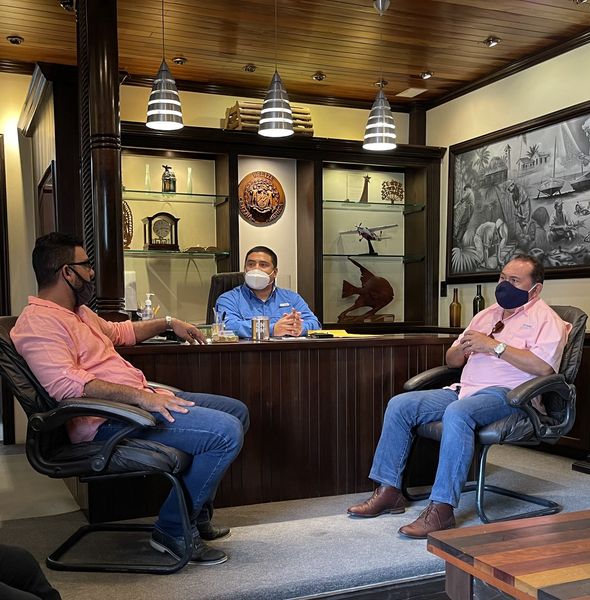 Mayor Nuñez, Perez, and Mahler spoke behind closed doors to address the many issues. San Pedro is considered critical to the Belizean economy; thus, a plan to re-start the tourism economy is imperative. According to Mahler, one way to approach the challenge is by creating financial assistance for tourism businesses. He said that there would be grants for micro and medium-sized enterprises. These grants will be made available through the Belize Tourism Board in collaboration with the Inter-American Development Bank. Mahler said that when the small grant program is up and running, information will be disseminated on how and where stakeholders can submit a proposal for financial assistance.
Another issue discussed was implementing new sustainable tourism plans by the San Pedro Town Council and preparations for the re-opening of land borders. There were no details available about the discussion regarding these two topics during the meeting.
Sargassum issue under control for now
Since March, the influx of Sargassum has decreased, giving property owners and the San Pedro Sanitation Department an advantage to keep up with the invasion of the brown seaweed. The San Pedro Town Council has been tackling the issue daily, keeping the sandy shores free of the brown algae. They have even introduced a beachcomber machine to lift the seaweed and load it onto trucks.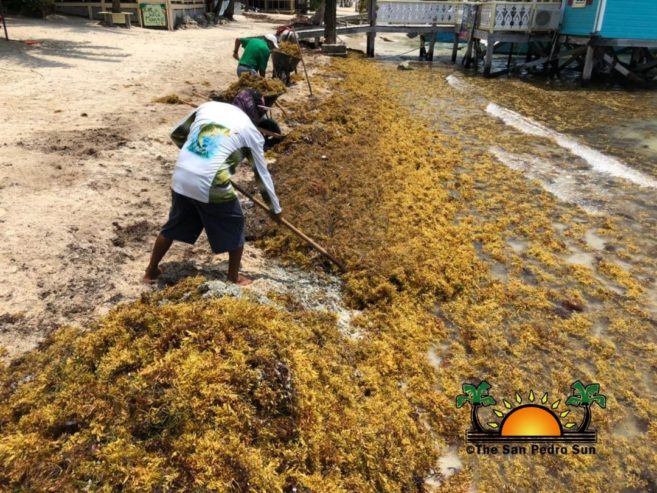 The beaches are now in better condition than some weeks ago when they were choked with the macro-algae. The sight and smell of the accumulated Sargassum on the beach diminishes the beach experience. It is essential to not let the guard down and keep as much of the Sargassum off the shores visited by tourists and Belizeans alike.
After the meeting, Mahler and his team and island counterparts visited several areas of interest in San Pedro. The tourism minister found this tour useful and gained a deeper insight into how his ministry can collaborate with the island authorities to improve the infrastructure and tourism product on Ambergris Caye.
Follow The San Pedro Sun News on Twitter, become a fan on Facebook. Stay updated via RSS