Three Perfect Three Days in Belize through the eyes of travel writer Ali Wunderman
Monday, April 26th, 2021
Next time you fly with United Airlines, do not forget to check out the recent publication of their in-flight magazine, Hemispheres featuring Belize. The Jewel was chosen for the 'Three Perfect Days' article written by none other than well-known travel writer and Belize's greatest fan Ali Wunderman. The review highlights Ambergris Caye, the Cayo District, and Placencia in southern Belize.

Wunderman's admiration for this beautiful former British Colony inspired her to write a unique article intended to provide the traveller with some of the best itineraries within three days. She introduces Belize to readers as "…a place that evades stereotypes. It is neither completely Central American (the national language is English) nor entirely Caribbean (it seems as though there are no all-inclusives in sight). Rather, this tiny country of 400,000 people finds its footing in its diversity, blending the customs, cuisines, and communities of people from Maya, Kriol, Garifuna, and Mestizo backgrounds, to name just a few." In her introduction, she writes about the landscape, the seas, the dense rainforest, the archaeological sites, and networks of caves. She says that because of Belize's unshakable commitment to conservation, wildlife is found everywhere, which is why Belize is home to the largest concentration of jaguars in the world.
To write the piece, Wunderman travelled to Belize. This is not her first visit to the Jewel, and she was delighted to be back. Wunderman is so in love with Belize that she looks forward to retirement in this beautiful country in the future. She told The San Pedro Sun that writing 'Three Perfect Days in Belize' cover story for Hemispheres was such a fun assignment. "I got to return to Belize after the pandemic kept me away for over a year," she said. "Even though things have changed, I was inspired by the resilience and good attitude of the Belizean people, who are preserving and exploring creative new avenues instead of giving up. Times are tough, but Belizeans are tougher." Wunderman said that she wanted to allow readers to explore the places they are most like to go to, San Pedro Town, San Ignacio Town, and Placencia. Her goal was to inspire readers as much as Belize inspires her and give them a taste of how coming to Belize fulfils her spiritually.
The Three Days
Day 1 Hemispheres' article describes Wunderman's visit to San Pedro Town, Ambergris Caye. She awakes at the beautiful Matachica Resort and Spa north of San Pedro. Her visit takes her to the Belizean Melody Art North Gallery, where the talent of local art can be appreciated. The Belize Foods Tour was another fantastic experience as Felipe Paz guided her to sample delicacies from the various restaurants in downtown San Pedro.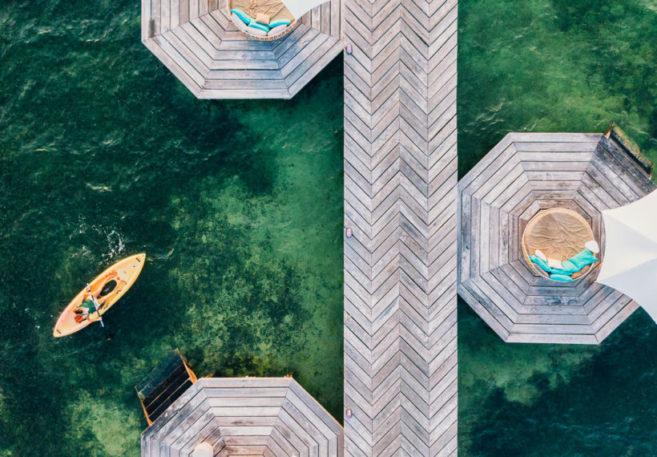 Snorkeling along the second largest barrier reef in the world is a must when in Ambergris Caye. Wunderman mingled with the unique sea life at Mexico Rocks Reserve and swum with green sea turtles, dragon-toothed barracudas, spotted eagle rays, and nurse sharks. Later in the day, Wunderman hit the Truck Stop, north of San Pedro, a shipping container food park for dinner. The food choices vary from Malaysian chicken wings to fish tacos and honey pizza pie. To top it off before retreating for the night, a drink and a taste of fine tobacco at Havana Cigars was in order at the heart of San Pedro Town.
Day 2 sees Wunderman flying over to the mainland in a puddle jumper. As she makes her way to the mountainous western Cayo District, a stop is made at the Belize Zoo. "I'm especially entranced by Da Queen and Panama, a pair of massive harpy eagles that look like holdouts from the Jurassic period," writes Wunderman. After the stop at the zoo, the road trip continues until she was dropped off at the San Ignacio Resort. An upscale boutique property overlooking San Ignacio Town, Cayo. Wunderman gets to one of Belize's most popular towns on a Saturday. This is an excellent time to head to the San Ignacio market featuring open-air stalls with infinite options of Belizean products. "The diversity of produce astounds me; locals casually pick up various fruits that I couldn't even begin to name," she writes.
Next, a visit to the Maya site Cahal Pech, which is within town limits up in the hills. "It's like passing through a portal to a thousand years in the past," Wunderman says. To finish the day, along with a friend, they head to the Mountain Pine Ridge Forest Reserve, where they visit Big Rock Falls. The scenery is spectacular, a beach of gigantic boulders at the base of the 150-foot waterfall. Wunderman even manages to get a back massage from the cascading waterfall.  She described the feeling as soothing and invigorated at once.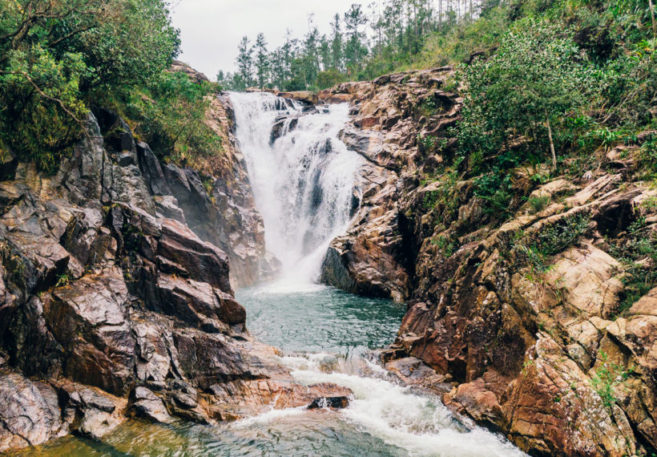 After spending a day in scenic San Ignacio, Wunderman is up for a birding adventure on the third day with guide Roni Martinez. The next stop is Black Rock Lodge, still in the Cayo District. On the way there, they see two keel-billed toucans-Belize's national bird. After enjoying some delicious Belizean breakfast of fry jacks and coffee, they head out to try to spot some feathery friends. The birdwatching yields a surge of winged creatures, including a red capped manakin and a flock of aracari. Martinez names each one of the birds zipping by. He can even fire off names by listening to their twitting when they are out of sight.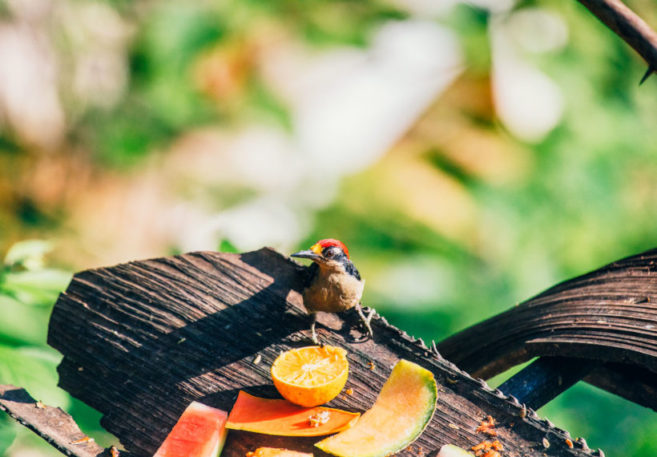 Following the amazing birding experience, it is time to return to San Ignacio to check out. A guide from Belizing takes her to southern Belize to the Placencia Peninsula. This area of the country is known for its sandy beaches dotted with elegant hotels and the slow pace of coastal village. The drive to Placencia takes you through the country's most picturesque Hummingbird Highway. Along the way, you can make a pit stop for some delicious homemade ice cream at The Country Barn. Another must-do grub place along this highway is Miss Bertha's Best Belizean 'Fyah Haat' tamales.
In Placencia, Wunderman stayed at Francis Ford Coppola's Turtle Inn beachside resort. After checking in, she joins Melvin Arevalo, the hotel's ornithologist, and goes looking for scarlet macaws. They travelled to the Maya village of Red Bank to find at least 30 of the colorful parrots. "From the lookout, I watch as pairs of them soar majestically across the valley," Wunderman writes.
At the end of the third day, Wunderman returns to Placencia and joins a lagoon tour, and winds down with a glass of Sophia's Rose. The tour leads to the newly opened Placencia Yacht Club to ideally observe the last rays of the day. "The sunshine, wildlife, and good vibes of the past few days have brought out the best in me," Wunderman says.
She ends the three perfect days toasting to another beautiful adventure with Belize's beer-Belikin.
Read the whole article by clicking here: https://www.hemispheresmag.com/three-perfect-days-belize/
Follow The San Pedro Sun News on Twitter, become a fan on Facebook. Stay updated via RSS