Minister of National Defence Receives Distinguished Service Medal from Louisiana National Guard
Saturday, September 23rd, 2023
On September 22, 2023, Hon. Florencio Marin, Jr., Minister of National Defence and Border Security, was awarded the Louisiana Distinguished Service Medal by Major General Keith Waddell, Adjutant General of the Louisiana National Guard.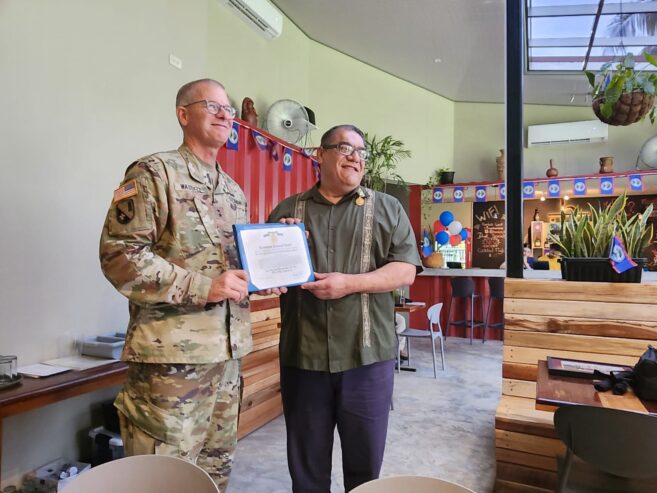 The citation reads "𝘧𝘰𝘳 𝘦𝘹𝘤𝘦𝘱𝘵𝘪𝘰𝘯𝘢𝘭𝘭𝘺 𝘮𝘦𝘳𝘪𝘵𝘰𝘳𝘪𝘰𝘶𝘴 𝘴𝘦𝘳𝘷𝘪𝘤𝘦 𝘪𝘯 𝘤𝘰𝘰𝘱𝘦𝘳𝘢𝘵𝘪𝘰𝘯 𝘸𝘪𝘵𝘩 𝘵𝘩𝘦 𝘓𝘰𝘶𝘪𝘴𝘪𝘢𝘯𝘢 𝘕𝘢𝘵𝘪𝘰𝘯𝘢𝘭 𝘎𝘶𝘢𝘳𝘥 𝘚𝘵𝘢𝘵𝘦 𝘗𝘢𝘳𝘵𝘯𝘦𝘳𝘴𝘩𝘪𝘱 𝘗𝘳𝘰𝘨𝘳𝘢𝘮. 𝘛𝘩𝘦 𝘏𝘰𝘯𝘰𝘳𝘢𝘣𝘭𝘦 𝘍𝘭𝘰𝘳𝘦𝘯𝘤𝘪𝘰 𝘔𝘢𝘳𝘪𝘯'𝘴 𝘭𝘦𝘢𝘥𝘦𝘳𝘴𝘩𝘪𝘱 𝘪𝘯 𝘵𝘩𝘦 𝘔𝘪𝘯𝘪𝘴𝘵𝘳𝘺 𝘰𝘧 𝘕𝘢𝘵𝘪𝘰𝘯𝘢𝘭 𝘋𝘦𝘧𝘦𝘯𝘤𝘦 𝘢𝘯𝘥 𝘉𝘰𝘳𝘥𝘦𝘳 𝘚𝘦𝘤𝘶𝘳𝘪𝘵𝘺 𝘪𝘯 𝘉𝘦𝘭𝘪𝘻𝘦 𝘴𝘵𝘳𝘦𝘯𝘨𝘵𝘩𝘦𝘯𝘦𝘥 𝘵𝘩𝘦 𝘱𝘢𝘳𝘵𝘯𝘦𝘳𝘴𝘩𝘪𝘱 𝘸𝘪𝘵𝘩 𝘵𝘩𝘦 𝘓𝘰𝘶𝘪𝘴𝘪𝘢𝘯𝘢 𝘕𝘢𝘵𝘪𝘰𝘯𝘢𝘭 𝘎𝘶𝘢𝘳𝘥. 𝘏𝘪𝘴 𝘥𝘦𝘥𝘪𝘤𝘢𝘵𝘪𝘰𝘯 𝘵𝘰 𝘦𝘹𝘤𝘦𝘭𝘭𝘦𝘯𝘤𝘦, 𝘱𝘳𝘰𝘧𝘦𝘴𝘴𝘪𝘰𝘯𝘢𝘭𝘪𝘴𝘮, 𝘢𝘯𝘥 𝘭𝘦𝘢𝘥𝘦𝘳𝘴𝘩𝘪𝘱 𝘩𝘢𝘷𝘦 𝘣𝘦𝘦𝘯 𝘪𝘯𝘴𝘵𝘳𝘶𝘮𝘦𝘯𝘵𝘢𝘭 𝘪𝘯 𝘵𝘩𝘦 𝘰𝘷𝘦𝘳𝘢𝘭𝘭 𝘴𝘶𝘤𝘤𝘦𝘴𝘴 𝘰𝘧 𝘵𝘩𝘦 𝘓𝘰𝘶𝘪𝘴𝘪𝘢𝘯𝘢 𝘕𝘢𝘵𝘪𝘰𝘯𝘢𝘭 𝘎𝘶𝘢𝘳𝘥'𝘴 𝘴𝘵𝘢𝘵𝘦 𝘱𝘢𝘳𝘵𝘯𝘦𝘳𝘴𝘩𝘪𝘱 𝘱𝘳𝘰𝘨𝘳𝘢𝘮. 𝘛𝘩𝘦 𝘏𝘰𝘯𝘰𝘳𝘢𝘣𝘭𝘦 𝘔𝘳. 𝘔𝘢𝘳𝘪𝘯'𝘴 𝘢𝘤𝘵𝘪𝘰𝘯𝘴 𝘢𝘳𝘦 𝘪𝘯 𝘬𝘦𝘦𝘱𝘪𝘯𝘨 𝘸𝘪𝘵𝘩 𝘵𝘩𝘦 𝘧𝘪𝘯𝘦𝘴𝘵 𝘵𝘳𝘢𝘥𝘪𝘵𝘪𝘰𝘯𝘴 𝘰𝘧 𝘮𝘪𝘭𝘪𝘵𝘢𝘳𝘺 𝘴𝘦𝘳𝘷𝘪𝘤𝘦 𝘢𝘯𝘥 𝘳𝘦𝘧𝘭𝘦𝘤𝘵 𝘨𝘳𝘦𝘢𝘵 𝘤𝘳𝘦𝘥𝘪𝘵 𝘶𝘱𝘰𝘯 𝘩𝘪𝘮𝘴𝘦𝘭𝘧, 𝘵𝘩𝘦 𝘔𝘪𝘯𝘪𝘴𝘵𝘳𝘺 𝘰𝘧 𝘕𝘢𝘵𝘪𝘰𝘯𝘢𝘭 𝘋𝘦𝘧𝘦𝘯𝘤𝘦 𝘢𝘯𝘥 𝘉𝘰𝘳𝘥𝘦𝘳 𝘚𝘦𝘤𝘶𝘳𝘪𝘵𝘺, 𝘵𝘩𝘦 𝘓𝘰𝘶𝘪𝘴𝘪𝘢𝘯𝘢 𝘕𝘢𝘵𝘪𝘰𝘯𝘢𝘭 𝘎𝘶𝘢𝘳𝘥, 𝘢𝘯𝘥 𝘵𝘩𝘦 𝘚𝘵𝘢𝘵𝘦 𝘰𝘧 𝘓𝘰𝘶𝘪𝘴𝘪𝘢𝘯𝘢."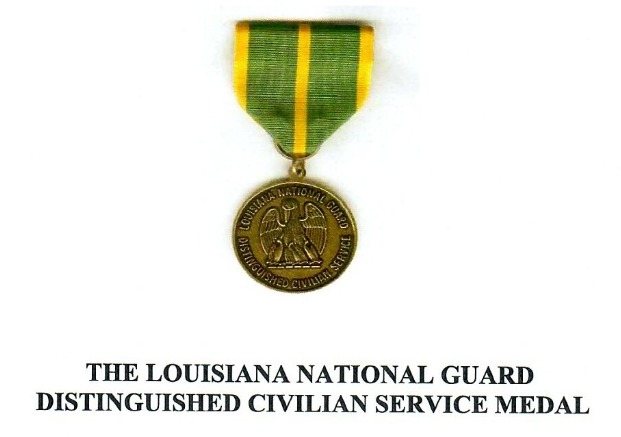 The Belize/Louisiana State Partnership Program commenced some 26 years ago and continues to grow strength to strength. The program has assisted in fostering great professionalism for the Belize Defence Force and Belize Coast Guard through training and subject matter expertise exchanges.
Minister Marin expressed his gratitude for the honor bestowed on him and for the stellar friendship and camaraderie established with the Louisiana National Guard.
Follow The San Pedro Sun News on Twitter, become a fan on Facebook. Stay updated via RSS