The EU, PAHO/WHO and MoH expand COVID-19 laboratory testing and support Community Health Workers
Tuesday, October 27th, 2020
For the past four months, the European Union (EU) and the Pan American Health Organization/World Health Organization (PAHO/WHO) have been supporting the COVID-19 response in Belize. The reorientation of funds from the "Health Sector Support Programme Belize" project is enhancing the Ministry of Health's capacity to conduct decentralized COVID-19 testing, improving infection prevention and control, and supporting the delivery of health services at the community level. As a result, hundreds of posters have been printed and distributed, radio and television campaigns are airing, and two autoclaves are being procured for medical waste management.
In an effort to rapidly diagnose persons with COVID-19 and decrease the time for laboratory results, the EU-PAHO/WHO collaboration donated seven (7) SD Biosensors F200 Rapid Diagnostic Test (RDT) Analyzers and 400 RDT Standard antigen test kits.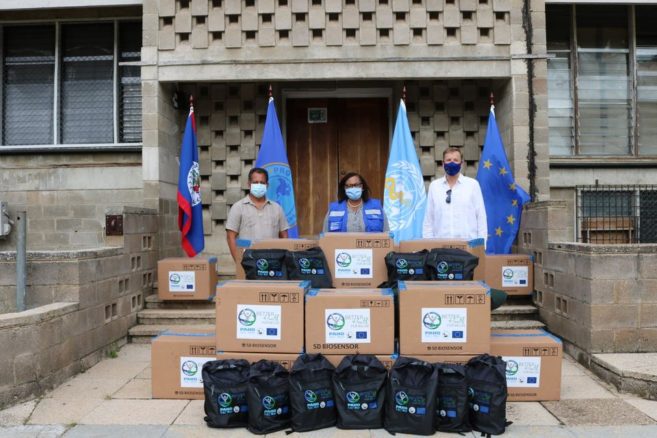 PAHO Director Dr. Carissa F. Etienne, recently described the efficiency expected from the new technology, "By providing results quickly, the new test empowers frontline health workers to better manage cases by isolating patients to prevent further spread…"
Until recently, the diagnosis of COVID-19 has only been possible in areas that have molecular testing, such as the Central Medical Lab in Belize City. However, with the SD Biosensor antigen rapid tests, testing could be available in all the districts.
As expressed by Mr. Juvencio Chan, Senior Medical Technologist and Clinical Laboratory Supervisor at the Central Medical Laboratory, "SARS-CoV-2 Antigen Rapid Test will assist in screening at-risk populations for timely laboratory diagnosis to ensure rapid patient management response from our health care system."
To improve working conditions and ensure the safety of laboratory personnel, 20 fire extinguishers, 19 smoke detectors, two sets of emergency shower with eyewash have also been procured for the CML, as per recommendations from previous site assessments.
Both the EU, PAHO/WHO, and MoH recognize the need to respond to the demands created by COVID-19 while, at the same time, maintaining access to healthcare, especially for persons suffering from non-communicable diseases like hypertension and diabetes mellitus. The collaborative effort is supporting an initiative that empowers Belize's team of 230 Community Health Workers (CHW) to provide basic health services such as blood pressure and glucose monitoring. The CHW network constitutes an alternative strategy for the continued delivery of health services during the pandemic. The programme, which involves training and equipping Community Health Workers to conduct outreach in their villages, is today receiving a donation of 230 CHW work kits containing non-contact thermometers, stethoscopes, glucometers with strips and lancets, and first aid kits.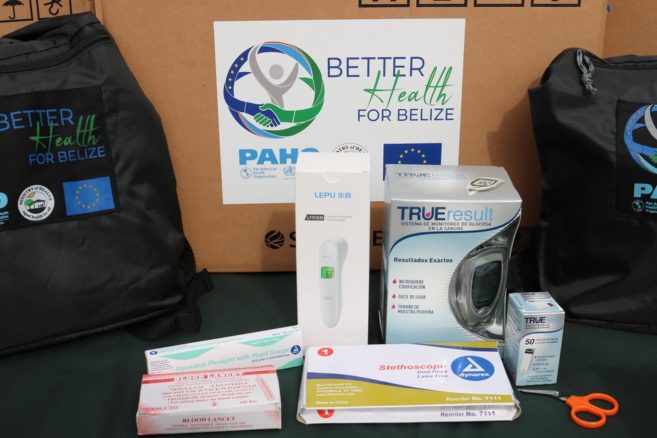 In addition, 100 pulse oximeters have been procured under this project and will be donated to the Ministry of Health for case management and patient follow-up.
Fredrik Ekfeldt, the Deputy Head of Mission of the European Union Delegation, spoke to the partnership that is supporting Belize's response to COVID-19:
"As we work together to tackle the unprecedented challenge posed by COVID-19, it is so important for us to do all we can to provide the relevant health services needed to preserve lives. This is why the EU is pleased to support this project that will ensure easy and expanded access to laboratory and other medical services for improved infection prevention and control."
About PAHO/WHO
The Pan American Health Organization (PAHO) works with the countries of the Americas to improve the health and quality of life of its population. Founded in 1902, it is the world's oldest international public health agency. It serves as the Regional Office of WHO for the Americas and is the specialized health agency of the Inter-American system. For further information please contact Zenena Moguel, Communications Consultant at [email protected], or visit paho.org/en/belize.
LINK TO PHOTOS: https://flic.kr/s/aHsmRKVM2k
Follow The San Pedro Sun News on Twitter, become a fan on Facebook. Stay updated via RSS