Island pets win fabulous prizes at this year's Spooktacular Halloween Party
Wednesday, November 7th, 2018
The Saga Humane Society in San Pedro Town celebrated its 15th annual Halloween Spooktacular Party on Sunday, November 4th, highlighting cute island pets dressed in creative outfits. The pet- friendly event, which serves as an opportunity to raise much-needed funds for Saga, took place at the Fido's Courtyard Restaurant and Bar. The fun activity included silent auctions, raffles, drinks, food, giveaways, and fabulous prizes for the best pet Halloween outfits.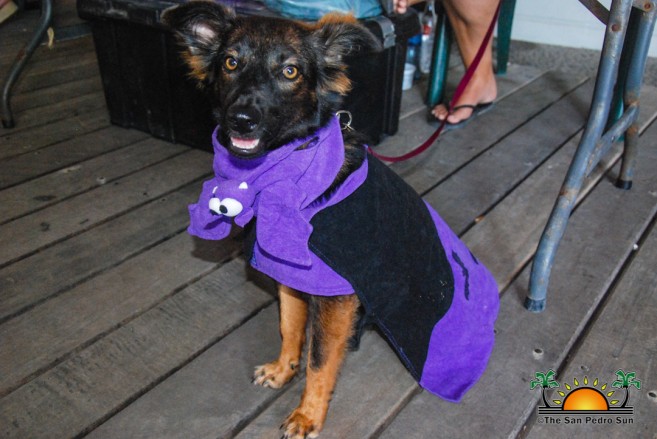 The celebration began at 11AM, with patrons visiting the different booths. Saga had set up, bidding on silent auction items, buying raffle tickets and even grabbing a bite and souvenirs. Every hour or so, organizers would raffle prizes, and lucky winners walked away with golf cart rentals, meals at various restaurants, bar tabs and much more.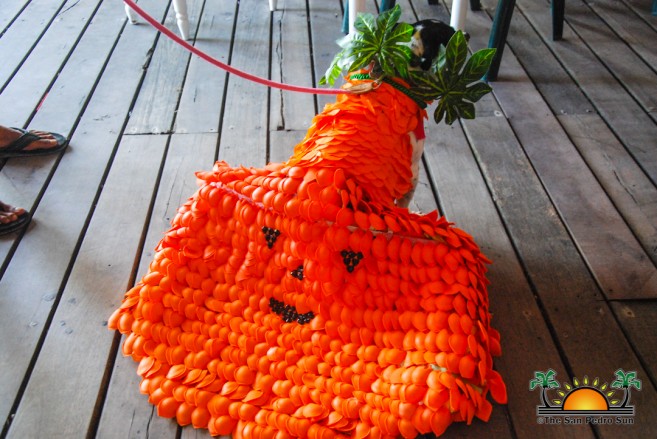 Surprising Saga was long-time island visitor, William McQueen, who made a generous donation of $5,000BZ to the organization. McQueen stated that this is one way he is giving back to the island community he loves so much.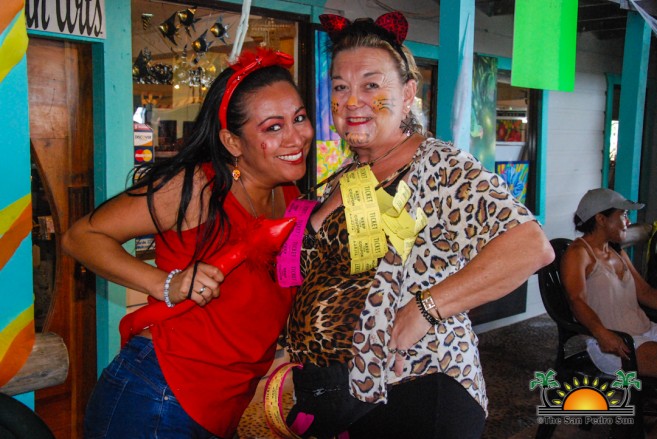 Around 4PM, pet owners began arriving with their dressed-up dogs ready for the evening's costume. One by one they took to the stage to compete in five different divisions: Original, Scariest, Funniest, Best Trick and Look Alike. Dogs were dressed as pumpkins, vampires, superheroes, sharks, tigers, a skunk, a beer box and even wearing Hawaiian gear. The judges, Ronnie and Lisa Cyrier, Brittney O'Daniel, and Kristian Guerrero, had their hands full as they decided on the most outstanding outfits.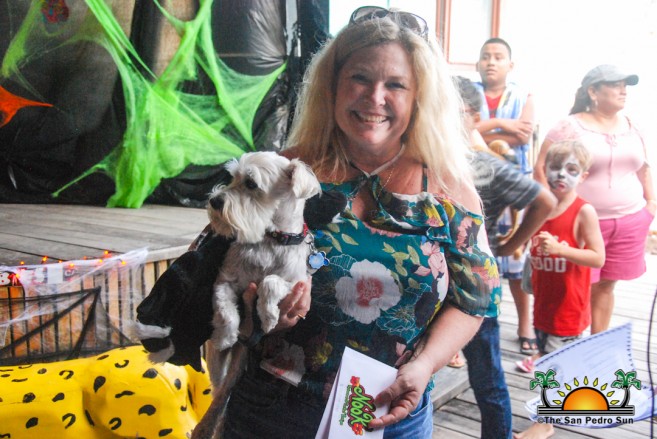 After every participant had the chance to model for the judges and the audience, the winners were announced. The award ceremony began with an Honorary Mention prize for the Hawaiian dog, who receive a full grooming session at Pamper Paws. Next, was the prize for the most original costume, and the winner was Ben and Bella, who won a $50 bar tab at Carlo and Earnie Runway Bar.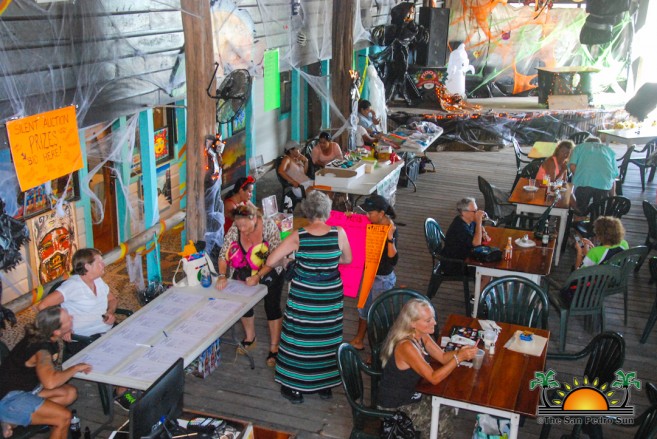 Taking the prize for the scariest was Barca the vampire, who won $25 gift certificate at Feliz Bar and Grill, a $50 gift certificate from Black Orchid Restaurant and a $25 gift certificate from the Coffee Bar. The Skunk won the prize for the funniest and took home a $50 gift certificate at Nook Restaurant. The prize for best look-alike went to the mermaid girls and their little Chihuahua. In the best trick category, Super Man/Dog won the prize of a $25 gift certificate from Crazy Canucks and lunch for two at El Fogon Restaurant.
Organizers thank everyone who came out to support, including participants and prize sponsors, without whom the event could not have been possible. They also thank McQueen for his generous donation to Saga, which will greatly benefit their day to day activities. Potential participants for next year's Halloween Spooktacular Party are challenged from now to start thinking of ideas to take the top prize in 2019. See you there!
Follow The San Pedro Sun News on Twitter, become a fan on Facebook. Stay updated via RSS