Saga Humane Society benefits from annual Kelly McGuire birthday concert
Friday, February 9th, 2018
Island residents and visitors alike joined award-winning country singer/songwriter Kelly McGuire to celebrate his birthday at the Palapa Bar and Grill on Tuesday, February 6th. The birthday festivity included a concert by McGuire to raise much-needed funds for San Pedro's Saga Humane Society. With raffles, live auctions and great music to dance to, Palapa Bar donated 10% of their bar sales to Saga, who deemed the annual event a success.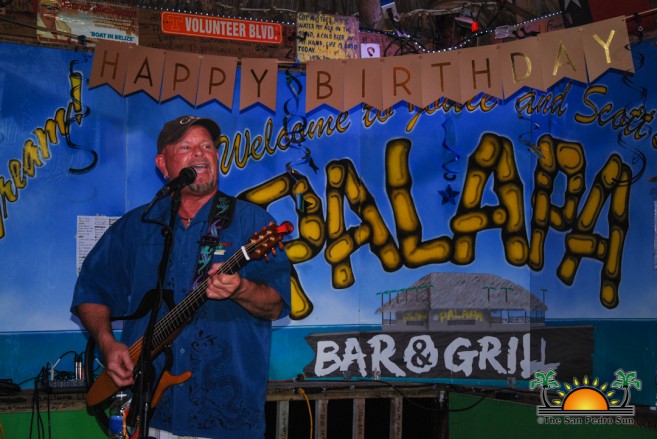 McGuire shared with The San Pedro Sun that he has been coming to the island to celebrate his birthday for the past 14 years. "In 2002 I received the 'Independent Artist of the Year' award by the Country Music Association of Texas," said McGuire. "Then I was invited to come play at Fidos Bar here in San Pedro. At that time I did not know where Belize was, but after my first visit, I just had to keep coming back. I feel blessed and the island has been very good to me."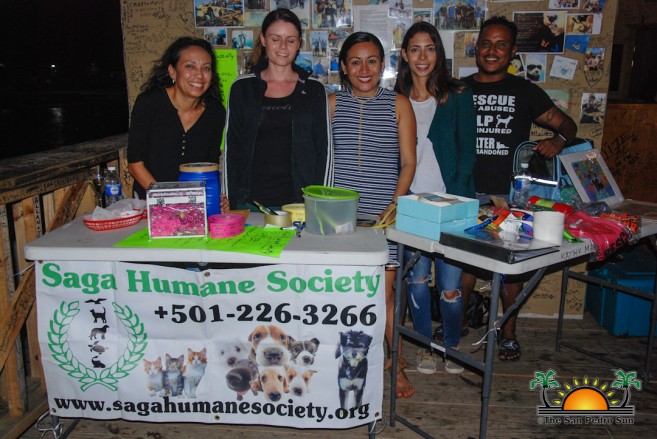 The concert drew a large crowd of country music fans who danced and sung to McGuire's hits. In between his singing a few items were auctioned, which were taken by the highest bidders. As expected, McGuire auctioned one of his shirts right off his back. The shirt was signed and handed over to the highest bidder. Some of the other items auctioned included fishing trips, fine dining at luxurious restaurants and even round-trip flights on Tropic Air valid for any destination the Belizean airline flies to.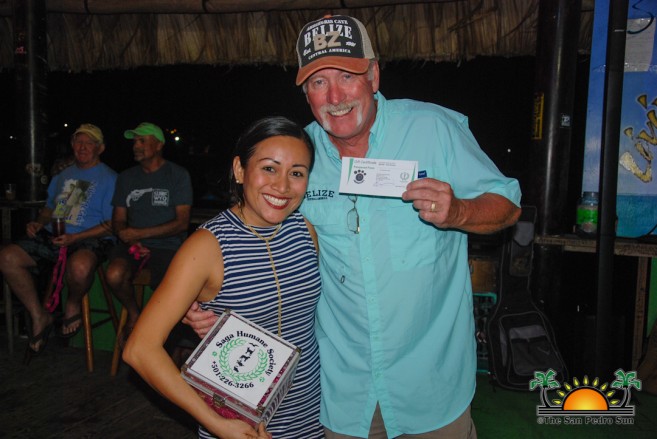 The concert's intermission also included raffles in which lucky winners walked away with fabulous prizes that comprised of bar tabs, services at Pamper Paws to 24-hour golf cart rentals. At the end of the night, raffle tickets sales combined with the auctions and a 'Pass the Hat' donation raised a good amount of funds for the Non-Governmental Organization.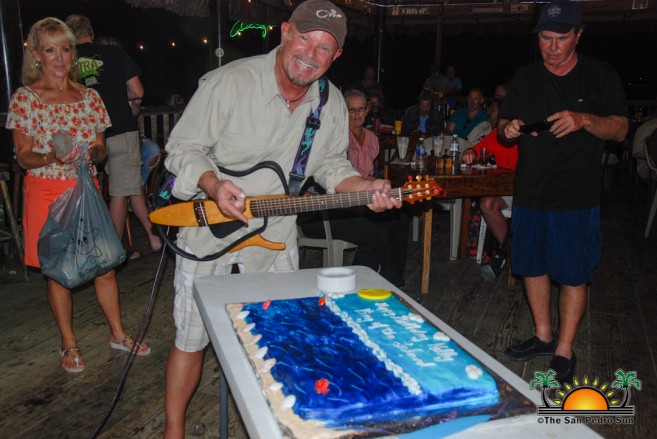 Saga currently shelters 40 animals at Fort Dog, and all of the funds raised at the event will ensure that those animals receive food and medical care. According to Saga, it takes around $1US to feed an animal at their facility every day, thus, every dollar donated counts towards the sustainability of the organization.
The San Pedro Saga Humane Society thanks the support of their staff, volunteers and all the patrons that attended and contributed to the fundraising event. Special thanks go to Kelly McGuire, hosts Scott and Jodie Harnish of Palapa Bar and Grill, Tropic Air, Fidos, Croc's Sunset Restaurant and Bar, Ultimate Golf Carts, Palapa Bar, Pampered Paws, Black Orchid Restaurant and everyone else who helped in one way or another.
Follow The San Pedro Sun News on Twitter, become a fan on Facebook. Stay updated via RSS