Press Release – Country music star Kelly McGuire loses another shirt for Saga
Sunday, February 25th, 2018
Press Release – Saga Humane Society – February 21, 2018 – Country music star Kelly McGuire certainly has found his island dream in San Pedro, and part of that dream includes celebrating his birthday each year, Saga-style at the Palapa Bar and Grill. As Kelly entertained this year's sold-out crowd with his favorite tunes, "Boat in Belize", and "Blame it on Buffet", birthday guests hoped that Kelly might again, give a lucky fan the shirt off his back this year. It has become a tradition of McGuire to interrupt the Saga Humane Society Live Auction to offer a personal item for bidding…the very shirt he performed in at the event, sweat and signature included! The shirt went for over $500!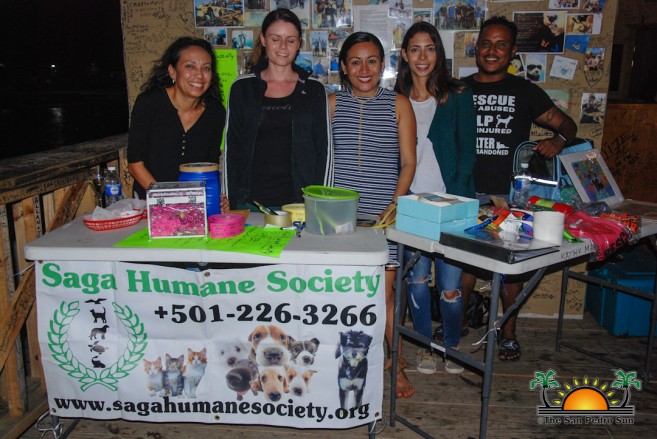 As reported and shared on social media, the event was wildly successful and because of the generosity of Kelly McGuire, Jodie and Scott Harnish of Palapa Bar & Grill and all the fans near and far, donations of $6,773 were raised to support the operations of Saga Humane Society. "Saga is so fortunate to have such amazing support from the community. It is always an honor to be a part of Kelly McGuire's' birthday, especially when it is hosted by animal lovers and Saga friends Jodie and Scott", states Mary Maykuth, Saga President. "The funds raised during Kelly's birthday bash are being put to immediate use to support and provide care for the stray and sheltered animals and to enhance Humane Education on Ambergris Caye."
Saga reported on social media that $826.88 would be used to print 1,000 copies of a very special Humane Education book that features Dr. Baptist and VHA Ms. Ingrid Lima written especially for the children of Ambergris Caye. An additional $250 will be disbursed to CAWS (Cayo Animal Welfare Society) for their help in writing the book. $3,000 will be spent to rebuild the engine in the Saga golf cart to get the cart back on the road, and the team back into the community house to house.
The generosity of so many has also made it possible for Saga Humane Society to erect ten billboards throughout the island targeting responsible ownership, raising awareness for the stray and shelter animals and to promote humane treatment of animals. Each billboard will cost $399. "For years, the supporters of Saga, and even Mayor Guerrero have called for a more visible message against abuse, a message of responsible ownership and finally we are able to answer that call," stated Saga's board member Mr. Dennis Craft.
Saga would like to thank U's, Tropic Air, Castaway Caye Watersports, Koko King and Sunbreeze Hotel and Suites for their support and of course Scott and Jodi Harnish of Palapa Bar.
Follow The San Pedro Sun News on Twitter, become a fan on Facebook. Stay updated via RSS