Auditor General's report unveils high levels of corruption involving elected officials
Thursday, September 1st, 2016
A special audit revealing details of multiple cases of fraud in the issuance of Belizean visas, nationality and passports has caused major controversy and even the cancellation of the sitting of the House of Representatives on Friday, August 27th in the City of Belmopan. The report names Ministers, Area Representatives and prominent politicians endorsing persons seeking to become new Belizeans. According to the report, one of the ministers involved in the said scheme, is Minister of Tourism and Civil Aviation, Honourable Manuel Heredia Jr.
The audit was published by Auditor General Dorothy Bradley, and explained how Belize in recent years has allegedly become a hideaway for human traffickers and money launderers. The audit also includes the high profile case of imprisoned South Korean national Won Hong Kim, who received Belizean citizenship without ever being in Belize. As a result, Bradley is now calling for a police investigation into 164 missing files from October 2013 regarding nationality applications from Guatemala, Honduras, China, Britain, Nigeria, Lebanon and Taiwan.
In an effort to clarify the occurrence of alleged fraudulent cases, Bradley expressed the need for an international police investigation in order to identify the agents of fraud. Such false agencies may have been using locations such as the UK, Singapore, China and Taiwan in order to operate the immigration scheme. She also called on the Director of Immigration and Nationality to ensure that Belizean nationality is revoked for all persons cited in the audit, and their passports recalled and cancelled.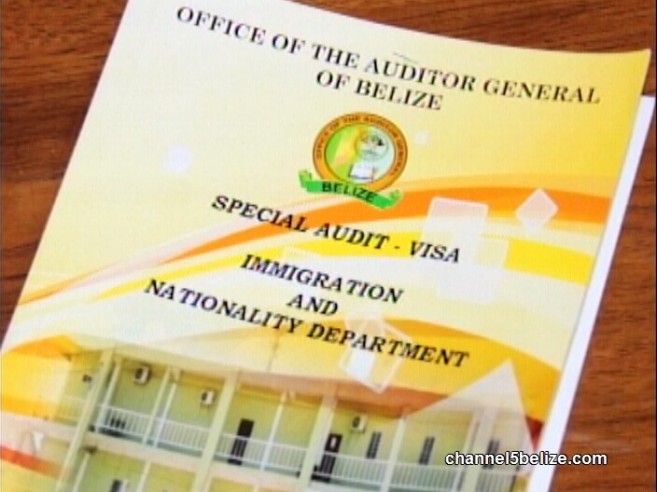 The report details the influence of politicians in the fraudulent acquisition of Belizean citizenship countrywide. Ministers named in the report are Manuel Heredia Jr, Edmund Castro, Erwin Contreras, Rene Montero, Santiago Castillo, Ramon Witz, Carlos Perdomo, Eden Martinez, Gaspar Vega, John Saldivar, Pablo Marin, Gabriel Martinez, Michael Hutchinson and Elvin Penner.
In October 2013, when the Won Hong Kim visa scandal became public, and revealed ministerial intervention, Prime Minister Dean Barrow said that it was legitimate for a minister to assist a friend. He did state when interventions are repeatedly done, it indicates something else.
According to the audit, Penner was personally involved in facilitating the application for Kim, who was able to receive a Belizean passport without the requisite documentation being submitted. It was argued that Kim would deliver those documents, which he never did. Interestingly enough, Kim was documented as being in a Taiwan prison from August 1 to September 26, 2013, which contradicts the documents on record that show him applying for his Belizean citizenship on September 2nd of that same year.
The audit further reveals that Kim was facilitated by Belizean officials, including Eric Chang, former councillor at the Belize City Council. When his nationality certificate was issued in 2013, it was exactly a year before a similar nationality certificate was issued to Guatemalan Josue David Cock Uk. Uk received his Belizean nationality in October of 2012 for which he paid $750, the audit said.
In an interview with Belize City media, Minister Heredia confidently stated that he was not going to be named as one of those ministers who wrongfully intervened to try to get immigration documents. He went on to say that if his name was to be included in the report, it would be for one constituent and nothing at a large scale. "Even though I am part of government, I always try to focus on what I am doing. If you see my two ministries that I hold; Civil Aviation and Tourism, during the time I have held them, you have never heard any type of scandal or any negative thing about this particular minister or with my ministry itself," said Heredia.
After his comments, Heredia challenged anyone to prove if he had more than one involvement in trying to facilitate several individuals with visas, nationalities or passports. "I have recommended for one of my Caye Caulker constituent's wife. But nothing else can show that Minister Heredia was involved… that will never happen. My reputation has, my credibility, has been there from ever since and it will continue to be so," said Heredia. However, after digging through the Auditor's report, it was revealed that contrary to his statements, Heredia intervened on behalf of a number of people with the same titles, suggesting that it may be one family. The recommendations made by Heredia were for Ammar Harmouch and Ahmad Harmouch, and according to the report they did not qualify for nationality certificates, but were still able to get immigration documents and passports.
The report further indicates that in most cases, the official procedures were bypassed, blatantly disregarding the proper processes at every level of the immigration department. The system was manipulated to facilitate apparent fraud in many ways, revealing that some applicants got visas and nationality certificates along with passports as well. The audit shows that between 2011 and 2013 about 100 names appeared involving persons from different nationalities benefiting from the fraudulent system.
At the end of the investigation, the result was a three-volume audit report for visas, nationality and passports presented by the Office of the Auditor General. According to Bradley, it was after the visa investigation was launched that a passport scandal broke. That scandal revealed the missing and unexplained visa foils, missing passports which added up to 55,000 that were presumably issued between 2011 and 2013 without any statistical analysis.
These incidents as they are highlighted in the Auditor-General's reports were not made accessible to Bradley's investigators since access was blocked by high-level officials. This obstruction to thousands of files and documents gave way to persistent irregularities, such as the absence of proper vetting for persons claiming to be from certain countries, who can freely come to Belize without a visa. The report cited that there were no indications that consistent verifications were done to authenticate documents presented.
The Leader of the Opposition Honourable John Briceño expressed discontent after reviewing the report and announced that his party's senators will call for a senate investigation. "When Senator Lisa Shoman was calling for the senate investigation, Minister Godwin Hulse asked to do so until the audit report was ready. Now that audit report is ready, will they block us again from discussing about it? I wanted to vomit when I saw the report," said Briceño. He warned that when his party gets in government they are going to go through the entire investigation and anybody that can be held liable will be prosecuted, and if anyone has to go to jail, they will be sent to jail as well.
Auditor General Bradley made recommendations for criminal investigation, however, the public is finding out that the preliminary report has been sitting on the Prime Minister's desk for about two years. The report should have been presented at a siting of the House of Representatives.
Follow The San Pedro Sun News on Twitter, become a fan on Facebook. Stay updated via RSS