André Perez endorsed as PUP standard bearer for Belize Rural South
Thursday, October 18th, 2018
The Belize Rural South (BRS) People's United Party (PUP) endorsed San Pedro's André Perez as their new standard-bearer during their endorsement convention held at the Honorable Sylvestre Sporting Complex in San Pedro Town on Saturday, October 14th. The event saw a large crowd of supporters, as well as PUP leaders from various parts of the country showing their support.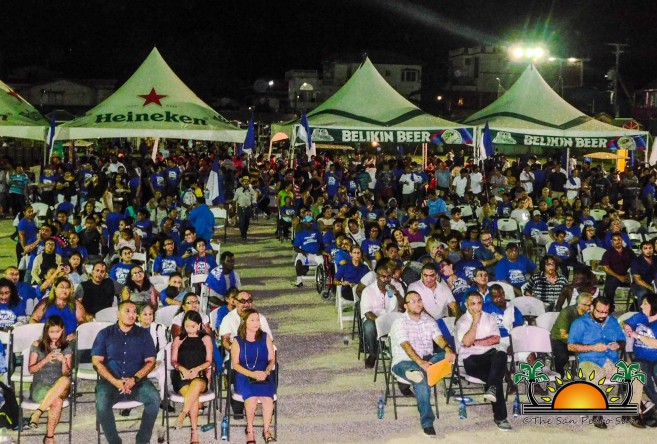 The convention began shortly after 8PM with the singing of the National Anthem followed by a short prayer. Master of Ceremonies Javier Gutierrez then officially welcomed everyone to the event, thanking them for their continued support towards the party.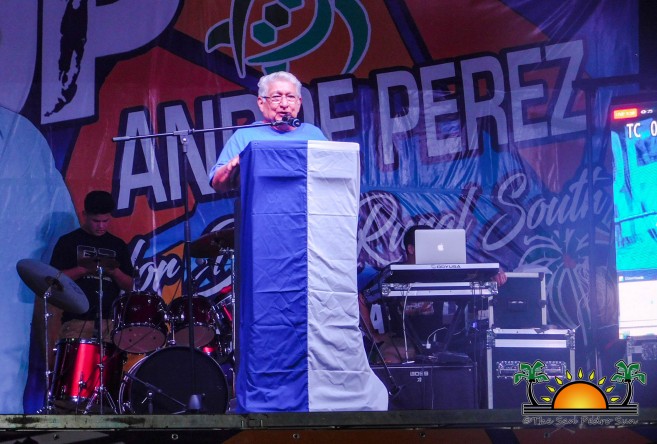 After that Angel Nuñez took the stage to give an official goodbye to José Milo Paz, who was a great supporter of the PUP and is believed to have passed away some days ago in a plane crash. Perez and PUP party leader Johnny Briceño then issued certificates of appreciation to the residence of both San Pedro Town and Caye Caulker, for their loyal support to PUP for many years.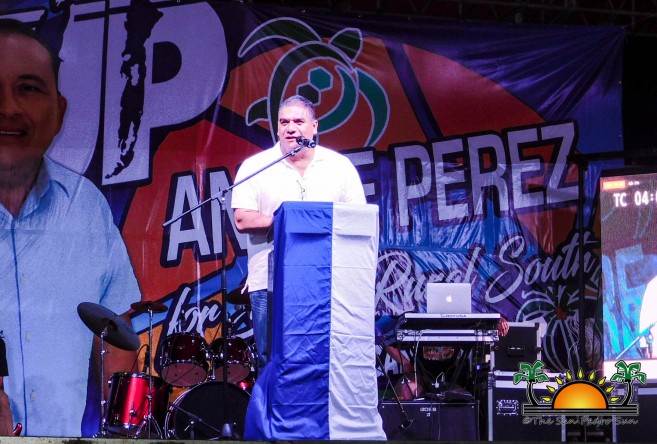 The podium was then open to the first speaker of the night, Hon. Florencio Marin Junior Jr., who congratulated Perez for being elected as the new PUP standard bearer for BRS and encouraged the attendees to vote for him if they want to see a change in the community. Thereafter, Dolores Balderamos shared a few words of support stating, "The people of BRS are tired of lies from the United Democratic Party (UDP), and that's why I know you'll vote for the PUP as you are ready for a change. In my heart, I know that André Perez Is going to come out victorious and be you know area representative."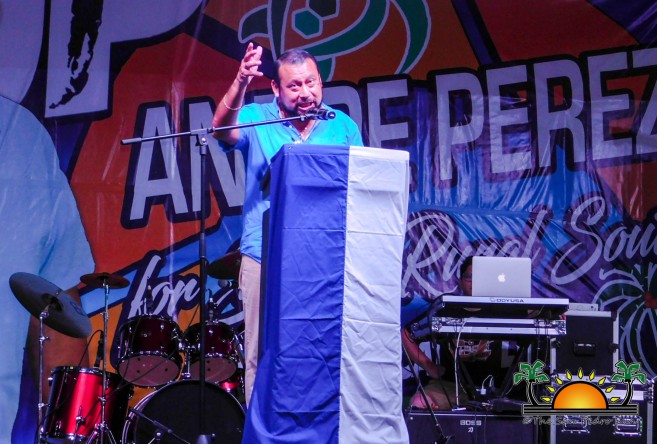 Gutierrez then invited Michel Chebat to the podium, who gave his condolences to the Paz family and encouraged all attendees be educated on the territorial dispute between Belize and Guatemala for them to vote the right decision on referendum day. Hon. José Abelardo Mai also congratulated Perez for being elected as the new PUP standard bearer for BRS and advised everyone to vote for him as he will bring change to the community. "André Perez is going to be the champion in the BRS, Heredia he will be history and we will not allow anyone to steal from us this time and we will ensure he [Perez] makes it," he said.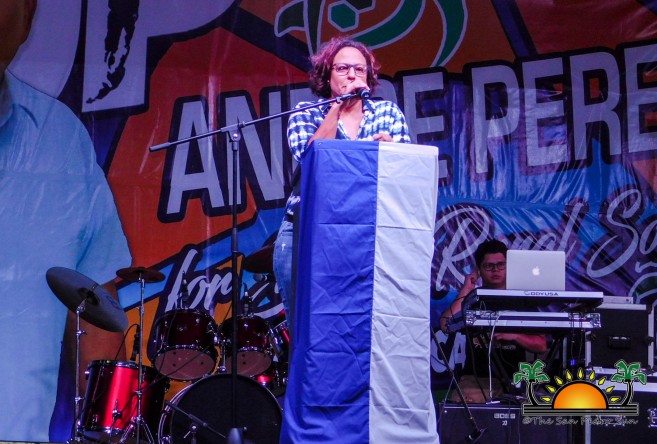 Next up was Senator Valerie Woods, who shared a few words stating that Manuel Heredia has failed the people of BRS many times, and that's why the people should vote for André Perez if they are ready for a change. "André Perez does not do what is politically correct but what is right for the people of BRS. Caye Caulker and San Pedro are top tourist destinations in Belize, and so you need someone that can take good care of you and someone who understands your needs." She further stated, "Manuel Heredia has failed the people many times, he doesn't know what it takes to put San Pedro and Caye Caulker on the world map, nor the young steward that wants to take it over from him has a clue what to do with the world's second largest barrier." Woods ended by stating that André Perez has a vision for BRS and that she believes he will be elected as the new area representative.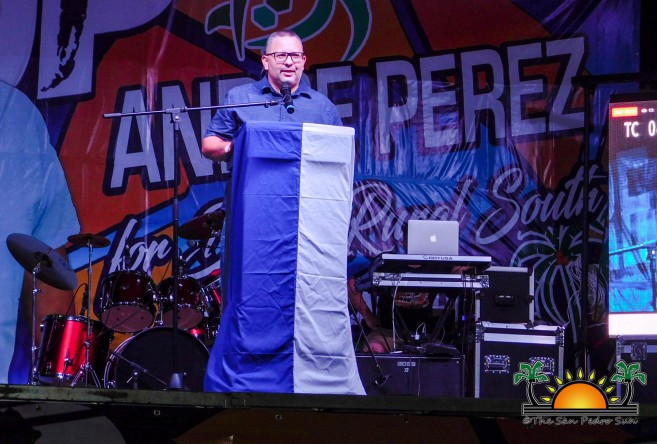 Afterward, Kareem Musa stated that Heredia has been feeding the people of BRS with fake promises all these years such as the hospital, and that's why they should vote for Perez as he is a humble, honest and a good person.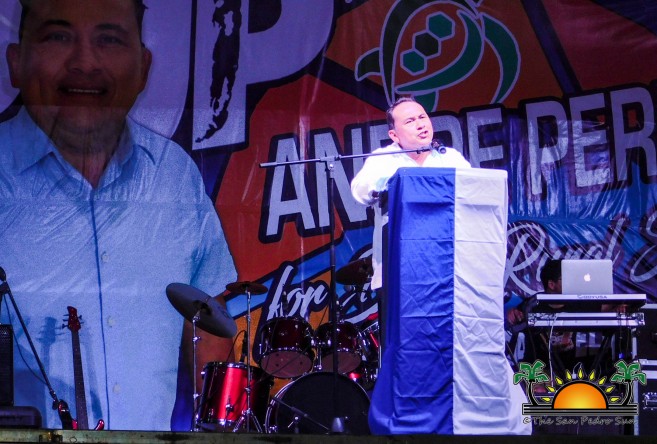 Gutierrez then invited André Perez along with his committee to the stage and officially endorsed him as the PUP standard bearer for BRS. Perez accepted the position and shared some motivational words with his large crowd of supporters. "On this day we start the fight for the liberation of BRS," he said. Perez added, "In 2003 the people of BRS made a sound decision to give the United Democratic Party the opportunity to fulfill its promises of bringing change. 15 years after those promises remain empty and false, and instead of changing for better, we now find ourselves in the corruption of the UDP." Perez continued by stating that under the UDP leadership, the country has suffered many creases such as high unemployment rate, the high cost of living, and lack of education for our young people among others. He continued, "As your new area representative and government we will take a drastic change and invest in important infrastructure, improve health care services and improve the efficiency of the Police and Fire Department." Perez ended by asking for the support of the people on Election Day if they want a better leader that will bring the change to this area.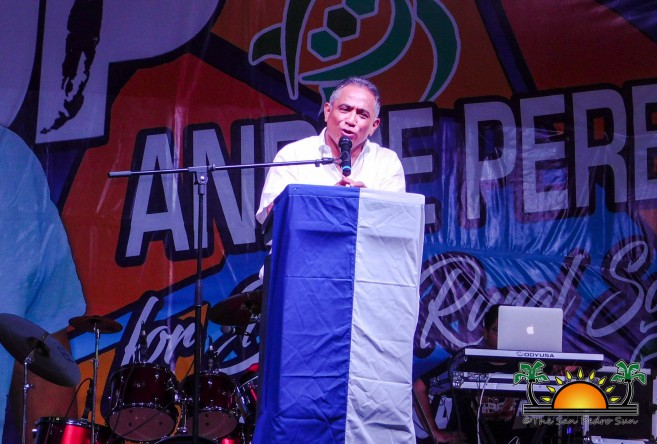 The endorsement convention concluded with Briceño sharing a few words of encouragement with the attendees as well as congratulating Perez.
After the convention attendees got to enjoy live entertainment by Super Furia Band while mingling and take pictures with various PUP leaders present. The next General Election is scheduled to be held sometime in 2020.
Follow The San Pedro Sun News on Twitter, become a fan on Facebook. Stay updated via RSS