PUP sweeps the 2020 General Elections 26-5; Andre Perez unseats Manuel Heredia Jr.
Thursday, November 12th, 2020
Following the 2020 General Elections, Belizeans woke up on Thursday, November 12th with a new government under the People's United Party. It was a historic victory for the PUP, winning 26 out of 31 constituencies and for the first time, a non-Belize City resident, John Briceño, is Prime Minister. The landslide victory was also felt in Belize Rural South (BRS) (Ambergris Caye, Caye Caulker, and St. George's Caye), where United Democratic Party's (UDP) seasoned politician Manuel Heredia Jr., was retired by PUP's Andre Perez. Perez garnered the support of more than half of the 8,586 registered electorates. Perez, along with the PUP Government, will now serve the Belizean people from 2020 to 2025. They take over during one of the most challenging times in history, exacerbated by the current COVID-19 pandemic.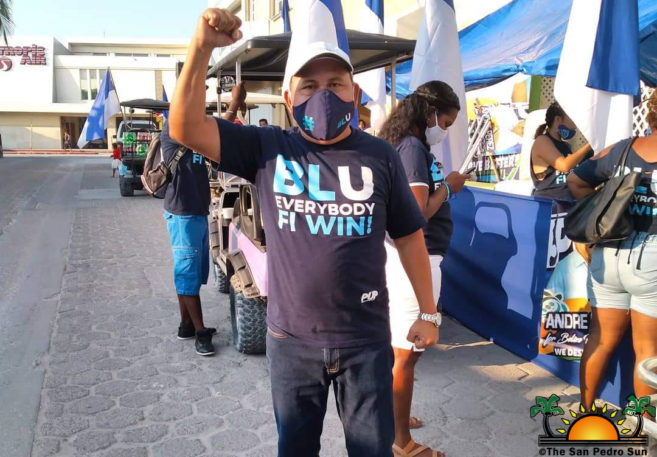 The official results for BRS provided on Thursday by Returning Officer Geneva James showed 4,336 votes for Perez, and 2,419 in favour of Heredia. Caye Caulker resident Thomas Greenwood Jr., running under the Belize People's Front only received 37 votes.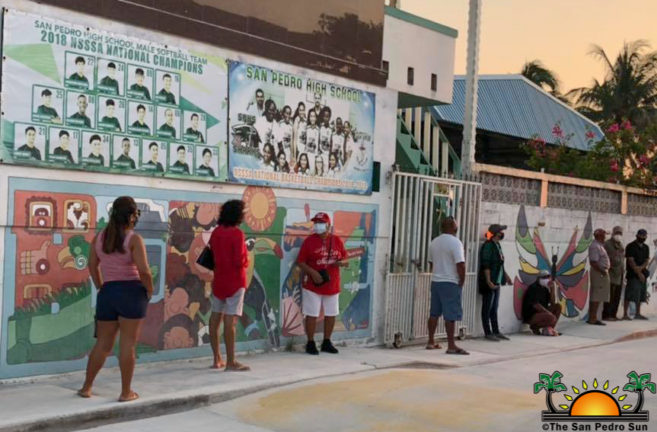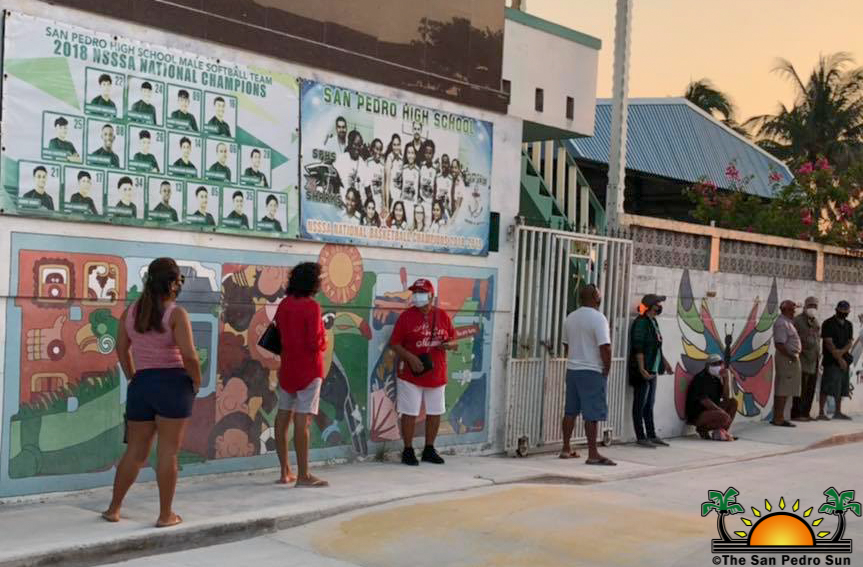 The General Elections scheduled for November 11th, saw polling areas opening at 7AM sharp countrywide. Due to Covid-19, and to ensure everyone's safety, BRS included three polling areas to cast votes. Usually in San Pedro Town, Ambergris Caye, voting takes place only at the San Pedro High School (SPHS) officially known as polling area 37. This time, a second polling area was made available at the San Pedro Roman Catholic Primary School (SPRCPS). Electorates with the last name beginning from A to I were asked to vote at the SPHS, while those beginning from J to Z were required to vote at the SPRCPS. In Caye Caulker voting took place at the Roman Catholic Primary School, polling Areas 34 and 38. Police were on hand to enforce social distancing and maintained law and order through the electoral process.
The mass of voters visiting the polls was observed early in the morning. After midday, the flow was a mere trickle, and the long queues turned to a small but steady attendance of electorates to the polls. Returning Officer James reported that by 9AM, a total of 895 votes had been cast in Polling Area 37 on Ambergris Caye. While in Caye Caulker, Polling Area 34 and 38, 330 had been cast. As the day went by, another report was provided at 2PM indicating that 4,242 of the total 8,586 registered voters in BRS had made it to the polls. With a total of 3,555 cast on Ambergris Caye, and 687 in Caye Caulker.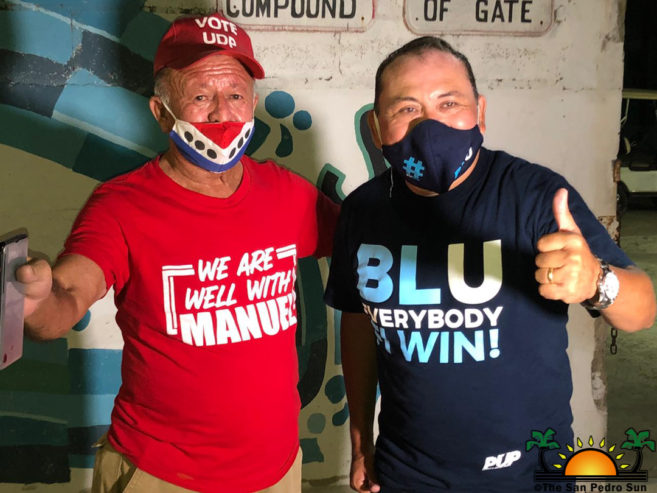 During the day, PUP Candidate Perez shared that he was confident and expecting a good turnout from his supporters. His opponent UDP's Heredia shared similar sentiments, and was convinced that he would be returned for a fifth consecutive term as Area Representative for BRS.
The last report on the amount and percentage of voters was provided at 5PM. Although the number of people visiting the polls on Ambergris Caye visibly reduced after midday, 6,372 had voted before 6PM, when polls were to close. That was an impressive 74% turnout with a total of 5,466 votes from Ambergris Caye and 906 from Caye Caulker. An hour later, polls closed and both Heredia and Perez expressed their confidence and took a minute for a photo op. After votes from all polling stations were transported to the SPHS, reconciling and counting of votes started.
Andre Perez reportedly won all boxes in BRS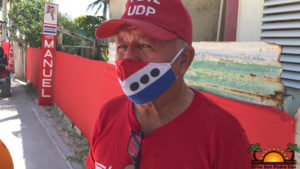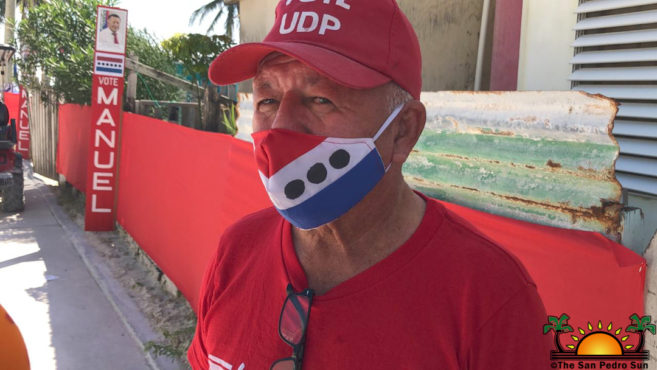 The preliminary information coming from the counting room had Perez leading from the start. Reports were that he was winning box after box as the counting continued, and Heredia finally conceded after 10PM and spoke to the media. He claimed to have served with dignity, pride and humility and pledged to continue to work in the interest of the islands. "Today the people have spoken, but we have to work together for the betterment of our island," he said. "I will […] retire now from politics; probably it was time." Heredia said that if some of his supporters failed him, it was not because they were not served well, but because they were upset with his party, the UDP, who was only able to grab five seats in the National Assembly.
Perez thanked his team and supporters for the opportunity to represent BRS in government. He characterised his victory as the highest beating of a candidate in the history of his constituency. "This victory is a clear mandate that we need a change not only in Belize Rural South, but in the entire country," said Perez as he held his wife and mother. One of his aims is to heal and bring hope to BRS amid the difficulties hurting the islands' tourism economy.
The final statistics had Perez winning the election in BRS with 4,336 votes, with Heredia garnering 2,419, while Tom Greenwood Jr. of the Belize People's Front received 37 votes.
Curfew discouraged mass celebration
From 9PM to 5AM, a curfew was in place to dissuade any large gatherings or victory parades in light of the COVID-19 situation. The only jubilant celebration seen was from the team accompanying Perez at the Polling Area. Police did not report any major incidents, as islanders adhered to the curfew.
UDP Leader Patrick Faber concedes
Shortly after 9PM, Faber congratulated Belize's new Prime Minister John Briceño and delivered a message to Belize. He spoke of the challenges ahead for the new administration regarding the pandemic and damages caused by Tropical Depression Eta. "Briceño will need all the support in order to see our great nation through the long road of recovery," said Faber. "Not just from the recent floods, but from the impact and effects of the COVID-19 pandemic."
Briceño, who is from Orange Walk, stated in a brief victory speech that Belizeans had spoken and democracy prevailed. "This 2020 election is a clear call for our nation to grow up, to face the challenges of our generation, and to advance our peaceful constructive and progressive revolution, but most importantly, to bring out people together as never before," said Briceño. He said that as one, a nation can be built, where everyone matters. The PUP had not been in control of the government since 2008, when the UDP took over.
The blue tide rises throughout the country
According to the Elections and Boundaries Department, a total of 81.37% of Belizeans exercised their democratic right to vote countrywide. The information also shows a voter turnout per district as follows: Belize District at 79.77%; Cayo District with 79.87%; Corozal District with 86.65%; Orange Walk District with 85.75%; Stann Creek District with 78.2%; Toledo District with 78.02. The PUP took the election, winning in 26 out of 31 constituencies. Overall the UDP won five seats, the Belize Progressive Party and Belize People's Front won 0 seats.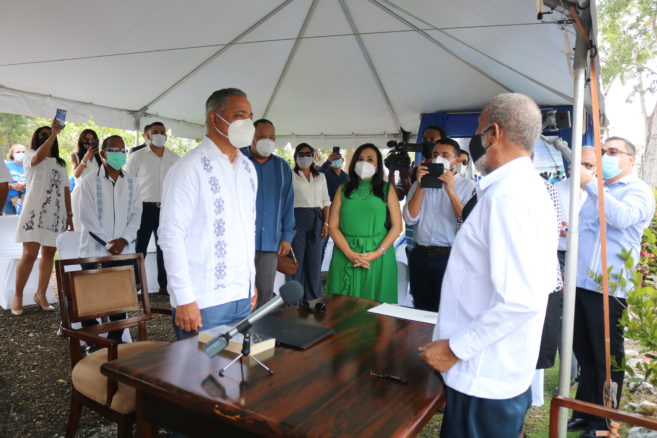 PUP Party Leader Honourable John Briceño was sworn in as Prime Minister on Thursday by Governor General, HE Sir Colville Young in the Capital City of Belmopan. Prior to his swearing-in, Briceño visited the tomb of the Late Right Honourable George Price for a wreath-laying ceremony. Price started the PUP in the 1950's and is remembered in Belize as the Father of the country's Independence.
The San Pedro Sun congratulates all those who exercised their right to vote in the 2020 General Election and congratulates Perez on his historic win!
Follow The San Pedro Sun News on Twitter, become a fan on Facebook. Stay updated via RSS