Belize Rural South Area Representative Hon. Andre Perez reflects on first 100 days in office
Saturday, February 20th, 2021
A 100 days have passed since the government administration under the People's United Party (PUP) took office, and Belizeans are now looking at their report card to evaluate their performance. Area Representative of Belize Rural South (BRS) (Ambergris Caye and Caye Caulker), the Honourable Andre Perez, reflected on his first 100 days as minister of government, touching on challenges and some of his accomplishments outside of the initial plan of action (manifesto) planned for the first three months.
Perez told The San Pedro Sun that his party expected to find a crippled national economy, but not to the degree they did once they sat behind the desk. He said it was unprecedented and took longer than expected for his government to get into action and adequately help the people.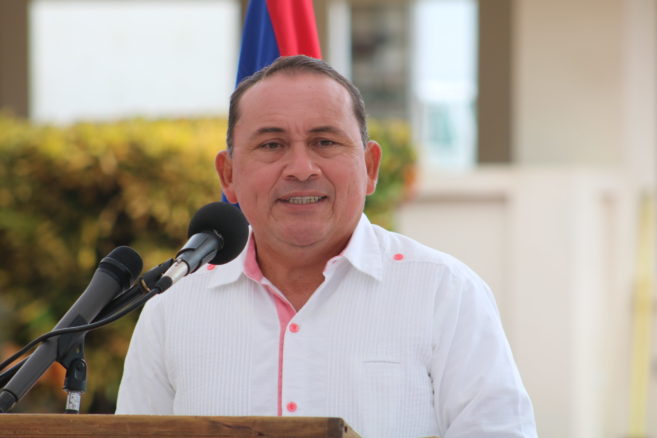 Fail to meet majority the 10-point manifesto
When it comes to his constituency, Perez acknowledged the 100-day plan, which he could not fulfil. He wished to have completed everything detailed but admitted it was not possible. He explained that although they had several projects for the first 100 days, some prioritized matters left others yet implemented. "You want to do your goals, but you realize that there are major challenges in front of you that must be given importance, and you cannot ignore it," said Perez. "That is what I have done, to just shift the focus, but the aim is to accomplish something concrete and tangible for Belize Rural South." The action plan called on accomplishing the different projects listed below.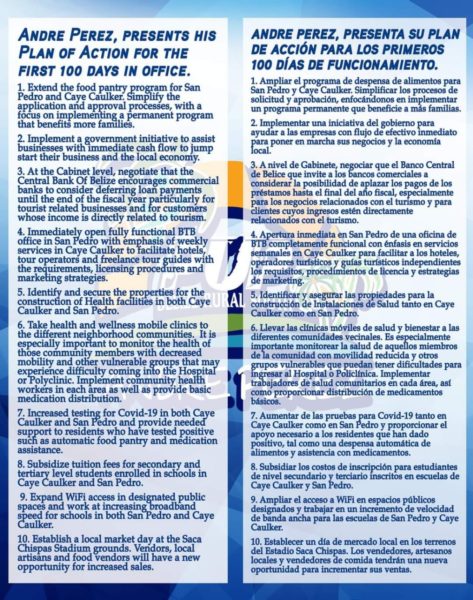 Perez's accomplishments in BRS
The Area Representative said he wanted to do more and feels comfortable with the progress so far. One of the plans for BRS not mentioned in the manifesto was the Mar de Tumbo flu clinic improvement, which tends to COVID-19 patients. The clinic had been affected by rains causing the grounds to flood. "In the very first two weeks of my administration, we embarked on cleaning and filling it out and brought it back to a place suitable for working and continue testing," said Perez. He added that in his efforts to assist the health sector, the Dr. Otto Rodriguez San Pedro Polyclinic II now counts with a vehicle and a golf cart, which they lacked. The island's main health center had issues disposing of their medical waste because they had no vehicles.
Perez said opening a call center on the island is another accomplishment that aims to generate around 200 jobs on Ambergris Caye. The minister stated that his next project deals with engaging Belize Water Services to provide potable water to areas where residents did not access it. Perez said that residents in the San Mateo, San Pedrito, and Eiley Subdivisions are being connected to this service.
He pledged more projects for the constituency and briefly spoke about the issue of access to land on the islands. According to him, they have a mechanism to document everyone's land to have things in order.
$30 million needed to re-start the tourism economy
According to the head of BRS, they continue to plan and prepare for what lies ahead. "We have to bring back this economy, and the only way to bring it back is through the tourism sector," Perez said. He mentioned that a financial package is underway to re-start the tourism sector. According to Perez, no less than $30 million needs to be injected directly into the tourism sector. There are plans for people (tourism stakeholders) from Ambergris Caye and Caye Caulker to access these funds when they are made available through financial institutions.
The Area Representative pledges to improve in areas he may have failed. He reminded his constituents that work is being done and that a lot more is on the way for islanders. He mentioned that following the upcoming municipal elections, a lot more development is expected to occur on Ambergris Caye, which should address the rising unemployment.
Follow The San Pedro Sun News on Twitter, become a fan on Facebook. Stay updated via RSS