Tiger Sharks fall to Smart Belize Hurricanes in first NEBL Finals match
Tuesday, May 3rd, 2016
For the third consecutive year, the San Pedro Tiger Sharks are in the National Elite Basketball League (NEBL) finals looking to claim the championship yet again. But before they can be crowned NEBL 2016 Tournament Champions, the Tiger Sharks must defeat the Smart Belize Hurricanes in a best out of three game series.
The first game of the finals was played on Friday, April 20th at the Belize Elementary School gymnasium in Belize City. As the game tipped off, Smart Belize Hurricanes jumped out to an early lead, ending the first quarter with an 18 – 16 advantage. At halftime, Smart Belize Hurricanes still maintained a marginal 31 – 28 lead. In the third quarter, there were many lead changes and ties until Smart Belize Hurricanes extended the lead to 9 points at the end of the third quarter, to take a 63 – 54 advantage. In the middle of the fourth quarter, San Pedro Tiger Sharks was able to cut the lead to three points, but the home squad then extended the lead down the stretch to secure game one of the best-of-three finals, with a score of 93 – 84.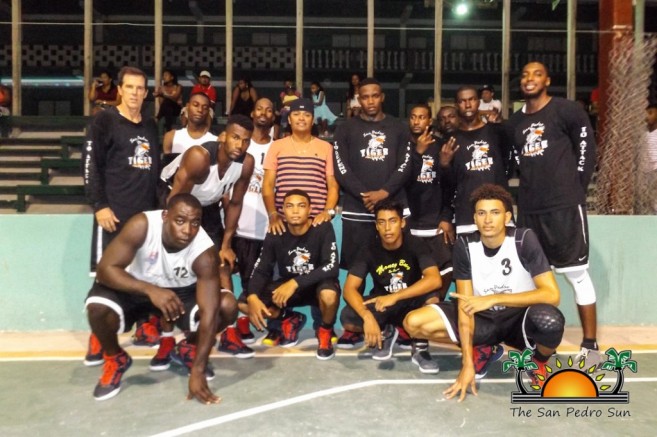 Smart Belize Hurricanes had four players scoring double digits. Former Tiger Sharks' player, Darwin "Puppy" Leslie, had the game-high with 25 points, to go with 5 rebounds, 2 steals and 2 assists while the two time NEBL MVP (Most Valuable Player), Farron Louriano, tallied 24 points, 9 rebounds, 5 blocked shots, and 1 steal. Leroy Louriano finished the night with his best offensive output, scoring 17 points, 6 rebounds, and 2 assists while sharp-shooter Jacob Leslie netted 17 points, 6 rebounds, and 2 assists. Meanwhile, San Pedro Tiger Sharks had five players scoring in double-digits. Andrew Ortiz, who came off the bench, tallied a monster double-double, scoring 20 points while ripping 16 rebounds. Douglas Valley, who also came off the bench, finished the game with 17 points, 4 rebounds, 2 assists, and 1 steal; including 5 shots from behind the arc. Tryone "Mission" Edwards tallied 13 points, 4 rebounds, 3 assists and 3 steals while Raul Roches sank 12 points to go with 4 rebounds, 3 steals, and 2 assists. San Pedro Tiger Shark's all-around player, Gene Myvett, also tallied a double-double with 10 points and 11 rebounds to go with 2 assists, 1 steal, and 1 blocked shot.
Heading into game two of the finals, San Pedro Tiger Sharks must win in order to send this series the third and final match. Game two of the NEBL finals will tip off on Saturday, May 7th at the Angel Nuñez Auditorium here in San Pedro Town at 9PM. If Smart Belize Hurricanes manages to secure another win, they will become the NEBL 2016 Championship with their first championship in franchise history. Everyone is invited to come out and support the San Pedro Tiger Sharks. This is sure to be an exciting game!
All games can be followed live at nebl.sportingpulse.net, with real time box scores, while the game is being played. The website also has all game scores, box scores, players and teams' statistics, along with standings for the season.
Follow The San Pedro Sun News on Twitter, become a fan on Facebook. Stay updated via RSS