Five-a-Side Tournament heads into semi-finals
Thursday, July 14th, 2016
The quarter finals of the Island Citizen Sporting Club (ICSC) and San Pedro High School (SPHS) Five-a-side Football Tournament took place this past weekend, and only four senior teams are advancing. As the road narrows to the championship, the games have become heated.

As always, fanatics gathered at the Angel Nuñez Auditorium on all four game nights to cheer on their favorite teams. In this phase of the competition, eliminations were only for the senior category, due to the size of the group; all little leagues and female teams remain in the tournament until the semi-finals.
The second round of games kicked off on Thursday, July 7th and saw two matches starting at 8PM. In the first match, Pro Divers crushed team Los Dorados in a 5-0 game point. The second match of the night was between Los Catrachos and E & L Boys, which ended in a 5-1 point win for Los Catrachos.
The tournament continued on Friday, July 8th with United FC facing Boca Bombers in the first match. Both teams played amazingly, and the game ended up in a draw, 2-2. The second and last match of the evening ended up in a 5-3 win for Island Pure over Scorpions.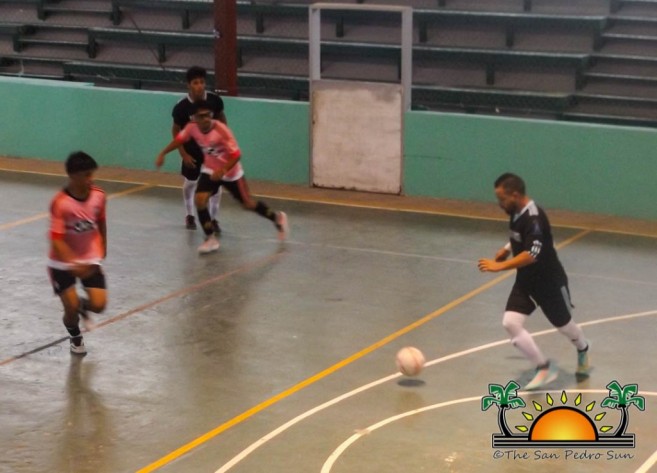 On Saturday, July 9th, E & L Boys had their last chance to stay in the competition, but they fell short to Los Catrachos with a 3-0 score. Likewise, Los Dorados was beat out of the tournament in 8-2 point win for Pro Divers. Then on Sunday, July 10th Scorpion defeated Island Pure with a point game of 9-8 in overtime. This was followed by Boca Bombers winning over United FC with a win of 6-5 in overtime also.
With the second round of games over, organizers tallied the points and announced the senior teams that had made it to the semi-finals. They are: Los Catrachos, Pro Divers, Scorpions FC and Boca Bombers. Organizers would like to congratulate all the teams that will be participating in the semi-finals. Special thanks goes out to E & L, Los Dorados, Island Pure Boys and United FC for participating in the tournament.
Organizers would also like to wish all the eliminated teams the best in their sporting endeavours, and extend an invitation for them to sign up for future tournaments.
The next round of games takes place from Friday, July 15th and Sunday, July 17th. The schedule is as follows:
Organizers remind all players to be present a half hour before their scheduled game time. Players are also asked to have on their uniforms before entering the gate to the compound or they will be charged to enter.
Follow The San Pedro Sun News on Twitter, become a fan on Facebook. Stay updated via RSS