Tropical wave to cause rains this weekend
Friday, July 28th, 2023
A tropical wave over the southwestern Caribbean Sea near Nicaragua will cause showers and thunderstorms across Belize starting Friday evening, July 28th. The National Meteorological Service of Belize said as the tropical wave approaches the country, the rain will increase throughout the night and tomorrow, Saturday.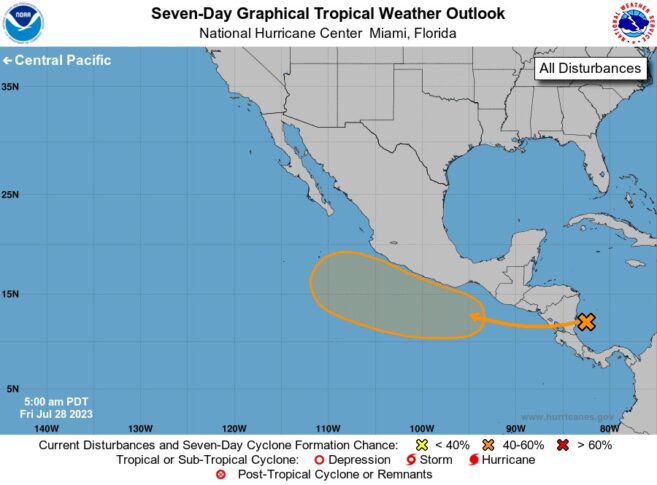 The weather forecast for Saturday is for showers and thunderstorms and will decrease on Sunday. The report from the National Meteorological Service indicates that the weather will primarily affect the country's central and southern areas. Besides this weather disturbance, no tropical cyclone formation is expected in the North Atlantic, Caribbean Sea, or Gulf of Mexico during the next 48 hours.
According to the National Hurricane Center, the system will move across Central America and the eastern Pacific over the weekend. While on the Pacific Ocean, the Center will continue to follow the weather, which may have the possibility of becoming a depression as it moves westward at 10 to 15 miles per hour. According to the reports, it has a low 10% chance of becoming anything significant during the next 48 hours and a medium 60% chance in the next seven days.
The 2023 Hurricane Season for the Atlantic Basin (North Atlantic, Caribbean Sea, and the Gulf of Mexico) is ongoing and will run through November 30th. A few low-pressure disturbances have formed since the season's opening on June 1st, but none have posed any significant threat in the region. According to scientific reports, the season is expected to be different from the recent ones due to the El Niño phenomenon, which weakens storms in the Atlantic basin. In contrast, La Niña makes conditions suitable for developing stronger storms.
The list of names for this 2023 Atlantic hurricane season includes Arlene, Bret, Cindy, Don, Emily, Franklin, Gert, Harold, Idalia, Jose, Katia, Lee, Margot, Nigel, Ophelia, Philippe, Rina, Sean, Tammy, Vince, and Whitney.
Several national shelters have been identified for San Pedro, Ambergris Caye, and Caye Caulker. These include the Sagebrush Church near the Sir Barry Bowen Bridge in San Pedro Town, the San Pedro High School downtown, and the St. John Paul Youth Center in the San Pablo subdivision south of town. The National Emergency Management Organization coordinating responses to natural disasters can be reached at phone number: 936.
Follow The San Pedro Sun News on Twitter, become a fan on Facebook. Stay updated via RSS