2023 Hurricane Season officially starts; area of low pressure identified
Thursday, June 1st, 2023
The 2023 Hurricane Season for the Atlantic Basin (North Atlantic, Caribbean Sea, and the Gulf of Mexico) officially started on Thursday, June 1st, and will run through November 30th. The National Hurricane Center is already monitoring a low-pressure disturbance over the northeastern Gulf of Mexico. The weather disturbance poses no significant threat, as the system will encounter unfavorable conditions for further development by this weekend.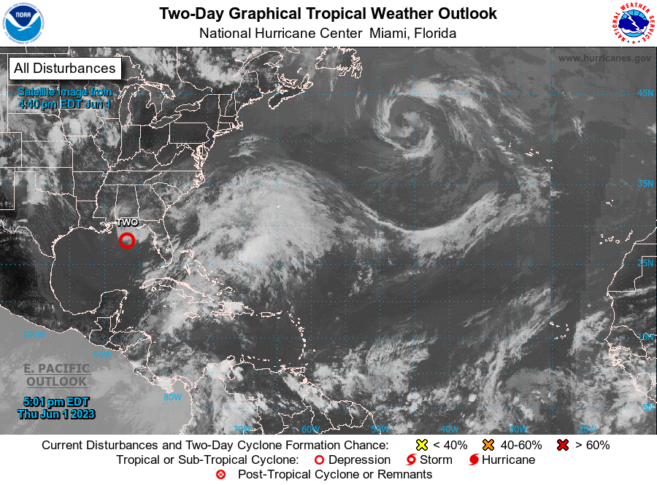 The area of low pressure is expected to drift southward, remaining offshore over the gulf. According to the National Hurricane Center, the weather system is not likely to develop further. Still, it may cause heavy rainfall over portions of the United States Florida Peninsula over the weekend.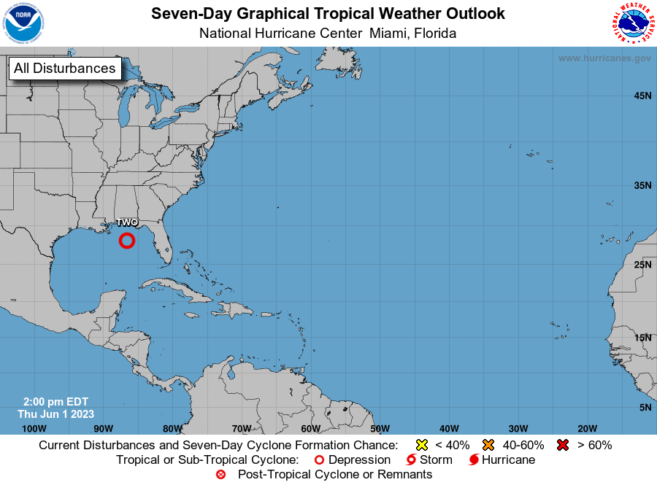 The forecast for this year shows an increase in the number of storms expected, leading experts from Colorado State University to categorize it as a near-average season. According to the report, there are 15 named storms, an increase from the initial outlook released in April 2023. Seven of the named storms are expected to become hurricanes with a strength of 74 miles per hour winds. Meteorologists also forecast significant storms ranging from category three or higher with winds of at least 111 miles per hour.
The El Niño phenomenon will influence the 2023 Hurricane Season and is expected to weaken hurricanes in the Atlantic basin by weakening the trade winds, pushing warm water east, and increasing vertical wind shear. These factors inhibit tropical storms' intensification, and the opposite is experienced during the La Niña climate system. Weather experts monitoring the season anticipate a robust El Niño for the peak of the Atlantic hurricane season, resulting in weaker systems.
The list of names for the 2023 Atlantic hurricane season includes Arlene, Bret, Cindy, Don, Emily, Franklin, Gert, Harold, Idalia, Jose, Katia, Lee, Margot, Nigel, Ophelia, Philippe, Rina, Sean, Tammy, Vince, and Whitney.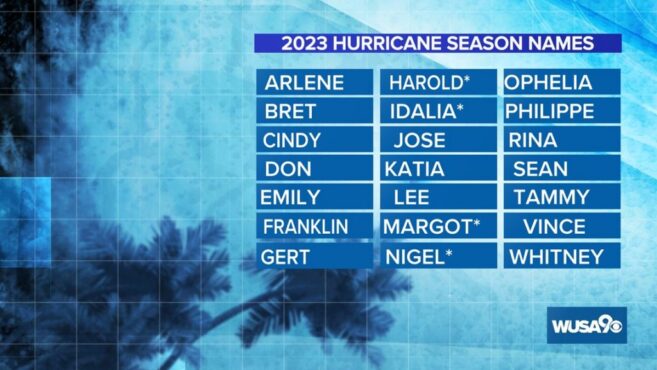 The Government of Belize and the National Emergency Management Organization (NEMO) advise that if a household is unsafe to shelter during a story, its occupants are asked to plan where to go. People are encouraged to prepare to shelter with family and friends or at designated Hurricane Shelters near them.
The national shelters identified for San Pedro, Ambergris Caye, and Caye Caulker include the Sagebrush Church near the Sir Barry Bowen Bridge in San Pedro Town, the San Pedro High School in the downtown area, and the St. John Paul Youth Center in the San Pablo subdivision south of town. These shelters are recommended for storms with less than 110 miles per hour winds. Hurricanes with stronger winds will require people to seek shelter at facilities on the mainland. The principal suggested shelter is the Jabiru building at the University of Belize in the Capital City of Belmopan.
For further information or to improve your emergency family plan, NEMO can be reached by calling 936.
Follow The San Pedro Sun News on Twitter, become a fan on Facebook. Stay updated via RSS