El Niño trend to influence upcoming hurricane season
Thursday, May 25th, 2023
The 2023 Atlantic Basin Hurricane Season starts on June 1st, and the return of El Niño will affect the strength of the storms associated with the yearly season. The good news is that according to forecasters, El Niño tends to contribute to weaker hurricanes in the Atlantic basin, while stronger storms in the central and eastern Pacific.
El Niño is a climate pattern where trade winds weaken, and warm water is pushed back east toward the western coast of the Americas. According to research, vertical wind shear increases during this time, inhibiting tropical cyclones' intensification. La Niña is the opposite and leads to stronger storms in the Atlantic basin and has been present for most of the last three hurricane seasons.
With El Niño, forecasters predict a slightly below-average hurricane season in the Atlantic. One institution that indicates the number of named storms is Colorado State University, Colorado, USA. They expect 13 named storms, six hurricanes, and two major hurricanes for the 2023 season runs until the end of November.
The list of names for the 2023 Atlantic hurricane season includes Arlene, Bret, Cindy, Don, Emily, Franklin, Gert, Harold, Idalia, Jose, Katia, Lee, Margot, Nigel, Ophelia, Philippe, Rina, Sean, Tammy, Vince, and Whitney.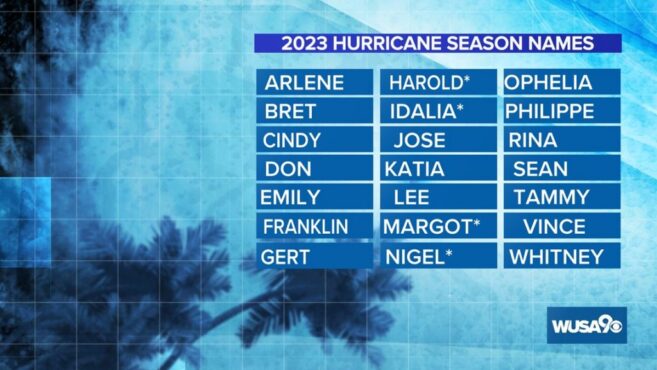 The 2022 Atlantic Hurricane Season was considered one of the most damaging years. It produced 14 named storms, of which eight became hurricanes, with two intensifying into major hurricanes. The season remained active until November, when Category 1 Hurricane Lisa hit Belize. On November 2, 2022, the hurricane landed near Belize City, causing millions of dollars in damages. Many homes in and around the city were damaged. While in San Pedro, Ambergris Caye, no significant damages were reported. San Pedranos braced for the storm, which passed south of the island and only caused rainfall and average gusty winds. Besides the devastation caused on the mainland, no casualties were reported.
As this year's season approaches, The National Meteorological Service of Belize and the National Emergency Management Organization encourages everyone to plan for the 2023 season. Even though the season is expected to be below average, everyone should start preparing, as these storms can be unpredictable.
Follow The San Pedro Sun News on Twitter, become a fan on Facebook. Stay updated via RSS