Rugerri Trejo receives runner-up title to Youth and Sports Award
Thursday, November 10th, 2016
Over 15 prestigious awards were issued at the annual 'Youth Awards' on Friday, November 4th. Youths gathered at the Bliss Centre for the Performing Arts in Belize City to be recognized for their achievements in various sectors, including: education agriculture, sports, innovation, media, and more. In the Youth and Sports category, San Pedro's very own footballer, Rugerri Trejo, was awarded second place.
Minister of Education, Youth and Sports, Patrick Faber, who acknowledged the progress of the younger generation of Belize in his address. "Since 2008, we've been able to steadily increase the visibility of the Department of Youth Service…There are some young people doing things that you would not imagine…there's so much talent in Belize, especially the young people. My friends, we are here to celebrate them tonight…a wonderful applause for all their efforts. We want them to keep on doing what they are doing because it is a great effort," said Faber.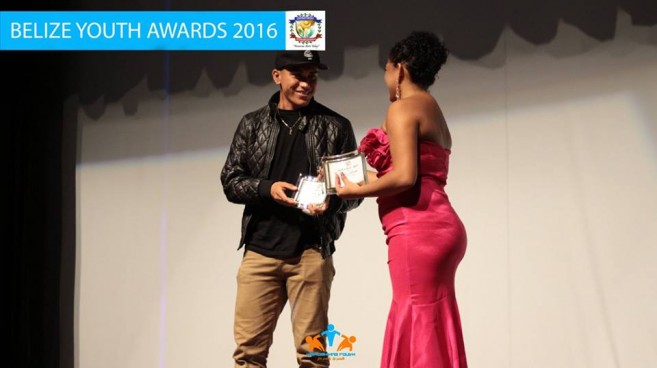 Guest speaker of the night was Deshawn Jiwe Morris, an American citizen and former gang leader, who said it's never too late to make positive changes. "Being here today, it was never in my wildest dreams that my story could travel internationally…I've experienced and seen darkness in some of the deepest places and I've survived much of that and these are the types of testimonies that we need, we need more of these testimonies for those who have survived the struggle and these wars. We need to create hope. That is probably one of the problems why youngsters now are not motivated, they have nothing before them to excite them or motivate them and that is when you have all the negative things to creep in and that is what takes hold of your babies. You have to fight for your children every single day…they say a tiger can never change his stripes and I am living testimony that you can change your life," said Morris.
Awards were then handed out through the night. Taking was the first place title in Youth and Sports was Kimmani Sutherland, and Trejo took the runner-up title, who said that the he was more than honored. He is even more motivated to continue to persevere. "When my name was called, I couldn't believe I won this award. Even though I didn't get first place, I am happy to know that I was nominated in a country that has many talented athletes," said Trejo.
The 21-year-old currently plays for the Belmopan Bandits as a goalkeeper, and stated that he will continue his dream of playing professional football. Trejo also holds the record for being the first Belizean to participate in different football national teams such as: Belize National Youth 20, Belize National 23 Pre-Olympic, Beach and Soccer, Confederation of North, Central American and Caribbean Association Football (CONCACAF), Belize National Futsal, and the Belize National "A" team, alongside Belize's very own, Shane Orio and Woodrow West.
According to Trejo, his passion for football came from his father. "My father was the person who was always behind me. He was also a well-known soccer player here on the island and Belize. From I was a child, he was always there coaching me, and motivating me. He has molded me into the player that I am," said Trejo.
Aside from football, he has other plans in mind. He mentioned that he is committed to finishing his education by enrolling at the University of Belize in January 2017. He would like thank his parents for supporting him, and his also thanks the Belmopan Bandits, his supporters, and friends who have been with him throughout his football career. He also encourages all youth to follow their dreams, and never give up.
Follow The San Pedro Sun News on Twitter, become a fan on Facebook. Stay updated via RSS