Letter to the Editor from Mr. Ramon Nuñez
Thursday, September 5th, 2013
Dear Editor:
I have been silent all this time, but now I am feeling better and I want to share my feelings with the world. I have been at Ramon's Village for the past 32 years of my life; Ramon's is my home, and my baby. Ramon's means the world to me. [The fire] was like taking away a toy from a little kid.
I built Ramon's in 1981 with some investors from the Meridian, and we decided to name it Ramon's Reef Resort. We opened on the 21st of September 1981; by the way the 21st will be our 32nd anniversary! Lots of work and lots of effort, but it's worth it. When we opened Ramon's, we only had 10 cabanas, a restaurant and a bar; the hotel was very rustic. The rate at Ramon's was at $35.00US with 3 meals. In 1987 I was having trouble with the bank and the investor had lost interest in the hotel and I decided to sell. God gave me the strength to keep going, and it was there where I met the nicest person in the world. I was sitting in front of the bar at Ramon's and I saw this person walking with his backpack right at me and I told him, "Welcome to the world of make Belize."
That person was Mr. Headricks, and since then, he has loved Ramon's.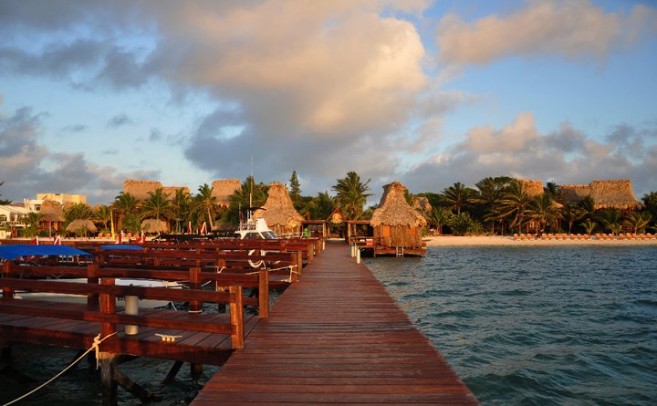 He always wanted to buy Ramon's, and in 1987, we made an agreement and he bought it. Since then, he converted Ramon's into one of the most famous resort in the whole world. Of course I stayed and all those years I have done his PR job. He told me, "I want you to be my general manager, and you will be the boss." And he told me to kiss all the ladies and take care of our guest. A lot of people from all over the world come to our hotel. Many of them are repeat guests; some come about 3 times a year, some twice and some once. Since then, all I have done is love my guests, as I call all of them my friends and family. I always took my mother's word, "Ramon you will be a successful man, because you were born for people."
That night of the disaster, I had just come home from Ramon's, about 7:30PM. As soon as I was going to bed, my phone started ringing and someone told me, Ramon's Village is on fire. I looked out the window and saw the smoke and said to myself, "Oh my God it's happening!" By the time I got there about seven buildings were already burnt. I saw when the dining room started to burn and said to myself, "This is the end of Ramon's Village." I ran to the beach as the fire started to grow, the heat got stronger, my feet started to get weak and I started shaking and fell to the ground. My friend Dale from "Wil and Dale" and another friend, I'm sorry I don't remember who, took me home. Thanks you guys.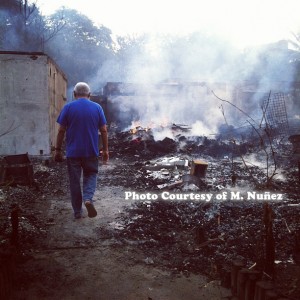 I got home and the doctor came and took care of me. By the time the fire was over I was feeling better. By the next day, all the workers came to work early in the morning. We gathered up, and all of us were feeling so sad; you could have seen it in my and my beautiful staff's faces. We were sad!!!
I want to thank everyone who was there helping, especially my best manager in the world, Mr. Einer Gomez. He warned all our guests and staff who were there at that time and helped them get to a safer place. He ensured that our guests had somewhere to stay as they continued their vacation. I am very sorry for the guests that lost their documents and other personal items, but I thank God everyone was ok. Thanks to the people and the fire fighters for containing the fire, and not letting it spread. I especially thank the men and women that were on the brigade throwing buckets to keep the fire from spreading to the other cabanas. I thank my staff for showing such effort in helping in each and every way, before and after the fire. This is the best staff I have ever had in my life. If God blesses us, very soon our village will be up and running, and all the staff will be working again.
Thanks to the media, to the friends who sent texts and emails from all over the world. Thank you God, for giving us health and life to keep going. God bless all of you!!!
/s/ Mr. Ramon Nuñez
General Manager
Ramon's Village Resort
Follow The San Pedro Sun News on Twitter, become a fan on Facebook. Stay updated via RSS