Masquerade Ball kicks off 2014 Carnaval Celebration on Ambergris Caye
Tuesday, February 25th, 2014
The 2014 Carnaval celebrations, being held this year under the theme "Alegria y Color – La Mascara de la Tradicion" was officially kicked off on Saturday February 22nd with a Masquerade Ball. Hosted by the San Pedro Cultural Committee in collaboration with the San Pedro Town Council, The San Pedro House of Culture, The San Pedro Holiday Hotel and Caprice Bar and Grill, the event sought to revive the "Fiesta de Disfraz/bando" that was last hosted in 1942, 72 years ago.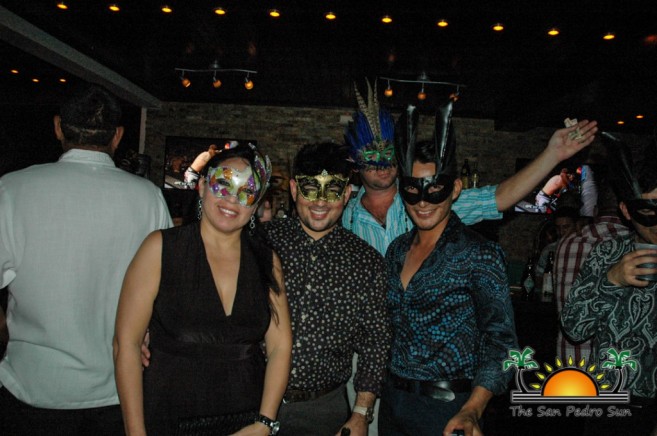 The ball was held at the Holiday Hotel/Caprice Bar and Grill and saw attendees decked in beautiful outfits and colorful, attractive masks. "We want to make it an annual event to kick off carnaval, and we hope that it only gets bigger and better," said Mito Paz, Deputy Mayor of San Pedro. Meanwhile the patron of the night, Lisa McCorkle Guerrero said that "We are happy to be hosting this event and we hope it will not take another 72 years for it to happen… we are glad to be able to partner with the organizers to revive our island's tradition."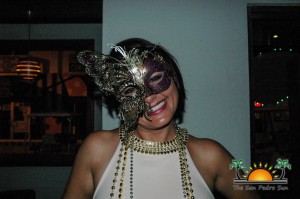 A panel of judges was tasked to select winners in four different categories, based on various criteria. In the Most Creative category, first place went to Susie with her mask made of natural flowers, while Felix Ayuso came in second with his mask that incorporated the AIDS logo. In the category of Best Couple, first place went to Doug and Rosanne while second went to Karla and Justin. Wilema Alamilla won first place for Most Elegant, while Wilfredo Alamilla Jr. came in second. Most Energetic went to Gina and George. All the winners got a host of prizes, including cash courtesy of generous donors. The party-goers had a good time with music provided by DJ DZL which kept the people entertained until the wee hours on Sunday February 23rd.
The organizers would like to thank the following businesses for their sponsorship: Maya Island Air, Carts Belize Limited Atlantic Bank Limited Caramba Restaurant, Caliente Restaurant, Island Torch, Lilies Treasure Chest, Carols' and Cuts, Holiday Hotel, Caprice Bar and Grill and the San Pedro Town Council.

Carnaval activities will continue over the weekend with the second annual Carnaval Block Party on the night of Saturday March 1st at the Central Park. From Sunday March 2nd to Tuesday March 4th, the traditional painting and cultural comparsa dances will take place at designated areas of San Pedro Town and on Wednesday March 5th, the burning of Juan Carnaval will be held at 7PM at the Central Park. Happy Carnaval 2014!
Follow The San Pedro Sun News on Twitter, become a fan on Facebook. Stay updated via RSS