Action Twenty 24 donates anti-microbial shoes to the residents of San Mateo
Thursday, March 13th, 2014
The unplanned development of San Mateo has come far from its deplorable conditions thanks to the continued support of missionary groups and volunteer workers from the USA. On Tuesday, March 11th, San Mateo residents received yet another generous donation in the form of 500 anti-microbial shoes from Action Twenty 24 volunteer group. The donation was facilitated by the San Pedro Town Council (SPTC), who along with the students of Holy Cross Anglican Primary School organized a cleanup campaign on the same day.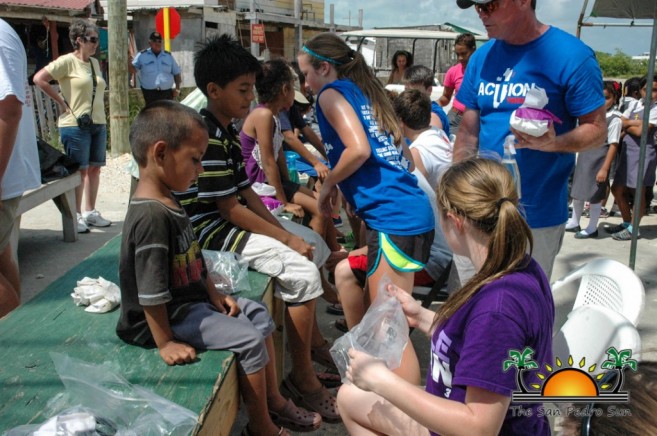 The day started with a short opening ceremony that included the singing of Belize's National Anthem and a short prayer, after which master of ceremonies Councilor Kenrick Bracket who is responsible for solid waste management, invited Mayor Daniel Guerrero to share a few inspiring words. Mayor Guerrero reiterated the council's commitment to the residents of San Mateo by highlighting the efforts to better their living conditions. Guerrero also took the opportunity to announce that the electrification project for San Mateo will commence in the next coming weeks. "I ask that all the residents of San Mateo show their gratitude for the support and donations that they have received by taking take care of what is given to them," said Guerrero.
Following Mayor Guerrero was organizer of Action Twenty 24, Chris Burnette. Burnette explained that the group's aim is to improve the life of the less fortunate and to spread the Lord's word. "We do not do this because we are asked to, but because we want to give back to the community of San Pedro that has accepted us with warm hearts. Action Twenty 24 travels to different locations assisting those who need it the most. We are a family and we want to make San Mateo part of our family as well," said Burnette.
Later in the afternoon the volunteers washed the feet of the children of San Mateo and gave them a pair of anti-microbial shoes in their size. The anti-microbial shoes are proven to prevent the transmission of diseases caused by bacteria or fungicommonly found in contaminated, stagnant water like in the case of San Mateo. Unlike other shoes that trap moisture and act as a culture for the growth of bacteria, the anti-microbial shoes contain an agent that kills microorganisms or inhibits their growth and can prevent several foot related health conditions. The shoes will provide comfort and well-being to the residents of San Mateo. Action Twenty 24 has distributed thousands of anti-microbial shoes to residents in Africa, Haiti and Guatemala.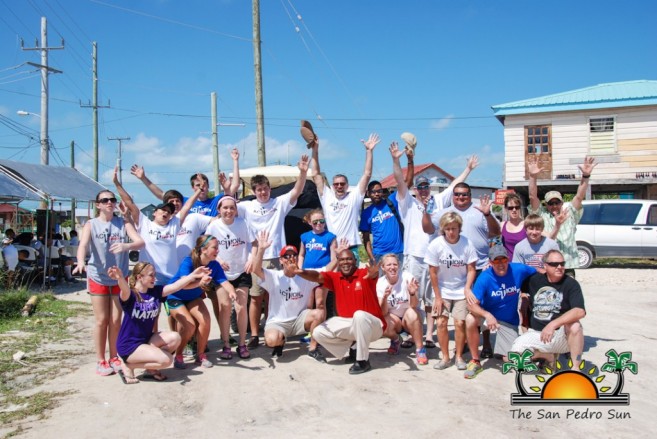 Action Twenty 24 will be hosting their second annual summer sports camp for the children of San Pedro in July. More information on the camp will be released in the coming months.
Follow The San Pedro Sun News on Twitter, become a fan on Facebook. Stay updated via RSS