No gold for volleyball team but Excellent Gain of Experience
Friday, September 12th, 2014
The Belize Male Volleyball Delegation may not have placed at the 28th CODICADER (Centroamericano de Deportes y Recreacion) Games, but the boys certainly gained valuable experience playing at an international level. The seven San Pedro High School (SPHS) students that traveled to Guatemala on Monday, September 1st to represent Belize have made their community proud even though they could not mange to pull off a win.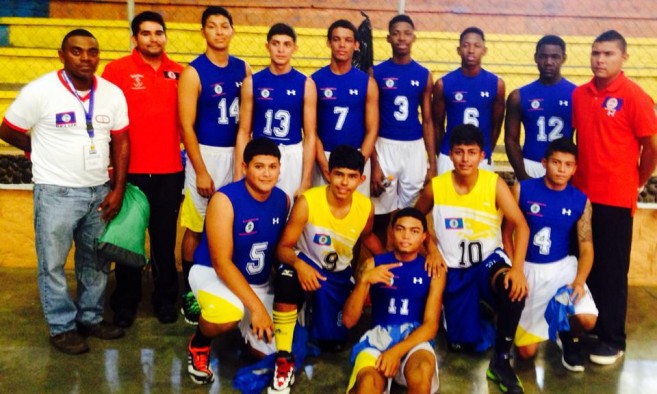 To Gabriel Nuñez, Guillermo Nuñez, Afri Black, Shemar Broaster, Francisco Pineda, Jovi Ico and Giomar Marin, the opportunity to participate in the CODICADER Games is a victory on its own. Team coaches Erick Santizo, Paul Kelly and Guillermo Rivero congratulate the boys on their playing skills and sportsmanship. "The volleyball team played their best; we could not ask for more. Even with injuries in the team we still managed to give a good game. The boys are now motivated and are looking forward to putting their experience to use in Belize," said Santizo.
The team played their first game on Wednesday, September 3rd against Nicaragua, which ended in a defeat (set 1: 25-23, set2: 25-19, set3: 25-23). Their second match was with Costa Rica on Thursday, September 4th which ended in a loss (set 1: 25-14, set 2: 25-19, set 3:25-18). On Friday, September 5th the boys lost to Honduras (set 1: 25-12, set 2: 25-17, set 3: 24-26, set 4: 25-18). The team lost to Panama on Saturday, September 6th (set 1: 25-17, set 2: 25-22, set 3: 25-20) and to Guatemala on Sunday, September 7th (set 1: 25-7, set 2: 25-16, set 3: 25-20). Their final match was on Monday, September 8th against El Salvador which also resulted in a loss (set 1: 25-14, set 2: 25-10, set 3: 25-14).
The delegation would like to thank their sponsors Canary Cove and Gaby's Construction and the entire San Pedro community for their support.
Follow The San Pedro Sun News on Twitter, become a fan on Facebook. Stay updated via RSS