Ministry of Natural Resources confirms that gated docks are illegal
Thursday, July 27th, 2017
Many of the docks along the eastern coast of Ambergris Caye are reportedly becoming less accessible due to their proprietors allegedly gating the over-the-water structures. There are cases where dock owners have signs at the foot of their dock, telling the public to stay away. In other areas of the island, there are even security personnel denying access to the dock. Recently, there have even been noticeable additions of gates to fully prevent access at any time of day. Many concerned island residents say these actions are illegal, since the structures are built on national land, and thus are to remain accessible by the general public.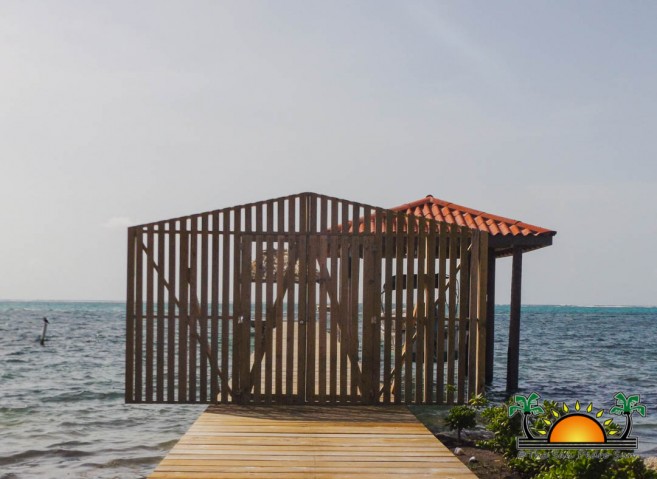 The San Pedro Sun contacted the respective authorities to weigh in on the matter. Representatives from the Physical Planning Department (PPD) at the Ministry of Natural Resources (MNR) explained that in Belize, all land up to 66 feet from the high water level is considered national land or "Queen's Land". This means that docks are to be kept accessible to the public. The Department at the MNR indicated that by denying access, dock proprietors can lose their building permit and may be ordered to dismantle the structure. "Whenever a permit is granted, the erection of the structure on National Lands does not mean ownership, and no gates or barrier structure shall be placed on the dock," said a spokesperson at the Ministry. "The public should be able to access the pier between the hours of 6AM and 6PM."
The PPD emphasized that the seabed is not private property and thus falls under the management of the Government of Belize, who authorizes permission to utilize it. The PPD also indicated that any reports should be made to them, since they have the jurisdiction of docks across the country. "When a report is made, please provide the location where the violation is happening, name of proprietor, and images as well," said the representative from MNR. "We will then visit the area and do an inspection to further deal with the issue." The MNR asks dock owners to abide by the regulations in order to not lose their privilege of having a dock on their beach properties.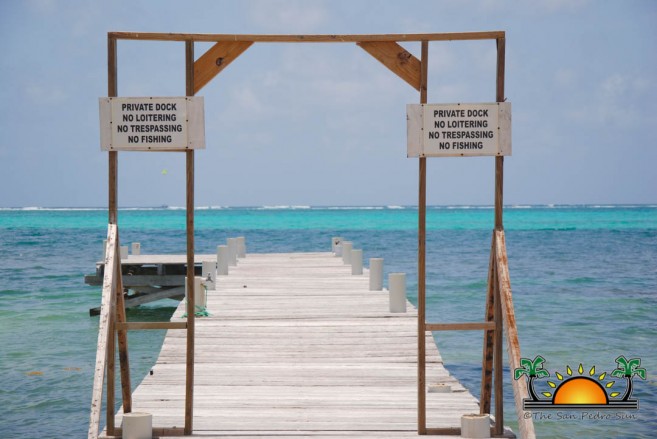 The issue has reached local authorities on the island, who say that they understand the residents' complaints and believe that every pier should be accessible to the public. However, as the jurisdiction of docks lies in the hands of the MNR, The San Pedro Town Council (SPTC) says they have limited control and are unable to enforce relevant laws. The Ambergris Caye Local Building Authority (ACLBA) responded similarly. According to Fidel Ancona of the ACLBA, they are only responsible to approve construction of piers. "Our only duty is to make sure that the design of the structure is proper and strong and that it does not have an impact on the environment," said Ancona. "After an inspection is made, the applicant is provided with a recommendation from the SPTC to be taken along with their application to Belmopan." He also added that at the end of the day, it is up to the MNR to officially approve the structure.
Both the SPTC and ACLBA are trying to take over jurisdiction for docks and process applications. They believe that it will not just allow them to enforce the respective laws, but save residents time and money.
In the meantime, the MNR urges residents countrywide to report any violations regarding denying access to docks to their headquarters in Belmopan City located at Queen Elizabeth II Boulevard. Reports can also be made by calling 828-5070, 828-5052, 828-5178 or via email [email protected]
Follow The San Pedro Sun News on Twitter, become a fan on Facebook. Stay updated via RSS