BNTU protests against crime and violence in Belize; GOB not pleased
Thursday, April 5th, 2018
Due to an increase of crime and violence in the country, that has unjustly claimed the life of several women and children, the Belize National Teachers Union (BNTU) held a protest rally through the main streets of Belmopan City on Friday, March 23rd. The aim of the protest was to stand in solidarity with citizens that have lost a loved one as well as to submit a list of demands from the Government of Belize (GOB) that will hopefully help reduce these issues.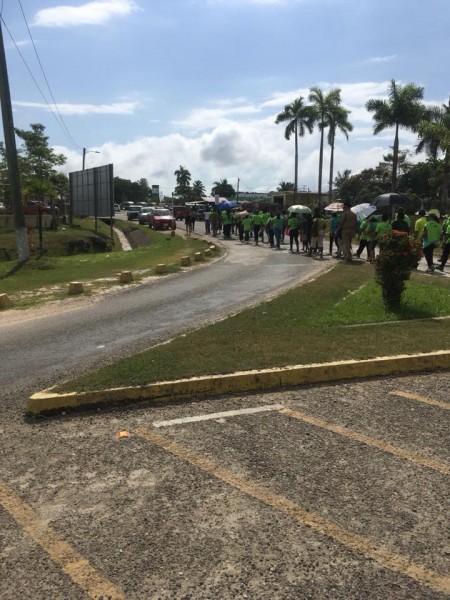 At 8AM, teachers from across the country gathered at Belmopan City and peacefully marched through the main streets of the Capital. With the majority of teachers wearing their symbolic green shirts and carrying posters, they made their way to the Belmopan Civic Center. At the center, attendees were addressed by many speakers. Special Envoy for Families and Children, Kim Simplis Barrow was among the speakers who thanked the BNTU for standing up against crime. "It is for this reason that I say that I am honored and thankful to have been invited to be here with you all today, and let me, as the first order of business, thank the Belize National Teachers Union, especially Senator Elena Smith for doing what is required of those on the front line of defense to do. Speak up for our vulnerable," said Barrow.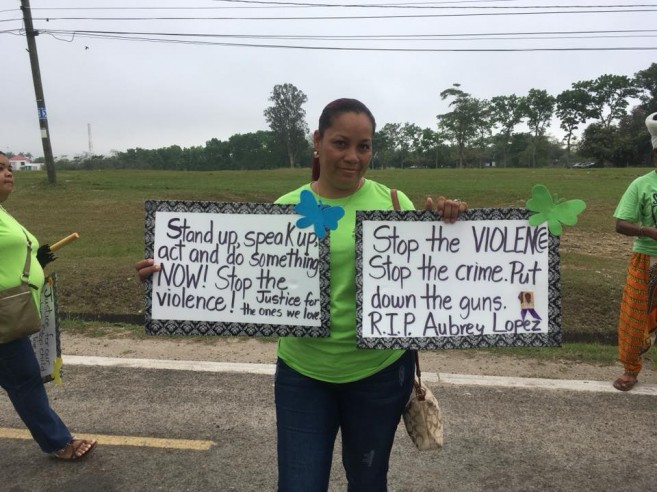 Another speaker at the rally included Attorney Lisa Shoman who shared a couple words. "We want to make sure that it is the state, not parents, not teachers, who are actually the virtual complainants when there is a crime against our children, against our women. So, that parents no longer have to have the burden of pursuing a criminal for what was done to their children. That must be the duty of the state, and we won't want to see them standing up to nolle pros a case because they can't get witnesses."
The podium also saw an address from BNTU President and Senator Elena Smith who stated that if any member of the union gets involved in insidious acts against children, they will not be condoned. "For those among us, who have been accused, and who have been guilty of molesting children, we want to say to you, while we have a duty to represent you as a member of our union, we will not condone any of our teachers. We will guide. We will advise, but we will not condone any action that you take to molest any of our children, none of them. And so, please, teachers, let's do our jobs. Let's do it to the best of our ability, and let us remember that our children are precious, and as we said this morning, Teachers love the little children, all the little children," said Smith.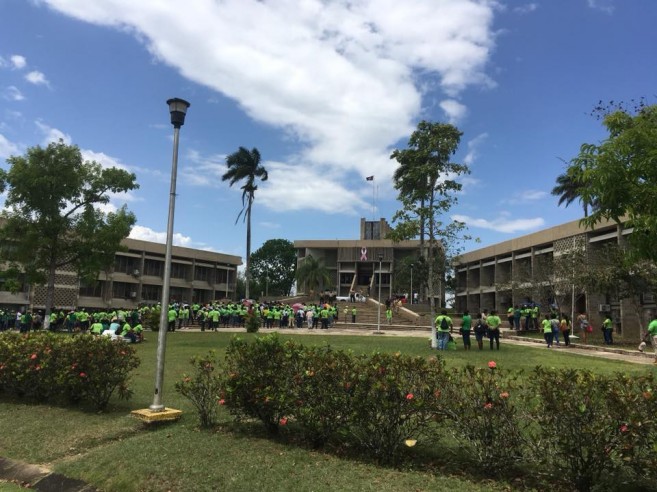 BNTU Executive Ruth Shoman spoke on the lists of demands BTNU has of the GOB that could possibly help reduce the level of crime and violence. "Here is what we are demanding from our government; one councilor must be instituted from primary all the way to tertiary level, now; more social workers available in every district, who are properly equipped with necessary tools to carry out their job, more training for teachers so that they can be better equipped to deal with all these horrendous situations that our children have to face. We have truancy officers gone invisible. We need to know where they are, we need to ensure that the truancy officers are held accountable for not doing their jobs. We need to ensure that age-appropriate sex education classes are incorporated, as well as conflict resolution, in all our schools. We currently have laws that prohibit proper and efficient collecting of data in rape cases, which result in the lack of prosecution of these perpetrators,' said Shoman.
However, Minister of Foreign Affairs, Wilfred Elrington, at the budget debate on Friday, Mach 23rd stated he is not pleased with the actions taken by teachers of the country. "The P.S.E. results are atrocious. The amount of time that the Teachers' Union spends demonstrating is unacceptable. If your kids are failing and failing repeatedly, to my mind we have to think at some point about the children. Every time you take a demonstration, every time you walk out on the street, every time you leave the classroom, the children are hurting! And this is C.X.C. time, they are in the middle of C.X.C., the teachers walk out because they have something with corruption," said Elrington.
The BNTU has rightfully earned a reputation as an activist union not only for their own concerns such as benefits and salaries, but actively involved in public affairs and successfully for transparency in the government. They hope that the GOB listens to their demands and take actions against the rise of crime and violence in the country.
Follow The San Pedro Sun News on Twitter, become a fan on Facebook. Stay updated via RSS