San Pedro BTIA chapter elects new board of directors during annual general meeting
Saturday, December 8th, 2018
The San Pedro chapter of the Belize Tourism Industry Association (SP BTIA) installed a new board of directors during their annual general meeting. Held on Tuesday, December 4th at El Divino Restaurant, the meeting addressed the ongoing garbage issue, neighborhood watches, the possibility of a tourist information center and membership.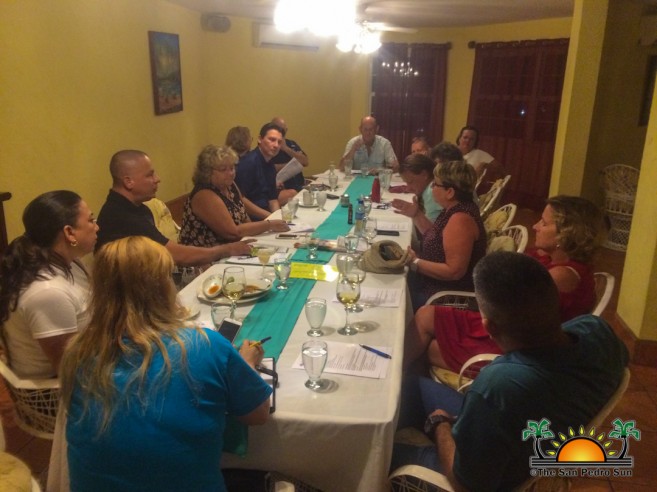 The meeting was called to order at 7PM by Chairwoman Tamara Sniffin, welcoming everyone and giving an overview of the previous month. Sniffin spoke about the community unity in the garbage clean up spearheaded by SP BTIA from November 9th through November 12th. She expects the San Pedro Town Council to continue the efforts highlighted by the local BTIA in the recent cleanup. According to Sniffin, Mayor Daniel Guerrero has committed to continue the task to tackle the garbage issue on the island and encouraged residents to report any illegal dumping.
The meeting also highlighted the educational campaign launched with the organization's mascot, Captain Conch, who on Friday, November 23rd made appearances in different schools promoting proper garbage disposal. The educational campaign on garbage with Captain Conch is set to continue in classrooms beginning early next year. SP BTIA along with Captain Conch will also be participating in the upcoming lighted boat parade taking place on Saturday, December 8th.
Membership was another topic discussed at the meeting and the need to increase it was made imperative. Currently, the organization has 57 members and is expecting to double this amount by early next year. Plans of organizing more neighborhood watches in the community was also discussed.
In attendance was BTIA Executive Director, John Burgos, who commended the chapter for all that has been done so far and encouraged all members to assist in the increase of the membership. Burgos emphasized the need to have a tourist information center on the island with a full-time staff. He stated that this could attract new members and make the chapter on the island even stronger. Burgos said that funding for such center could be available. Currently, there are BTIA tourism information centers in Orange Walk, Dangriga, Placencia, and Toledo.
Following the meeting the election of the new board 2019 for the SP BTIA took place. Tamara Sniffin remains as the Chairwoman. The rest of the board include Karen Brodie as Vice-Chair, Shirlee Arnould as Secretary, Melanie Paz as Treasurer along with Lisa Harris as Neighbourhood Watch coordinator and Membership coordinator Jackie Feldman.
For more information on the SP BTIA or how to become a member contact Chairwoman Tamara Sniffin at [email protected] or call at 226-2070.
Follow The San Pedro Sun News on Twitter, become a fan on Facebook. Stay updated via RSS