U.S. Embassy in Belize presents new Chargé d'Affaires a.i. Leyla Moses-Ones
Tuesday, August 10th, 2021
Belize's last ambassador representing the United States of America was during President Barack Obama's administration, which ended in 2017. Following the departure of then-ambassador Carlos Moreno, Adrenne Galanek took the reins of the embassy under the post of Chargé d'Affaires. The following year a new Chargé d'Affaires, Keith Gilges, took over. Three years later, a new Chargé d'Affaires Leyla Moses-Ones, now takes the helm of the U.S. Embassy in the Capital City of Belmopan for the upcoming three years.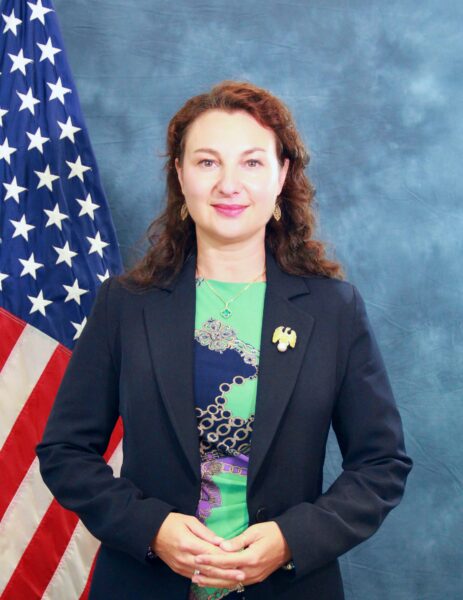 Chargé Moses-Ones holds an impressive profile, featuring a diplomatic career in other countries. She most recently served as Deputy Chief of Mission to Tirana, Albania, from 2018 to 2021, including serving as Charge d'Affaires a.i. for half her tour. Before this, she served in various capacities in Washington, D.C., and U.S. Missions in Costa Rica, Mozambique, Turkey, and Germany. In her most recent post in Washington D.C., she held the position of Deputy Director in the Office of Policy and Global Issues at the Bureau for European and Eurasian Affairs.
The new top U.S. diplomat in Belize is honored to represent her country as the new Chargé d'Affaires. "I look forward to working with the government, civil society, organizations, and the Belizean people to continue to build on this exceptional U.S. –Belize partnership, promoting our shared interests and enhancing national security, economic prosperity, and good governance efforts," said Chargé Moses-Ones. Another highlight about Moses-Ones is that she is a distinguished alumni of the National Defence University and holds a master's degree in National Security and Defence Resource Strategy and an undergraduate degree from Georgetown University's School of Foreign Service.
Moses-Ones is married to Dr. Kyle Moses, a retired U.S. Navy Captain. They both have three children.
The San Pedro Sun joins the nation in welcoming U.S. Chargé d'Affaires Leyla Moses-Ones to Belize and looks forward to working closely with the embassy. We wish her all the best during her tenure in the Jewel.
Follow The San Pedro Sun News on Twitter, become a fan on Facebook. Stay updated via RSS