SPTC to further address the issue of large trucks and traffic in downtown San Pedro
Monday, March 6th, 2023
Many residents commuting daily to downtown San Pedro have expressed that large dump and delivery trucks have added to the growing congestion affecting the busy island community. The situation has prompted the San Pedro Town Council (SPTC) to reissue regulations to monitor the problem. However, many residents believe the solution would be to barge the construction material with these trucks instead of allowing them through town.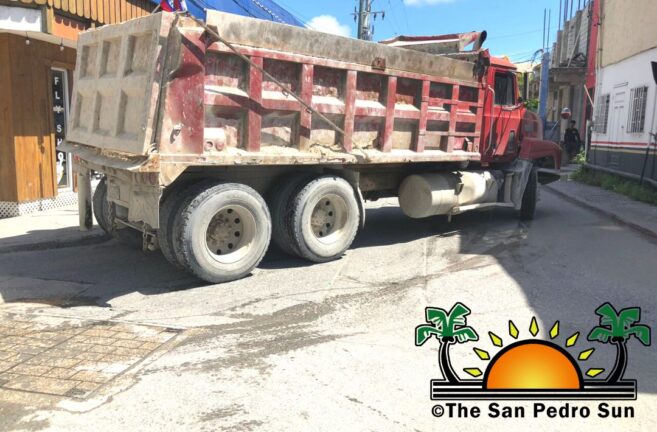 Mayor Gualberto 'Wally' Nuñez is aware of the frustration of stakeholders in the town core area but said that barging materials along the coast are not an option, particularly if projects are taking place within the subdivisions. "It will be double work and double the cost," said Nuñez. "But we are looking at ways whereby if a development is taking place up north or south, then using a barge would be better to transport material." The Mayor explained that when it comes to projects like street rehabilitation, the option to barge material does not work for them. Thus, the trucks will be required to go through town, however, with some restrictions now.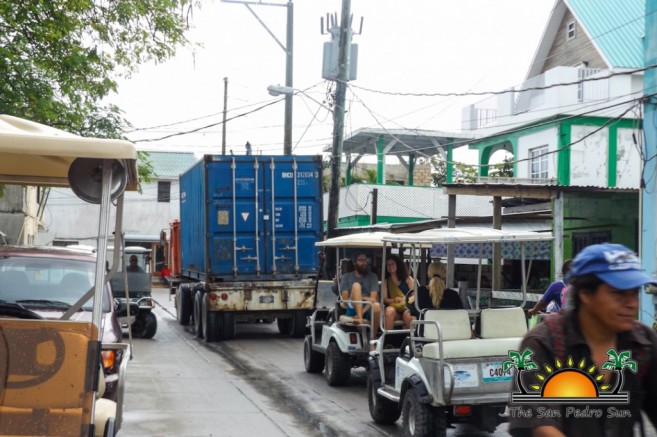 The new rules mandate dump and large delivery trucks (box trucks) to avoid crossing Tarpon Street leading to Barrier Reef Drive during specific hours. These vehicles are prohibited from transit through the town core (Front Street). The SPTC clarified that smaller delivery trucks would be allowed to operate normally during the following schedule:
Monday to Friday
7:30AM to 9AM
11:20 AM to 1PM
3PM to 4PM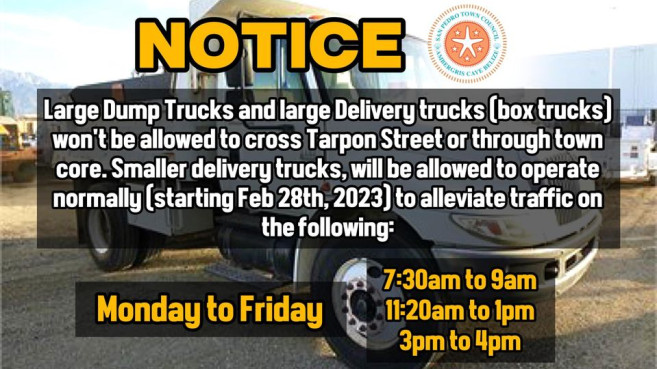 In September 2022, the SPTC introduced this schedule for large trucks/vehicles: no large delivery trucks are allowed to operate from 8-9AM and 11:30AM-1:15PM, Monday to Friday. On Saturdays, no large trucks are allowed after 1PM. Meanwhile, no large delivery trucks are allowed to operate in town on Sundays and public and bank holidays. These, as per the Mayor, are under review.
The SPTC added that along with the traffic board, they are looking into making changes to Pescador Drive (middle street). The discussion is to allow only golf carts and motorcycles to park on this street. No larger vehicles or six-seater golf carts will be allowed to park on this street, the narrowest stretch downtown.
Follow The San Pedro Sun News on Twitter, become a fan on Facebook. Stay updated via RSS