Gaspar Vargas stabbed to death at his home in San Pedro
Monday, April 30th, 2018
Police have yet to lay charges on 35-year-old Ricardo Mendoza for the murder of his father-in-law, 57-year-old Belizean construction worker Gaspar Vargas. Vargas, who resided in the San Mateo Area of San Pedro Town received a large cut wound to his stomach around 2PM on Monday, April 30th. The wound was allegedly inflicted by Mendoza while they were socializing at home. Vargas was rushed to the Dr. Otto Rodriguez San Pedro Polyclinic II, where he was immediately treated, but later succumbed to his injuries.
The Vargas family is devastated and believe that their loved one lost his life senselessly. According to his wife Alma Vargas she was at work when she received a call from her daughter. "I thought it was his hernia that had burst since I left him working at home," said Vargas. "I called my boss and told her I had an emergency and then headed to the clinic but I could not see him and was told that they were going to take him to Belize City." Vargas said that after inquiring about what happened, her daughter told her that he had been stabbed.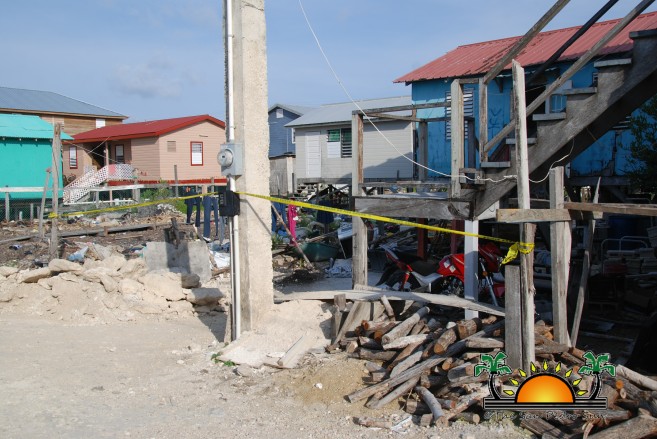 Vargas thought the only person responsible could be Mendoza who in previous occasions had attacked her husband. She shared that during Easter Mendoza had badly beaten Garspar and threatened to kill him. At that time she had intervened in the fight, but did not make a report. One of the deceased's relatives, who wishes to remain anonymous, reiterated that this is not the first time Mendoza attacked Vargas, as he had allegedly beaten his father-in-law on a previous occasion.
The family continues to grapple with their loss. Alma says she never imagined that her husband's demise would take place at her own house, all because of an old misunderstanding. "It hurts me so much," she said. "My husband did not drink outside because he did not want anyone to kill him in public or do him any harm. He would get his rum and drink it in the safety of our house, but I never thought our home was not a safe place." Vargas added that her husband told her on many occasions that he did not trust Mendoza.
This is the third murder for the month of April alone and the second in the same area. On Thursday, April 26th just a few yards from where Vargas lived, 25-year-old Honduran National Reniery Garcia was gunned down inside his grocery store. This latest homicide marks the fifth for 2018 in San Pedro Town.
Follow The San Pedro Sun News on Twitter, become a fan on Facebook. Stay updated via RSS