PC Nelson Ramos, formerly assigned to San Pedro Town, remanded for sexually assaulting a minor
Friday, July 17th, 2020
39-year-old PC Nelson Denfield Ramos is once again in trouble with the law, after being arraigned for one count of rape, one count of sexual assault and two criminal offenses on Thursday, July 16th. Ramos, who was attached to the Independence Police Formation in southern Belize, was accused by a 17-year-old minor of rape.
According to the victim, on July 6th, she was detained by two police officers for traffic offenses (driving without a valid driver's license). Between the hours of 11:30AM and 1PM, while in police custody, the minor alleged that Ramos asked her if she had anything to offer in exchange to avoid any traffic-related charges.
She was then reportedly taken to a feeder road where Ramos allegedly sexually assaulted her. Additionally, it is alleged that he fondled the minor, which was considered sexual in nature and without the victim's consent. When Ramos was taken to the Independence Magistrate Court, no plea was taken and due to the nature of the crime, bail was denied and he was remanded to the Belize Central Prison until October 8, 2020.
Ramos involved in extortion case while assigned to San Pedro
In June 2017, Ramos was attached to the San Pedro Police Formation, when he was accused of extorting an American tourist. According to the victim, then 28-year-old Timothy Braun, while out enjoying a cigarette, three police officers approached him on a golf cart. They accused him of smoking marijuana. Braun informed the officers that he was smoking tobacco, but was promptly told they were taking him in for smoking weed. He was handcuffed behind his back and placed on the back seat of the golf cart. According to Braun, the officers, all in full uniform, drove him to a dark area along the Boca del Rio River just before reaching the Barry Bowen Bridge. Here the officers removed his handcuffs, and led him to the water's edge, where one officer (allegedly Ramos) put a gun to his head and stated that if he did not give them all of his money, he would end up in the river. Fearing for his life, Braun explained that his cash was at the Airbnb apartment he had rented in town. The police then drove him to the location, and after he let them in, they ransacked the apartment and stole $500US cash, brazenly dividing up the cash in front of him. According to Braun, the officers told him that if anyone were to ask, he was to say he was drunk and the police escorted him home. They also warned that should he go out again that night, or report what happened, there would be consequences.
Braun did not stay quiet and sought helped through The San Pedro Sun, the island Ambassadors and the island authorities, who acted quickly. Following his report, a police investigation took place and after interviewing the witness who was smoking with Braun at the time of the incident, reviewing surveillance camera footage and confirming physical descriptions of the officers, Officer in Charge then Superintendent Henry Jemmott told The San Pedro Sun, "There is more than sufficient evidence to get a conviction against these officers."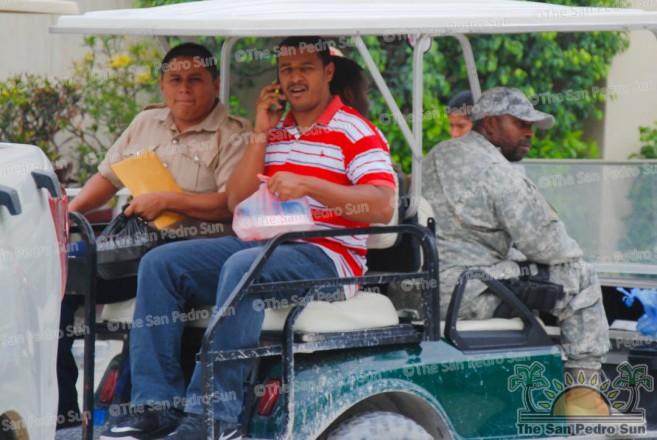 As such, PC Denfield Nelson Ramos, Special Constable Orlando Mendez and PC Malcolm Ramirez were detained. Although PC Malcolm Ramirez was to be charged with Abetment to Theft and Extortion, he agreed to testify on behalf of the defendant in exchange for immunity. At the San Pedro Magistrate Court on, June 21, 2017, PC Ramos, who is believed to have orchestrated the offensive, and was armed with a police-issued weapon that night, was charged with Theft, Extortion and Aggravated Assault with a Deadly Weapon. Special Constable Mendez was charged with Theft and Extortion. Although both officers were given bail at $5,000 with two sureties for the lesser charges, Ramos was remanded to Central Prison for the Aggravated Assault with a Deadly Weapon charge. He pled not guilty, Mendez was scheduled to return to court at a later date. PC Malcolm Ramirez was exonerated from all charges.
Ramos has had a history of being in trouble with the police department. In 2013, he was placed on interdiction, after refusing to testify in a case against then United Democratic Party Minister Mark King – a case which fell apart.
Follow The San Pedro Sun News on Twitter, become a fan on Facebook. Stay updated via RSS