Over 3,000 vaccinated in San Pedro; islanders start getting the second jab
Friday, May 7th, 2021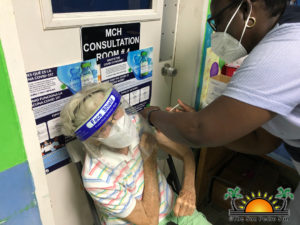 Island residents in San Pedro Town, Ambergris Caye, have answered the call to vaccinate against COVID-19. As of Friday, May 7th, based on information from medical personnel, around 3,100 people have received the jab, with more in line to get the vaccine. The latest report indicates that 71 islanders have welcomed their second dose of the AstraZeneca vaccine. This number is expected to continue increasing as more persons are scheduled to receive their second dose.
The vaccine distribution has so far been through three phases, with two more to go. The most recent phase 3(C) covers members of the security forces, fire department, persons with co-morbidities, non-governmental representatives, and utility workers. While there is a large part of the island population in favor of getting the vaccine, others remain hesitant.
Some who received their first jab experienced side effects, while others did not. Some of the common issues after the vaccine include fever, chills, nausea, dizziness, and fatigue. These side effects usually last no more than a day, and vaccine recipients are informed of such potential disturbances. As in any vaccine or preventive medication, reactions can occur.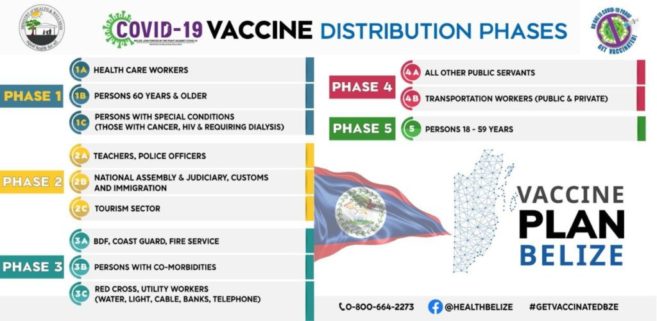 Although the experiences may have been unpleasant for some, they urge more people to take advantage of the rollout and get the vaccine. "It is just a temporary bad feeling, and not everyone gets the side effects," said an islander who received the jab. "It is a plus for everyone, and as a tourism destination, we are sending a message to the country and world that San Pedro is a safer place to visit." According to reports, the vaccine does not entirely prevent one from becoming ill with the virus, but it significantly reduces the severe symptoms associated with the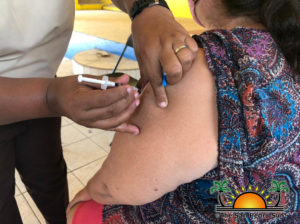 sometimes-deadly infection. In other words, it is best to prepare the body's defenses to deal with the virus.
Over the past months, the number of COVID-19 has dropped drastically. The daily reports from San Pedro have been showing zero cases on the island. The latest information from the Ministry of Health and Wellness (MOHW) indicates only 75 active cases of COVID-19 countrywide.
As the vaccine rollout continues countrywide, the MOHW informed that over 46,000 people are currently vaccinated. The ministry appeals to Belizeans to sign up and get the vaccine. In San Pedro, people can sign up by accessing this google online form https://bit.ly/3txPCRQ
Follow The San Pedro Sun News on Twitter, become a fan on Facebook. Stay updated via RSS