A year of COVID-19 on Ambergris Caye; then and now
Wednesday, March 24th, 2021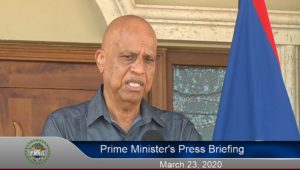 On March 23, 2020, the first case of COVID-19 was detected in San Pedro Town, Ambergris Caye. The then prime minister, the Right Honourable Dean Barrow, made the announcement at a press conference in Belize City describing the female "patient zero," a frequent traveler to the United States of America. Following the report, the country isolated itself from the world. Still, a surge in infections collapsed the tourism industry for most of 2020, brought death, and placed La Isla Bonita under lockdowns turning the world upside down for everyone as the island became one of the country's epicenters for the virus.
Today, San Pedro only has a handful of COVID-19 cases detected in four visitors who remain quarantined. Tourism is slowly picking up, and Sanpedranos have survived over the past months making sacrifices and helping each other in any way possible. The new norm now is mask-wearing when out in public places, hand washing, and social distancing. San Pedro was a vibrant town, a joyful island characterized for its festivals; now a thing of the past, this year, there will be no Easter festivities. The country remains under a set of restrictions that prohibits large gatherings and social events, to name a few, and a daily curfew beginning from 10PM is in effect.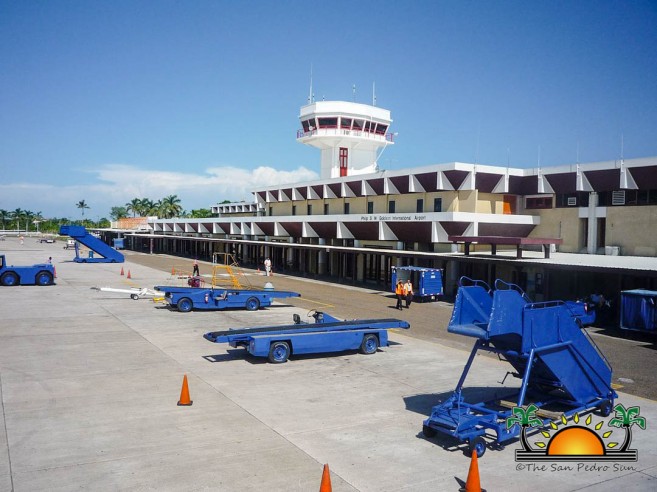 Speaking with some business owners running restaurants, tour shops, and grocery shops, they continue to struggle to stay afloat and keep their staff. Although tourism is returning after Belize opened the international airport in October, the numbers are not the same compared to previous years. However, businesses report a positive flow of visitors that promises to continue as cases across the country continue to drop. Companies yet to be allowed to open are casinos, nightclubs, and bars. Some bars have renovated their premises into a restaurant so they can operate. Restaurants are currently allowed to open catering to a 50% capacity.
The first case turns San Pedro into a ghost town
After the first case was detected in San Pedro the island immediately went into lockdown with non-essential travel restricted. When people tried to leave in large groups, the government immediately declared a state of emergency, installing a 72-hour quarantine restricting anyone from leaving or traveling to San Pedro. This decision saw many who came to San Pedro for the day stranded and workers from the mainland who suddenly found themselves unemployed, unable to leave the island. Forced to give up their rental homes, many had to stay with friends while waiting to leave the island.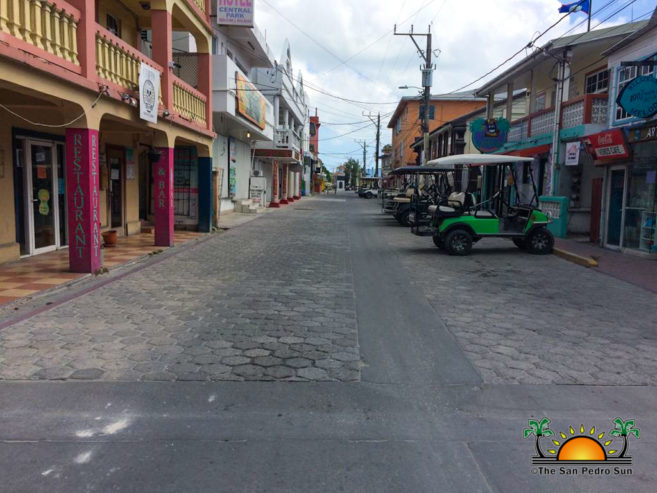 Lockdown extended
On March 25, 2020, a second COVID-19 case, the mother of patient zero, was confirmed. This resulted in the extension of San Pedro's state of emergency for 30 days with the possibility of lifting it earlier. According to the Ministry of Health, this was necessary to conduct a mapping exercise. Given this emergency and to control the virus's spread, the town council set opening hours for stores, from 7AM to 10AM. Bakeries and tortilla factories from 6AM to 10AM, pharmacies from 8AM to 6PM, while fuel and butane gas companies could only operate from 8AM to 12 noon. Banks operated at their discretion, and some businesses offered deliveries or curb-side pick-ups to discourage people from leaving the house. There was also a curfew beginning from 8PM to 5AM. The lockdown prohibited anyone from being out on Sundays, and the state of national emergency was extended countrywide.
A couple of days later, in San Pedro, as the virus threatened to spread on the island, the private sector and volunteers teamed up to create the now Mar de Tumbo flu clinic to tend to suspected COVID-19 cases. This flu clinic continues to operate.
Meanwhile, food and pantry campaigns headed by Hope Haven Children's Home and island resident chef Maresha Reid started to feed and assist hundreds in need. They ended up feeding thousands.
The first group of mainland residents and stranded people evacuated from the island
Those stranded and running out of rent money clamored to leave the island, telling authorities that they needed to return to the mainland to their places of origin. On April 9, 2020, after properly screened, a total of 69 people were assisted in their return to the mainland. They left in a chartered boat to Belize City escorted by police officers and staff from the Ministry of Health. A list of the passengers' names was sent to the police in their respective areas of origin to make sure they quarantined for 14 days. Additional boats were to leave the island in the coming days with more people, but due to unknown events, it was delayed. These people, however, continued benefiting from the pantry and food programs organized on the island to help those in jeopardy.
On April 18, 2020, another group of mainland residents evacuated San Pedro via two large San Pedro Belize Express Water Taxi boats. This group of people returning to their mainland communities totaled 206, including adults and children. The Ministry of Health coordinated the evacuation with the Ministry of Human Development and the National Emergency Management Organization. The island remained under the National State of Emergency as cases spread across the country. Some of these new cases were brought in by repatriated Belizeans.
Lockdown again extended
On April 27, the Senate unanimously agreed to a two-month extension of the National State of Emergency. Around that same time, one more group of 168 mainland residents were ferried off the island after screened. Some of these trips included picking up people from Caye Caulker, who was also devastated by the pandemic. Cases of COVID-19 were decreasing around the country; however, the National State of Emergency was to extend until June.
The National State of Emergency finally came to an end by July 1, 2020, as cases dwindled, giving way to relaxed restrictions like no more curfew. The ease of restrictions applied to businesses opening hours, but the restrictions that stayed mandatory were wearing face masks, hand washing, and practicing social distancing.
Spike in cases brings new lockdown/state of emergency
A little over a month later, on August 7, 2020, islanders were served with another lockdown. It was for 14 days following an alarming spike in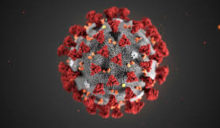 cases of COVID-19 attributed to community transmission. Cases on the island reached double digits overnight as patients continued to be confirmed. Curfew was re-installed, and restrictions toughened. Days later, with 133 confirmed cases, San Pedro was declared an epicenter for COVID-19. In the coming weeks, that number surpassed 300. Traffic on the streets minimized, and downtown movement was restricted to essential needs, including wholesalers delivering products to businesses still operating. Many stores and the few open restaurants enforced strict regulations to safeguard their staff and customers.
Some residents became terribly ill and had to be transported to Belize City, and sadly there were fatalities.  Islanders began tackling the disease by following protocols, and people started recovering. As shared by the Ministry of Health on August 28, the bulk of cases began to shrink, and the island was no longer the epicenter. Instead, it was now Orange Walk District in northern Belize. This surge in infections was attributed to border jumpers in the northern districts bordering Mexico.
With cases again decreasing and Tropical Storm Nana approaching Belize, the lockdown was lifted by September 1, 2020. Nana hit Belize as a Category 1 Hurricane in the country's southern area, sparing San Pedro. The government began making plans to bring back the tourism economy and work on different protocols for visitors to follow before re-opening the Philip Goldson International Airport on October 1, 2020. Some of these included testing before traveling to Belize and only staying at approved accommodations by the Belize Tourism Board. While for Belizeans, a curfew and preparations were made for the November 2020 general elections. There was a spike in cases after the elections that saw an elected member of parliament's death on the mainland, but there was no surge on the island.
The international airport's re-opening saw the end of some of the feeding programs, while others continued helping the jobless and needy.
A new plan from the government
Following the election, the new government set regulations such as improving surveillance and testing capacities were implemented, scaling up rapid test use in all district hospitals. In urban communities, testing sites were established, and two mobile swabbing teams for rural communities were created. The plan also called for hiring additional human resources such as nurses, doctors, specialist health staff, support staff for deployment to all regional and community hospitals, including acquiring additional medical equipment and supplies.
Fast-forward to today, the number of cases countrywide and including in San Pedro have dropped and currently is down to 39. A huge difference compared to the thousands of confirmed cases in 2020. As of March 23, the latest report totals 12,410 Belizeans have tested positive with the disease, and 316 have died. The current recovery percentage is 97.1%, and although other countries anticipate a third wave, Belize is optimistic that it will maintain its low rates of infection.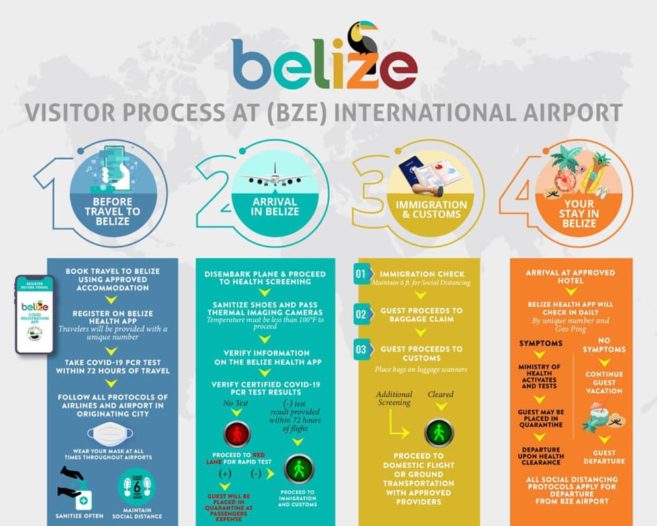 Current COVID-19 regulations
Under the Statutory Instrument introduced on February 1, 2021, adult curfew runs from 10PM until 5AM. While for unaccompanied children, the curfew is 6PM to 5AM. Children can only be out after 6PM if accompanied by an adult. The curfew applies to everyone, including tourists. Anyone found guilty of violating these regulations can be fined up to BZ$500.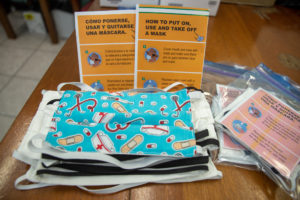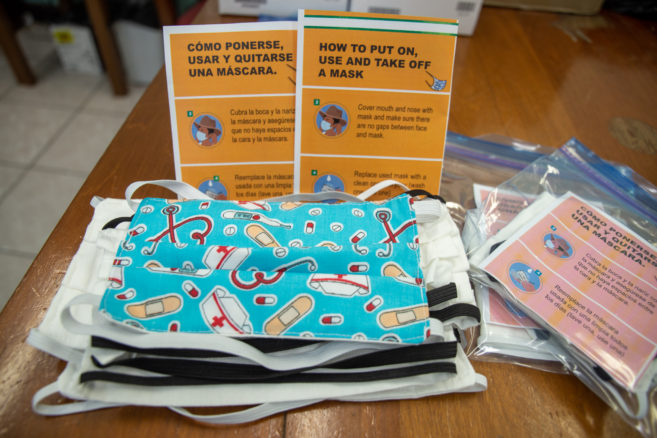 The wearing of facemasks is mandatory in public. The only exceptions are inside a private residence, while exercising or swimming. When driving alone or in the company of members of the same household in an enclosed vehicle, they are not required. Masks must be worn when driving or riding on golf carts or motorcycles.
The sale of liquor in restaurants and shops has been extended to 10PM. However, shops should adhere to their liquor licenses, which in most cases states that they can only sell alcohol until 9PM. Another relaxation in the regulations is that restaurants and churches may open at 50% capacity. Restaurants with outdoor facilities are recommended, but those without alfresco dining must have adequate ventilation. Church services are not to exceed one hour.
Social gatherings are limited to no more than ten persons at a private gathering. Households can have visitors if the number of people does not exceed ten.
Handwashing before entering public establishments and social distancing are also mandatory.
Failure to adhere to these regulations can result in a ticket/fine up to $BZ500. This fine must be paid at the magistrate court or treasury in cash within 15 calendar days from the date of issue. If no payment is made after the due date, the fine will increase by $10 every day until is paid. No payment after 30 days the ticket can be used as a summons. In court, the ticket can be challenged if the individual believes it was issued unjustifiable.
Please help support Local Journalism in Belize
For the first time in the history of the island's community newspaper, The San Pedro Sun is appealing to their thousands of readers to help support the paper during the COVID-19 pandemic. Since 1991 we have tirelessly provided vital local and national news. Now, more than ever, our community depends on us for trustworthy reporting, but our hard work comes with a cost. We need your support to keep delivering the news you rely on each and every day. Every reader contribution, however big or small, is so valuable. Please support us by making a contribution.
Click to Donate
Follow The San Pedro Sun News on Twitter, become a fan on Facebook. Stay updated via RSS