Alexis Del Valle crowned SP Lions Queen 2013
Wednesday, March 20th, 2013
On Saturday evening, March 16th, the San Pedro Lions Club hosted their annual Lions Queen pageant, with four lovely young ladies competing for the coveted 2013 title. Alexis Del Valle, who was sponsored by Fidos and The San Pedro Sun, Lynda Quintanilla sponsored by CSG by the Sea, Cecibel Cortez sponsored by Mata Chica and Lina Mazeriegos sponsored by Elvi's Kitchen were all charming and title-worthy contenders. Masters of Ceremony Geraldo Badillo and Solani Graniel were on stage to introduce the contestants and entertain the large crowd throughout the evening.
The night kicked off with a dance presentation by the four contestants, and in between their sportswear modelling and talent competition, the audience was treated to lively, choreographed dance performances by the San Pedro Dance Academy.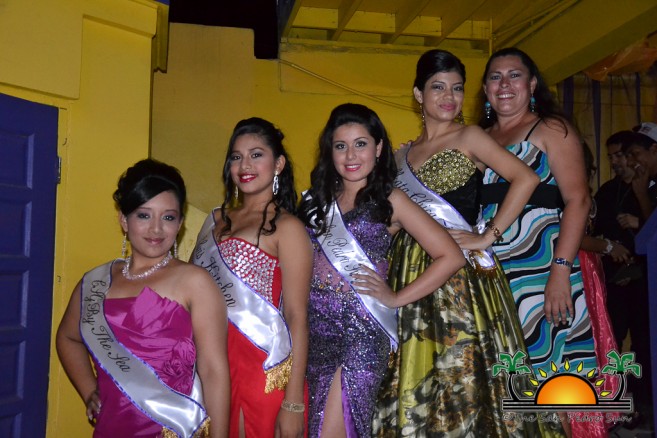 Prior to the evening gown segment a projected photo presentation of a trip the contestants took with Belize Diving Adventures to Caye Caulker was shown on stage, with candid photos of the girls having fun while enjoying the trip.The evening gown segment followed, and each contestant wore her elegant dress with grace and poise. Next it was time for the question and answer session, where the rivals were asked Lion related questions. It was then time for the lovely out-going Lion's Queen 2012 Shantell Pascascio to bid her farewell and take her final walk.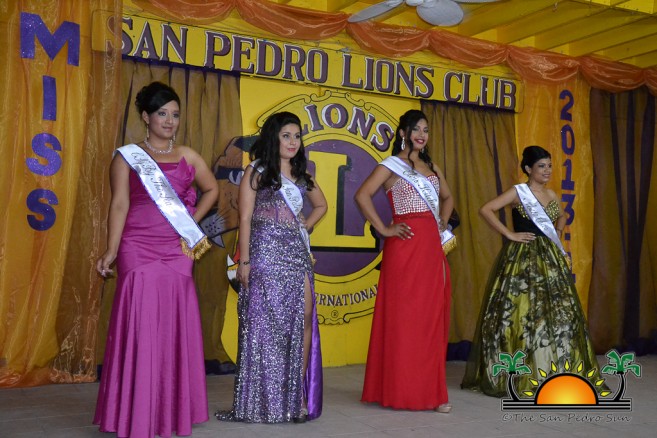 The five judges, Mr. Jose Luis Zapata, Mr. Jhoshi Alexander Najarro Valencia , Ms. Nellie Gomez, Ms. Pat Greif and Ms. Natasha Stewart were burdened with the task of choosing the next Lion's Queen. After their votes were tallied, the announcements were made to the eager crowd. Lynda Quintanilla was awarded Miss Photogenic and Cecibel Cortez was voted Miss Amity. The audience responded with a loud cheer when it was announced that Alexis Del Valle had won the title of San Pedro Lion's Queen 2013! Crowned by Shantell Pascascio, and sashed by San Pedro Lions President Mel Spain, a beaming Del Valle took her first walk down the aisle and through the crowd as the new Lion's Queen.
Pageant organizer, Lion Marina Kay would like to thank all those who helped to make the evening a great success, especially the businesses that supported the contestant in many different ways. The San Pedro Sun congratulates all of the young ladies for a job well done and wishes Ms. Del Valle a fun and fulfilling reign as the San Pedro Lions Queen 2013.
Photo Gallery
Follow The San Pedro Sun News on Twitter, become a fan on Facebook. Stay updated via RSS