Police Report
Sunday, April 12th, 2015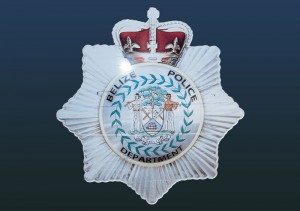 Aggravated Robbery
On Wednesday, April 8th, Rosa Perez reported to the San Pedro Police that on Tuesday, April 7th she was robbed. Perez stated that after closing her establishment, namely 'Angelicas Store' in the DFC Area, at 10PM, she and her husband, Eduardo Monroy went home. Upon reaching her home, Monroy got off the golf cart to open the metal gate that is the entrance of the fence. At that time Perez saw a male person wearing a black shirt, short black Dickies pants, a black rag covering his face and a black cap, coming out of the bushes and heading towards her husband. The man was armed with a 9mm firearm and hit Monroy with the gun's butt. On seeing what was happening she tried to come off the golf cart to render assistance, but two other men approached her and grabbed her two gold chains valued at $3,500BZ and a white gold bracelet valued at $700BZ. The two men tried to grab her hand purse but she refused to hand it over so the man holding the gun shot at her but missed. He then hit her with the lower part of the firearm on her left side of the face causing a cut wound. The man hit her again to the back of her head causing her pain, after which he took the purse and ran away towards the Ambergris Football Stadium. Police are currently looking for three men. To report any information that can lead to an arrest contact the San Pedro Police Station at 206-2022.
Possession of Controlled Drugs
On Tuesday, April 7th, acting on information received, Juan Moralez a volunteer Special Constable, along with three members of the Strike Team (PC C. Munnings, PC S. Ferguson and PC Z. Palacio) conducted a search on the residence of Willis Ray Estrada Davis on Sail Fish Drive. Upon entering the residence, Moralez saw a brown skinned male person standing near a window inside the residence, later identified as Davis. Upon seeing the police, Davis released a small brown in color leaf from his right hand. The substance was retrieved and noticed to contain suspected cannabis. Davis was informed of his offence and cautioned. A further search of the house led to seven small transparent plastic bags containing suspected cannabis being found in the frame of a metal door. Davis was escorted to the San Pedro Police Station where the drugs were weighed amounting to 6.4 grams of suspected cannabis. Davis was then officially arrested and charged for the crime of Possession of Controlled Drugs.
Wounding
On Wednesday, March 18th at around 11:19AM, 31-year-old Mario Tosta visited the San Pedro Police Station and reported that on Sunday, March 15th he was wounded. Tosta stated that between the hours of 1AM and 1:30AM he was socializing with friends at a resort south of San Pedro Town when a Hispanic male came out of nowhere and hit him on the left side of his face near his left eye. Tosta felt pain and blood as it came flowing down his face, but he managed to grab his attacker. Persons nearby intervened to prevent the matter from escalating, at which point Tosta identified his attacker as Gerson Cordon. Court action was requested.
Follow The San Pedro Sun News on Twitter, become a fan on Facebook. Stay updated via RSS