Who will be the next PUP Party Leader?
Wednesday, December 16th, 2015
Three members of the People's United Party (PUP) have been nominated to contest the position of party leader in the upcoming convention on January 31, 2016. Nominations ended at 5PM on Tuesday, December 15th, with Honorable Cordel Hyde and former party leaders Honorable John Briceño and Honorable Francis Fonseca officially up for contention. But party supporters will not only select their next leader at the 2016 convention, as nominations were also held for the position of deputy party leader, national communication manager, national campaign manager, legal advisor, treasurer and chairman of the PUP.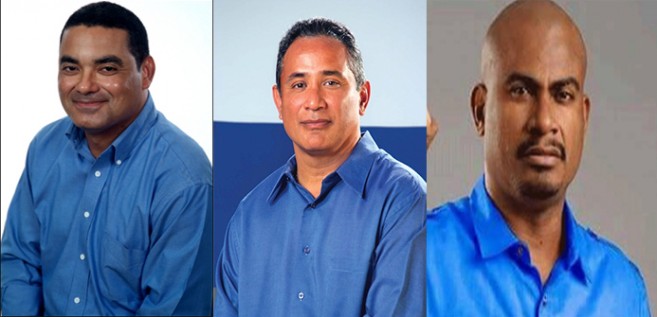 The shocker at nomination came with the announcement of Fonseca running for party leader after recently announcing his resignation after the November 2015 General Elections. Fonseca has indicated his actions are attributed by request from party members and an overwhelming encouragement from supporters who wish him to continue as party leader.
Running for the position of deputy are Honorable Florencio Marin Jr., Honorable Jose Mai, incumbent PUP Deputy Leader Honorable Julius Espat, Honorable Michael "Mike" Espat, Honorable Rodwell Ferguson and Honorable Kareem Musa. Emilano Zabaneh, Honorable Dolores Balderamos Garcia and Anthony Mahler will be contesting for the position of national communications manager. The position of chairman of the PUP is being contested by Oscar Requena and incumbent chairman Henry Usher. For the position of national campaign manager, legal advisor and treasurer, there was only one nominee each: Victor Espat, Anthony Sylvestre and Ramon Cervantes Jr. respectively. In the upcoming days, the nominees will be ratified by party executives.
Until the National Convention takes place, Fonseca remains as the Leader of the Opposition in the House of Representatives, even though Usher had assumed party leader responsibilities within the PUP executive body.
The official venue for the convention will be announced as the date nears.
Follow The San Pedro Sun News on Twitter, become a fan on Facebook. Stay updated via RSS