PUP National Convention to be held in Belmopan in January 2016
Friday, December 25th, 2015
The National Executive of the People's United Party (PUP) held an executive meeting on Thursday, December 17th, ahead of the upcoming special national convention set for January 31st in Belmopan. At this national convention, a new party leader will be selected among the aspiring candidates which include John Briceño, Francis Fonseca, and Cordel Hyde.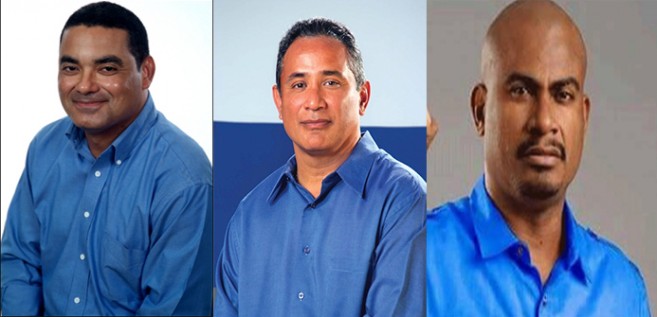 At the executive meeting, details were determined regarding the upcoming national convention, and, Secretary General Myrtle Palacio explained the procedures. "We will be voting for several posts including the post of Party Leader. We have a Party Leader right now until a new party Leader is elected. He is Francis Fonseca. He is also the leader of the Opposition. I have been charged today to start the process of preparing for election. We expect that the delegate list will come to this office to the Chairman, Henry Usher and myself. The deadline is December twenty-ninth at five o'clock. The convention will take place in Belmopan at a venue to be decided on at a later date. We are in this convention looking at several posts , we have four Deputy Party Leaders under our constitution, one Party Leader, one Treasurer and other various positions in the Party…Chairman as well is up for election. So it's a full slate of the top members of the National Executive that we'll be voting on. Each division will get to have one out of twenty-five votes that their candidate received in the last general election. We expect to have a little over two thousand nine hundred delegates in this election," said Palacio.
Absent from the list of contenders for party leader are Senator Lisa Shoman and first-term representative Kareem Musa. However, Musa did enter the race for the Deputy position in the party, which is the second most powerful post. Musa is one of the six persons nominated for Deputy Party Leader. It was also revealed that for the first time in a long time, no woman will be representing at the party's highest levels.
From among the three nominees for party leader, only Briceño has made his statement regarding the race for the leadership of the PUP. The statement reads as follows:
'My Dear Friends
On 15th December 2015 the good people of the north nominated and endorsed me for Leader of the People's United Party. It is with gratitude and honour that I accept their nomination.
I want to thank all of you who have posted your support for my candidacy. I promise you that our team will work hard and to run a clean campaign.
Over the next few weeks the campaign will become spirited and energetic and I promise to keep in touch with everyone through social media and as much as I can I will try to speak with as many of our Party supporters so that I can hear your ideas and share my plans with you.
Our PUP is a great party and one that can return to its tradition of being the best option for the Belizean people. I want to be a part of that work and believe that together we can be victorious.
All I ask of everyone who is supportive of our campaign is to please refrain from posting negative comments about any of the many good people who want to be a part of the work of rebuilding our Party. Let us together run a decent and respectable campaign.
Thanks for your support and I invite you to join our team. Long live the PUP.
Forward to Victory!
John'
Other posts up for challenge include the National Communications Director, whose candidates are: Dolores Balderamos Garcia, Anthony and Emilio Zabaneh. National Campaign Manager, with only one nomination, goes to Victor Espat.
For Legal Advisor, the only nominee is Anthony Sylvestre Jr.; and for Treasurer, the only candidate is Ramon Cervantes Jr. For Party Chairman, Henry Usher is being challenged by PUP Toledo West Area Representative, Oscar Requena.
It was confirmed that Fonseca, Briceño and Hyde had proposed slates, but preferred to focus on the selection of a leader at the convention. The party's National Party Council, which will also meet in January, will then address the different procedures of the selections.
Follow The San Pedro Sun News on Twitter, become a fan on Facebook. Stay updated via RSS