BzSA launches a new logo and puts Belize sailors into the international arena
Saturday, May 16th, 2015
It is the dawn of a new day for recreational sailing in Belize and hence the Belize Sailing Association's (BzSA) new board of directors decided to adopt a logo to embody the excitement of momentum. This new logo reflects the fact that BzSA is creating international opportunities for top school-age sailors. Selection regattas decided which sailors BzSA will send to this summer's international events, one for Optimist dinghies and the other for Olympic class Lasers.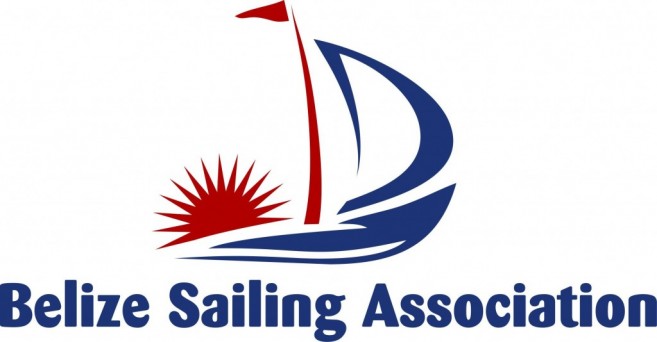 This year, the International Sailing Federation (ISAF) invited and will provide subsidies for Belize and other countries to attend its inaugural Youth World's Emerging Nations Programme (YWENP). The initial invitations and help with funding were to enable each country to select a coach, two sailors, and a third providing that it was a girl, to join a Laser training clinic in Antigua, West Indies, from July 14th to the 21st. The event's purpose is to train a vanguard of emerging nations' sailors and their coaches so that they return home to demonstrate and impart what they have learned to their country, as well as to start a growth in their countries' potential for competing internationally in an Olympic class boat. Just before Easter, BzSA conducted its own training and a selection regatta, using the Belize Sailing Center's Lasers and its professional coach to decide who to send. As reported on April 8th, eight of BzSA's top young sailors participated; the three who earned the ISAF invitations were 14-year-old Antonio Ricardez, 15-year-old Jerdon Anderson, and 14-year-old Blanca Velasquez. These three, and Caye Caulker Sailing Club's Trenton Miller, the coach BzSA selected, were set to be pioneers in the truest sense of the word. But, ISAF's regulations were amended. Many more countries than ISAF had anticipated were indeed prepared to send three sailors. On Wednesday, May 6th, ISAF's apologetic Development and Training officer sent BzSA the following:
"Due to a higher than expected demand for places on this clinic, your entitlement for ISAF subsidized attendance on this YWENP clinic is limited only to the persons listed below: Coach (1): Trenton Miller (M) and Sailors (2): Blanca Velasquez (F), Antonio Ricardez (M)."
In the conversations that followed, every conceivable remedy was explored. It was not about money. The issue is that ISAF will not have sufficient equipment and coaching staff on Antigua to handle the response it got. ISAF's further explained that, "The preference from ISAF is to promote gender equality for the YWENP. All the MNAs (e.g., countries – Member Nation Associations) which have been now told that only two sailors can be put forward have one boy and one girl put forward."
Even though Jerdon Anderson will not be participating in the YWENP, he is encouraged along with all other sailors to continue training for international Laser regattas, where enrollment will not be limited.
In other news, the International Optimist Dinghy Association (IODA) has offered to pay some of the expenses for three Belizeans to enter the 2015 Optimist North American Championship Regatta (OPTINAM), in Antigua, from July 5th to the 12th. Therefore a selection Regatta was held on Saturday, April 25th. Five of Belize's top Optimist skippers competed in six races in the waters off BTL Park in Belize City.
13-year-old Kevin Velasquez placed first in all 6 races, a remarkable feat and a first in the annals of BzSA Optimist regattas. 12-year-old Trent Hardwick, in determined and stubborn pursuit throughout, came in second. 13-year-olds Jasmin Campos and Nashira Ricardez posted identical raw scores, but the tie-breaking rule awarded third place to Campos, while Ricardez settled for fourth. 12-year-old Tyler Garbutt finished in fifth.
Kevin, Trent, and Jasmin will be the sailors participating in OPTINAM. BzSA enthusiastically endorses and will spearhead what has become a grass roots campaign here and abroad to raise private funding for Nashira to also participate.
BzSA's 2015 pioneering effort in international regattas will be for naught if it cannot both continue and expand. Continued and expanded participation in international championship regattas can in time render sailing in Belize an attraction on par with diving, sport fishing, wild life, and Maya ruins. Hence there will be a payoff. But continuation and expansion require funding.
The Belize Sailing Center, Belize Sailing Vacations, Belize Sea Scouts, the Belize Olympic Committee and a handful of private individuals have stepped forward to offer their support in their bid to take their youth sailors to these international events, which are baby steps towards eventually attending the Olympics. By way of this media, the Belize Sailing Association is humbly seeking financial support in cash or in kind assistance to send our sailors on their way across the Caribbean Sea.
For details on how you can help please email belizesailingassociati[email protected] or call our Chairwoman Sharon Hardwick at 624-8529.
Follow The San Pedro Sun News on Twitter, become a fan on Facebook. Stay updated via RSS