Two time defending champs, San Pedro Tiger Sharks win NEBL opening
Wednesday, January 6th, 2016
The National Elite Basketball League (NEBL) hosted its opening marathon on Saturday, December 19th at the University of Belize gymnasium in Belmopan City. Five of the eight teams that will participate in the upcoming season attended the marathon. In the end it was defending NEBL Champions, the San Pedro Tiger Sharks who took top honors at the marathon.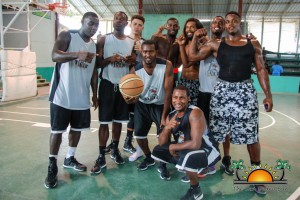 In game one, Cayo Western Ballaz defeated Independence Thunderbolts, 36-33. Elvert Ariola was the top scorer for Cayo Western Ballaz with 11 points, while Thunderbolt's Lloyd Coe sank 8 points in a losing effort. In the second game, San Pedro Tiger Sharks came out victorious over Belmopan Bandits in a 48-37 point game. The Tiger Sharks were led by sharp shooters, Caleb Sutton and Ashton Edwards, who scored 16 and 11 points respectively, with a lot of their points coming from behind the arc. Jevan McKenzie was the top scorer for Belmopan with 10 points. In game three, Dangriga Warriors defeated Independence Thunderbolts 47-42. With two losses, Independence was eliminated from the competition.
In game four, Cayo Western Ballaz handed Belmopan Bandits their second loss of the day, 62-35, also eliminating Belmopan. Cayo Western Ballaz was led by Anfernee Young who had the game high with 31 points, while Ivan Flowers finished the game with 11 points. Belmopan Bandits was led by Kevin Brown with 14 points. Game five witnessed San Pedro Tiger Sharks defeating Dangriga Warriors, 59-32, eliminating Dangriga Warriors, and sending San Pedro Tiger Sharks to the finals. San Pedro was led by Ashton Edwards who sank 17 points, while Raul Roches tallied 16 points. Nayib Cassimiro was the top scorer for Dangriga Warriors with 10 points.
The championship game was played between San Pedro Tiger Sharks and Cayo Western Ballaz, which was a rematch of the finals from the previous two NEBL seasons. With 53 seconds remaining, the game was tied 50-50. However, the two-time defending champ was able to secure the 54-50 victory and was crowned the champion for the opening marathon. Caleb Sutton was the top scorer for San Pedro Tiger Sharks with 18 points, while Ashton Edwards sank 16 points in the win. In a losing effort, Brandon Flowers and A.C. Augustine Jr. scored 14 points each for Cayo Western Ballaz.
The third annual NEBL season will tip off on Friday, Januray 15th at the Orange Walk Town Multi Purpose Complex. The San Pedro Tiger Sharks will be facing the Orange walk Running Rebels in the first match of the season starting at 9PM. On Saturday, January 16th, the other six teams will take the court, as Cayo Western Ballaz will host the new franchise, Independence Thunderbolts, at the Sacred Heart College Auditorium at 8PM; Dangriga Warriors will take on Belize City No Limit at Bird's Isle, in Belize City, with tip-off time set for 8PM; and Belmopan Bandits will host Belize Hurricanes at the UB gymnasium in Belmopan at 8PM.
Follow The San Pedro Sun News on Twitter, become a fan on Facebook. Stay updated via RSS