Belizean Sailors perform with pride at ISAF Youth World Championship Regatta
Saturday, January 9th, 2016
The 2015 International Sailing Federation (ISAF) Youth World Championship Regatta took place in Langkawi, Malaysia from December 27th to January 3, 2016. 76 countries sent 443 sailors and 126 coaches to the event, which even saw the participation of a delegation from Belize. Sailboat manufacturers supplied race-ready boats in nine different classes, for a total of 311 vessels. Representing Belize at the regatta were 15-year-old Antonio Ricardez from Belize City who participated among sailors from 67 other countries in the Laser Radial male's field, and 15-year-old Blanca Velasquez of San Pedro Town, who participated among sailors from 54 other countries in the Laser Radial female's field.
Events leading up to the big race commenced from Monday, December 28th, with the official registration, boat assignment and preparation of all sailors. A practice race was then scheduled for Tuesday, December 29th for the sailors to test the Malaysian waters.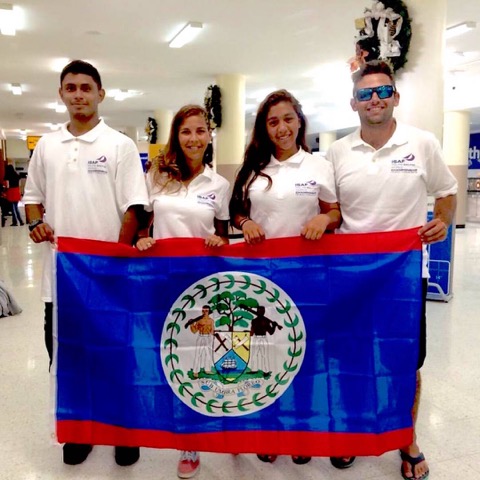 The nine-race regatta officially began on Wednesday, December 30th. Sailors participated in two races per day. Races were held on Wednesday, December 30th; Thursday, December 31st; Saturday, January 2nd; and Sunday, January 3rd.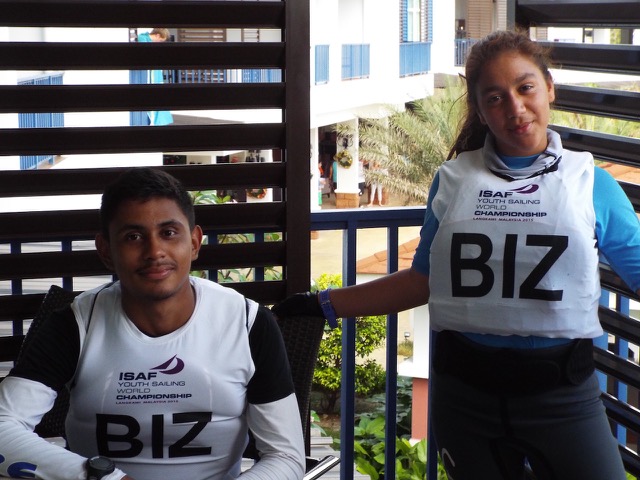 Ricardez and Velasquez were the two youngest sailors at the regatta, and also among the smallest, lightest, and the least experienced. Many of the sailors competing against our Belizean representatives were between the age range of 17 – 19 and had sailed Lasers for years. Ricardez and Velasquez just started sailing Lasers vessel about six months prior to the regatta. "In Laser competition, heavy winds favor bigger, heavier sailors. Until the last two days, the winds were heavy, around 20 knots, a disadvantage to Antonio and Blanca. Another disadvantage was their total lack of experience trying to get a great start with so many other boats – well over 50 in each case – all vying for best position on the start line. This is probably the single hardest thing for inexperienced sailors to overcome. Antonio and Blanca had been well coached, apparently, because in the practice race and throughout the rest, their starts were excellent. The only exception was a case of bad luck: In Antonio's final race, a sort of rogue, head-on current at the start that he had never experienced before, here or elsewhere, completely foiled his timing. Blanca's start in the 2nd race of the 2nd race day was caught on video, and in the sailors' post-race race debriefing it was shown as a demonstration of one really clever way to hit the line in clean air and right on time. Perhaps Antonio and Blanca had a hard time on the course when the winds were heavy, but for them to be able to start on a crowded start line as well as the top sailors in this regatta is a remarkable milestone of achievement," said Forrest Jones, who accompanied the Belize delegation as a media correspondent.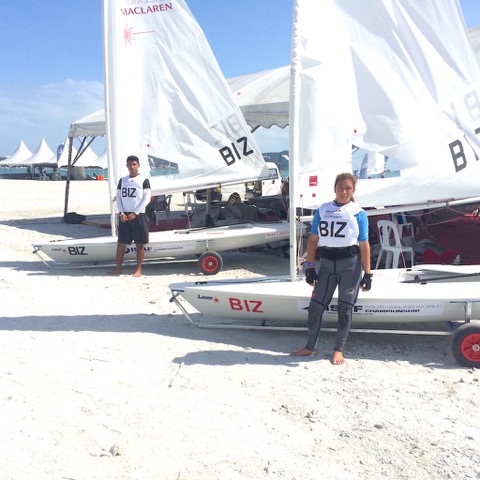 Velasquez finished 43rd in her category with a cumulative 337 points (race one – 45, race two – 47, race three – 42, race four – 43, race five – 45, race six 43, race seven – 43, race eight – 43 and race nine – 34). Her highest score (race two) was dropped. As for Ricardez, he ended up in the 58th place in his category with a cumulative 432 points. (race one – 54, race two – 49, race three – 58, race four –57, race five – 59, race six 52, race seven – 43, race eight – 61 and race nine – 60). His highest score (race eight) was dropped. "Both Ricardez and Velasquez beat about 10 other countries, and both finished strong. That doesn't show in Antonio's scores for the last 2 races when an equipment problem hindered him in race 8 and that rogue current hit in race nine; however, his 7th race was his best, 6 ranks better than his previous best, which had come on day 2. Blanca's last race, in the lighter winds finally, was by far her best and 8 ranks better than her previous best. It was the consensus of their coach, Juan Mazzini, coaches of other teams, and some front-line, forward-thinking ISAF officials, that if Belize will vigorously support Blanca and Antonio, who have four more years in which they can compete in Laser Radials, the likelihood that they will become among the best in this class is very real indeed. "For Belize's very first venture into international championship sailing, this is indeed not unexpected, yet still a wonderful outcome," commented Jones.


Taking top honors at the 2015 ISAF World Youth Championship Regatta were Will Logue of the United States of America in the Laser Radial male's field, and Julia Szmit of Poland in the Laser Radial female's field.
The San Pedro Sun joins the rest of the sailing community in congratulating Ricardez and Blanca on a job well done!
Follow The San Pedro Sun News on Twitter, become a fan on Facebook. Stay updated via RSS