World ranked Laser Sailors Visit Belize Sailing School
Saturday, April 16th, 2016
Press Release – Belize Sailing Center – April 11, 2016 – On Sunday, April 10, 2016, two vivacious and highly decorated Laser Sailors, Hanne Weaver, 20, and her brother Ted, 23, visited the Belize Sailing Center and provided inspirational training and racing for the school's aspiring young Laser sailors.
Among Hanne Weaver's many accomplishments is winning the 2012 USA Junior Female Single-person-Dingy Championship at age 16. She currently ranks 3rd among US senior women Laser Radial sailors and is in a very strong position to make the 2020 Women's US Olympic Laser sailing team. Hanne is putting off full-time college to pursue her Olympic goal; she is an assistant manager at a Seattle, Washington USA branch of West Marine, the large and prestigious US water sports outfitter and retailer. West Marine fully supports Hanne's sailing ambitions and allows her time off to pursue them.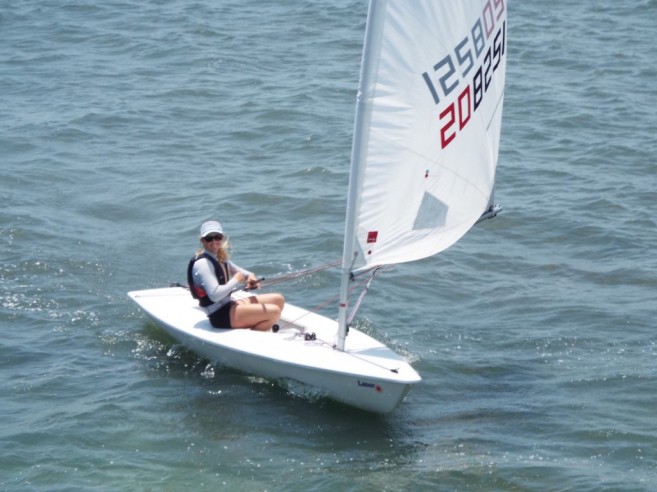 The Belize Sailing Center was fortunate that Hanne and her family took the time for their visit. By the end of February, Hanne had already competed in two international regattas – the Miami Olympic Class Regatta followed by the European Laser Senior Championships in the Canary Islands.
Her older brother Ted has been out of Lasers for some years and sails other classes, but when younger he sailed into the 3rd spot in the junior men's USA Laser rankings.

On Sunday, April 9, Hanne and Ted responded to the challenge to race against some of the Belizean Sailing School's sailors. A friendly 3-race regatta was arranged. It took place in deceptively shifty 10-12 knot winds over clear waters off Caribbean Villas Hotel in San Pedro. The challengers were Belize's own Blanca Velasquez, 15, who competed well in Lasers in last December's 2015 International Youth Laser Radial World Championship Regatta in Langkawi Malaysia, Sarah White, 15, of San Pedro, who got her own Laser last year, and Everald Dixon,15, who has been sailing Lasers for only six months. Competing in his own Laser against these five young entrants was Andy Milner, 48, the wiley old vet who had trained the Belizean racers in Optimist Dinghies. He is now the Belize Sailing School's Founder and Managing Director. In brief, it was a one-day multi-generational, 3-race, mini-regatta. Winner-take all… against 2 of the world's best. What a thrill.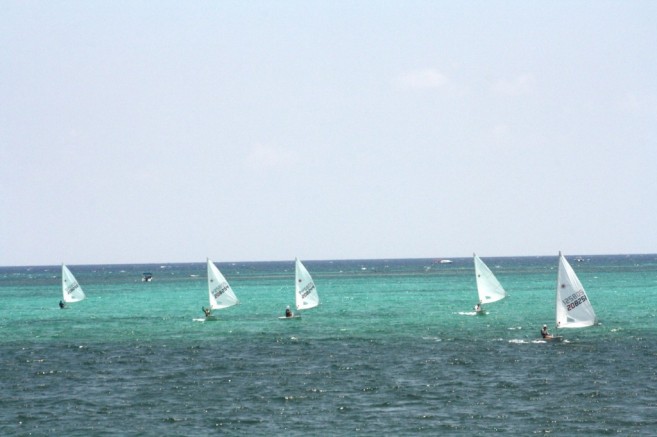 Two of Belize's top Optimist sailors refused to be left out of the chance to be on starting lines against two of the world's finest sailors, so National champ Kevin Velasquez and 3rd ranked Caroline Sersland joined the regatta in an Optimist match race, which Caroline won.
Not surprisingly, Hanne Weaver won the Laser regatta sweeping first place in all three races. Brother Ted ranked second with two 2nd places and a 3rd. Blanca Velasquez had managed to edge him out and take the number 2 spot in the second race. Andy Milner finished the regatta in 3rd place, ahead of all of his former Optimist Dinghy students. Sarah White finished fourth. San Pedro's own delicious Kakaw Dark Chocolate with Nibs bars were awarded as trophies to Hanne, Ted, and Andy.

Later, the sailors all gathered around Hanne, asking questions, getting advice on boat handling and tactics, and learning what it is like to be at her level in the sailing world and how to get there. Sarah White doubtless spoke for the other Belizean sailors when she said that the time spent on the water and on land with the Weavers was an inspirational experience and revealed that Hanne had given her several tips that improved her racing skills then and there.
Follow The San Pedro Sun News on Twitter, become a fan on Facebook. Stay updated via RSS