Gabriel Nuñez Jr is a member of Belize's National Volleyball Team
Saturday, September 17th, 2016
For the first time ever, Belize will be hosting the International Volleyball Federation's World Championship qualification tournament taking place on September 24th through the 30th in Belize City. On Wednesday, September 14th, the Belize Volleyball Association (BVA) introduced Team Belize to the entire country via a press conference. Team Belize will be representing the Jewel at the high level competition. One of the key players on the team is San Pedro's own Gabriel Nuñez Jr.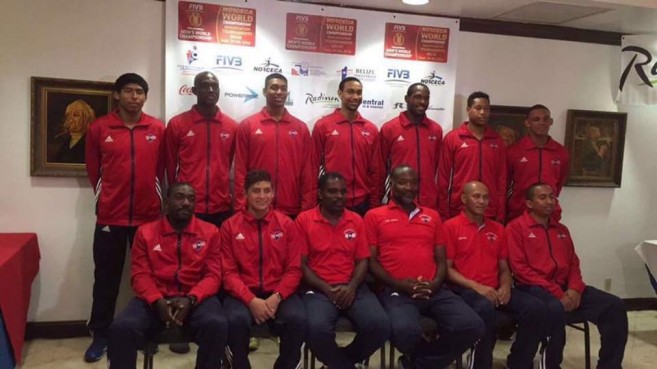 Volleyball has always been Nuñez' sport of preference, and as captain of the San Pedro High School Volleyball Team, helped his team win many regional championship titles. That leadership and excellent performance in the discipline has now given Nuñez the opportunity to represent Belize at an international level.
The tournament is the first stage in an international competition to earn a place in the Volleyball Men's World Championships, which according to the BVA's President Allan Sharp, is the equivalent of the FIFA World Cup. Belize will be hosting teams from the Dominican Republic, Panama, Nicaragua, Guatemala, El Salvador and Honduras. All seven teams will be competing in a round robin tournament; 3 matches per day for 7 days, for 21 total matches of world class volleyball.
As the host country, Team Belize will have a lot of pressure to do well, but it is not a big concern for the BVA and coaching staff. "I think the fan base will be important and that same fan base will be important in motivating our guys," said Sharp. "It's going to be a battle."
The Belize National Volley Team comprises of Gabriel Nuñez Jr, Karym Coleman, Elton Anderson, Ernan Caliz, Radin Santos, Ean Galvez, Yserri Palacio, Bryton Codd, Marlon Salazar, Francis Hauze, Keith Castillo, Edgar Martinez, Daril Avila, and Jiovanny Gonzalez. The team has been training since February of this year with Cuban coach Prof. Delio Arruebarrena and Belize coaches Albert Humes and Wallace Tillett.
Games will be played at the Saint Catherine Academy Multi-Purpose Centre. Tickets will be on sale at $10 for adults and $5 for children under 12. The matches will be live streamed on the BVA's Facebook page, as well as on Youtube.
Follow The San Pedro Sun News on Twitter, become a fan on Facebook. Stay updated via RSS