Kent Gabourel & Jordan Santos in Olympic Day run
Friday, June 16th, 2017
Kent "Bob" Gabourel won third place in the Open category and Jordan Santos and placed fourth in the 14-19 years male category when the National Olympic and Commonwealth Games committee held its annual Olympic Day run on the streets of downtown Belize City on Sunday, June 11th.
Kent "Bob" Gabourel clocked 15:56.84 minutes in two laps over the course from Scotiabank parking lot on Regent Street to the first turning point at Mule Park in front of Belize Bank, then down Albert Street to Isaiah Morter monument and around the Yarborough Cemetery, returning to the St. John's Cathedral, and on to Regent Street to the finish line.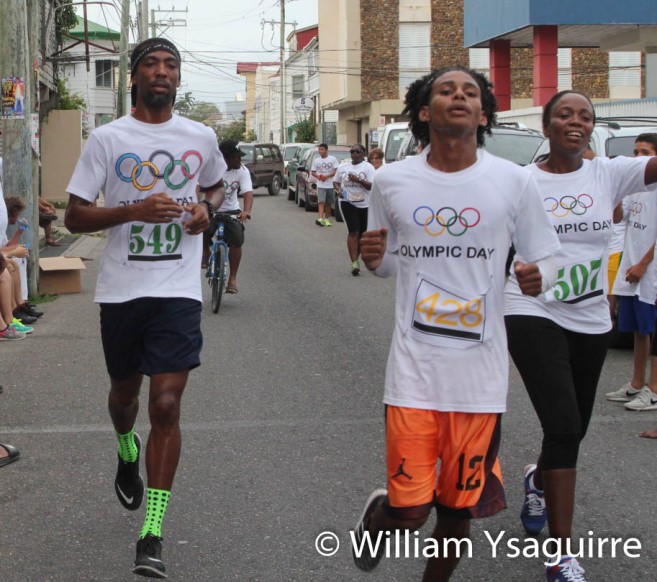 Albert Davis, of the Belize National Coast Guard who ran the Security Forces Torch Run in Nevada USA earlier this year, finished first in 15 minutes and 20-year-old Amir Ramos took second place a minute later, just a stride ahead of Bob.
Megan Martinez clocked 23 minutes over the same course to win the Female open category, while Juana Avila finished a minute later to win second place. Verenise Rodriguez finished third in 26 minutes.
Eaton Panton clocked 18 minutes over the two laps to win the Masters over 44-years category, while Louis Hauze ran second, coming in 100 yards behind, and Wilber Tito was third.
Belize High School principal Jamie Chanona Usher completed the two laps in 21 minutes to win the Female Masters Over-44 years category, with Christine Norlay Nichol running second, and attorney/tennis player Samira Musa-Pott was third
Ashontie Carr outsprinted her twin sister Ashantie, both of Belize High School, to take first and second place respectively in the 14-19 years category, keeping their father Joseph Carr's running tradition alive; while Belinda Usher of Gwen Liz High School ran third.

Jaheed Valencio won the 14-19 years category, with Ilyich Manzanero taking second place and Louis Hauze of St. John's Junior College ran third.
Kelly Liu of Belize Elementary School won the Female 10-13 age category, who ran one lap over the course, while Kayla Young was second and this year's primary schools volleyball MVP Jayda Smith of Hummingbird Elementary ran third.
Dion O'Brien won the Boys' 10-13 age category, with Allen Valencio – second and Charles Young – third.
Khajaun Madrill won the under-10 age category with Albert Avila taking second place and Alex Jenkins placing third.
Eight year old Amira Gill won Female Under-10 category, with Abigail Sharp – second and Dasialynn Thurton – third.
Over 150 athletes turned out to run, and the NOC presented medals to the top three winners in each age category, and all runners received a souvenir T-shirt and a certificate of participation. Corporate sponsors, Bowen & Bowen Ltd, also provided Crystal Water for the runners en route, and a snack and refreshment at the end of their run.
Follow The San Pedro Sun News on Twitter, become a fan on Facebook. Stay updated via RSS