Another victory for the San Pedro Tiger Sharks!
Tuesday, March 20th, 2018
It was another great win for the San Pedro Tiger Sharks on Friday, March 16th as they netted 86-75 points over the Orange Walk Running Rebels. The game was held at the Orange Walk multi-complex, where the island team easily dominated most of the match, landing their eighth consecutive victory in the 2018 season of the National Elite Basketball League (NEBL).
Despite the Running Rebels' control of the first quarter, the Tiger Sharks overcame them as halftime neared. Jihad Wright led the island team with a series of straight scores that left the home team with little opportunity to close a 43-29 gap as the halftime whistle blew.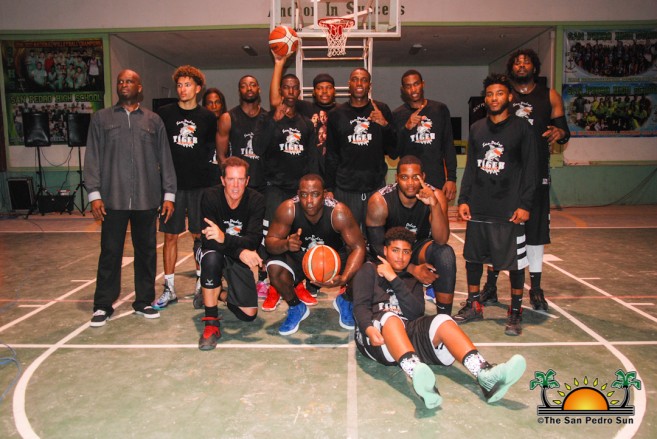 The Running Rebels tried their best to catch up in the third quarter, but the island squad held on to a slim margin. Tiger Sharks' Martevious Adams was very crucial in this second half of the match, alongside Raoul Roches and captain Jamal Kelly. The game grew intense during the last minutes as the home team continued to press in an effort to turn the tables in their favour, but the Tiger Sharks kept dominating. By the time the last seconds of the final quarter were up, the island team had the victory with a final score of 86-75.
The other weekend game saw Dangriga Dream Ballers defeating Belize City Defenders 72-65.
After nine weeks of intense basketball action in the 2018 NEBL, the San Pedro Tiger Sharks are the first to clinch a playoff berth, after winning eight of the nine games played. With a total of 17 points, they continue to lead in the competition, followed by Dangriga Dream Ballers with 15 points and Smart Belize Hurricanes in third with 11 points. The Dangriga Dream Ballers will clinch a playoff berth with a win or a loss by the Belmopan Bandits, while Smart Belize Hurricanes' possibilities to get a spot on the playoff berths will depend if they win two of their remaining five games. One of these wins will have to be against Belmopan Bandits.
The schedule for the upcoming games for this Friday, March 23rd is as follows:
DigiCell Belize City Defenders vs. Orange Walk Running Rebels in Orange Walk Town
San Pedro Tiger Sharks vs. Smart Belize Hurricanes in Belize City
Belmopan Bandits vs. Dangriga Dream Ballers in Dangriga Town.
On Saturday, March 24th the annual NEBL All-Stars competition will be held in Orange Walk Town. Coach Rico Black, along with Martevious Adams and Jihad Wright, will be representing San Pedro in the tournament that starts at 7:30PM at the Orange Walk multi-purpose complex.
Follow The San Pedro Sun News on Twitter, become a fan on Facebook. Stay updated via RSS