Referee Ever Corado attacked in-field during football tournament in San Pedro Town
Friday, November 16th, 2018
On Sunday, November 4th, during a semifinal game of the 2018 Copa San Pedro Football Tournament, 29-year-old Referee Ever Corado was punched in the forehead by 20-year-old player Ashton Lopez of San Mateo F.C, after the referee issued a red card to San Mateo F.C goalkeeper Kia Zetina. The semifinal match was between San Mateo F.C and Vince Assassins, and it was tied at 1-1, however at minute 44, Vince Assassins player, Chris Burke nailed a goal taking a 2-1 lead. Zetina started to challenge the referee's decision, pointing and loudly arguing, stating that it was not a fair goal. Due to his unsportsmanlike behavior, he was issued a red card and asked to leave the field.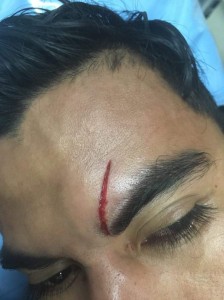 Corado told The San Pedro Sun that Zetina didn't want to leave, and so one of the two police officers present went into the field to escort him out. It was at that instance that Lopez confronted Corado, questioning why the goalkeeper was given a red card. He explained the reason to Lopez several times and also stated that the game will continue after the goalkeeper is out of the field. Lopez left and then came back unexpectedly, punching referee Corado on the left side of his forehead, causing him a cut wound of approximately one inch and half.
Lopez was then also escorted out of the stadium, while Corado was assisted by his colleagues as he was bleeding. For further assistance, Corado was transported to Ambergris Hopes Clinic, where Dr. Daniel Gonzalez classified it as a "Wounding."Corado further told The Sun that a copy of the medical report was handed over the San Pedro Police Department, where he filed a report on the incident.
San Pedro Sports Councillor Hector "Tito" Alamilla also spoke to The San Pedro Sun, stating his in full support for referee Corado. "On behalf of San Pedro Sports Committee (SPSC), we have decided to ban Ashton Lopez from any local tournament, whether it is football, basketball, softball among others," said councilor Alamilla. He further stated that Lopez will also face a temporary ban from the stadium on behalf of the National Referee Association of Belize and local branch.
Aggressive attacks to towards referee by players has become a more common problem in Belize. On Sunday, August 12th, 27-year-old Belizean laborer Darnell Mossiah punched 32-year-old referee Yuri Daniels after she issued him a red card during a football game in San Andres Village, Corozal District. Mossiah was formally arraigned on a charge of wounding at the Corozal Magistrate's Court, where he pleaded guilty and was fined $2000. He further faced a five-year ban from all the National Sports Council of Belize (NSCB) owned sporting facilities.
Lopez is presently under Police custody and he awaits charges for wounding towards referee Corado. The SPSC takes this time to remind all island residents that any acts of violence towards any sports official will not be tolerated.
Follow The San Pedro Sun News on Twitter, become a fan on Facebook. Stay updated via RSS