Reintroduction of ADO and Fuente del Norte Operational Services in Belize
Wednesday, April 19th, 2023
The Department of Transport announces Cabinet's decision to approve the reintroduction of Fuente Del Norte and ADO bus services in Belize. Pre-pandemic, these bus companies offered premier services to Belizeans and international visitors transiting across the Guatemalan and Mexican border points, thereby improving Belize's connectivity to the region.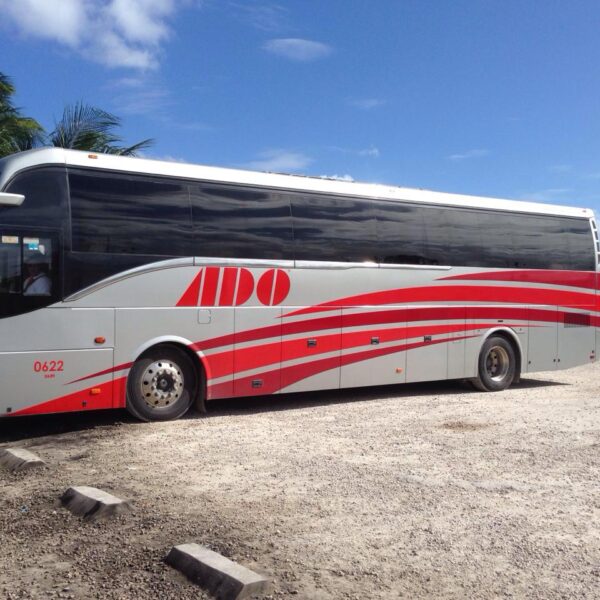 ADO will be providing services from Belize City to Merida and Cancun starting on the proposed date of May 1st, 2023. Fuente Del Norte will be providing services from Belize City to Flores and Guatemala City starting on the proposed date of April 21st, 2023.
While the economic and social gains of reinstating these services are far-reaching, the Ministry of Youth, Sports & Transport vehemently commits to safeguarding the business of local bus operators. As a result, both Fuente Del Norte and ADO will be operating under strict conditions. These are as follows:
1. International Road Service Permit:
a. All international bus service providers MUST obtain a Road Service Permit to operate in Belize.
b. The permits must be paid in full before commencing operation. Any arrears can result in the cancellation of the permit by the Department of Transport.
c. A permit will be issued for every run per day.
d. Failure to produce a Road Service Permit at a checkpoint can result in a fine being levied against the operator for the offense.
2. Operational Requirements:
a. Operators crossing border points MUST have a manifest of passengers on board.
b. Companies ARE NOT allowed to pick up local commuters en route to their final destination. ONLY TICKETED passengers travelling to Mexico or Guatemala are allowed to be transported.
c. ADO bus company has been given permission to commence services at the Belize City bus terminal.
d. Fuente Del Norte bus company will have designated stops in San Ignacio and Belize City outside of the department's terminal spaces.
Contravention of any of these conditions outlined carries a fine of $500 or immediate cancellation of the Road Service Permit.
For more information or queries, please contact the Department of Transport at 802-2038 or [email protected].
Follow The San Pedro Sun News on Twitter, become a fan on Facebook. Stay updated via RSS