EU to lift quotas on sugar
Friday, March 31st, 2017
The sustainability of Belize's sugar industry is now uncertain as the European Union (EU) is seeking to lift quotas on cane sugar, and exchange it with beet sugar. Sugar amounts to 60% of exports in Belize, and during 2015 and 2016, around 1.6 million metric tons of mostly raw sugar was exported to the EU. That amounts to half of the EU's sugar imports, and if revoked, it can have devastating results to the country's agriculture sector. The Belize Sugar Industry is now faced with the challenge to become more competitive with their prices, along with the task to produce more quality sugar.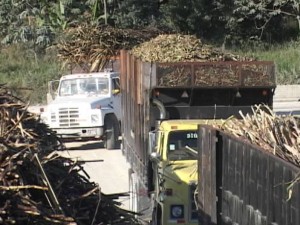 According to Jose Alpuche, Chief Executive Officer at the Ministry of Agriculture (MOA), the announcement of the United Kingdom leaving the EU led the MOA to rethink its possibilities. "We have been saying that possibly in October 2017, we would have had liberalization of sugar production in Europe. That idea is what is coming to the forefront now. For this reason, we have been pushing very hard to encourage the farming community to improve competitiveness…We know that beet sugar is produced in Europe, and it has advantages of being produced at home, and not having the cost of transportation. However, we will not lose market access. When it relates to the trading regime, we have duty free, quota free access to the European market," said Alpuche.
The MOA states that they will keep pushing for reform, especially at the farm level, in order to improve competitiveness. They have been discussing with the industry stakeholders to clean up the industry, and provide better delivery mechanisms. While there's plenty of room for improvement, the MOA is working hard to ensure the survival of the sugar industry.
Alpuche also stated that local farmers need to diversify their crops in order to stand out among European sugar producers. "As it relates to market diversification, the European market will get much tighter…However, we are looking as an industry, and as a region, to loop the market within the Caribbean Community (CARICOM) Regional Integration states as another means of long term viability of the sector," said Alpuche.
The MOA said they will continue to produce 140,000 tons of sugar cane, but is seeking to use half of the land used to cultivate sugar. If it's possible, the MOA will utilize the free space to focus on improving other exports, which can provide an alternative way to sustain the country's economy.
Follow The San Pedro Sun News on Twitter, become a fan on Facebook. Stay updated via RSS