The Ministry of the Blue Economy sets five-year strategic management plan
Tuesday, July 27th, 2021
The Ministry of the Blue Economy and Civil Aviation has introduced its five-year strategic management plan to achieve sustainable economic development for healthy marine environments and a strong economy derived from the wealth within the sea. The ministry counts with the support of an advisory body known as a 'Cluster,' providing high-level guidance and direction during the initial stages of establishing a framework and successfully executing a sustainable blue economy for the country.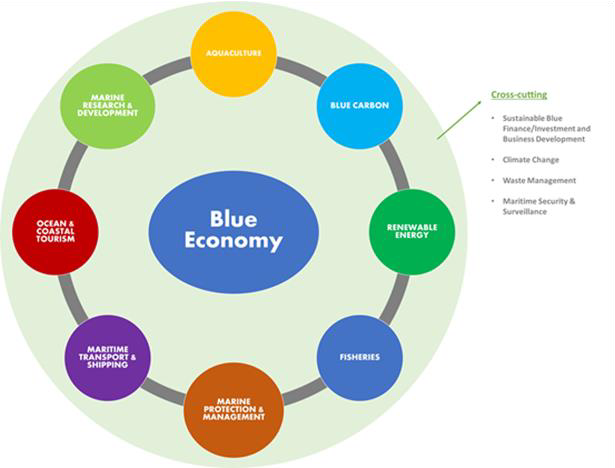 Chairperson of the Cluster, Chief Executive Officer in the Ministry of the Blue Economy, Kennedy Carrillo, indicated that this advisory body has already played an integral role in articulating a clear and impactful vision and mission for Belize's Blue Economy. According to Carillo, it includes support for formulating a coherent, robust, and innovative strategic plan for sustainable blue economy management over the next five years.
This plan includes input from experts and the best available knowledge to identify current needs and new economic opportunities Belize's seas has to offer while ensuring that there is little to no degradation to the local environment. The sustainable plan aims to benefit those earning a living from the sea and the country overall. Cluster members include representatives from fishing cooperatives, the private sector, international and local marine, and aquatic environmental organizations.  The advisory body also comprises of key members of the public sector, sister ministries, and agencies such as Ministry of Economic Development and BELTRAIDE, Ministry of Tourism and Diaspora Relations, Ministry of Sustainable Development, Coastal Zone Management Authority and Institute, and the Belize Fisheries Department.
At a recent Cluster meeting, Belize's blue resources/riches were discussed and analyzed. The Cluster will guide the strategic plan for a thriving blue economy and has been busy identifying eight main pillars for the program to be fruitful.  These include aquaculture, blue carbon, renewable energy, fisheries, marine protection and management, maritime transport and shipping, ocean and coastal tourism, and marine research and development. This all adds to sustainable blue investment and business development, climate change, waste management, maritime security, and surveillance.
Minister of the Blue Economy, the Honourable Andre Perez, expressed that marine reserves are an important fisheries management tool and conservation. It is geared to support viable populations of threatened species, sustain coastal fishing communities, and attract significant blue economy investment and tourism to Belize. Perez added that marine reserves are the critical source securing the economy and Belizean's life and livelihood either via fisheries development or tourism. His ministry stressed that the blue economy and tourism are vital economic pillars for Belize, providing jobs and foreign exchange earnings.
Moving these potential economic pillars forward, consideration for the country's obligations and responsibilities based on international, regional, and national frameworks for marine and aquatic environmental protection, management, and development will be made.
Follow The San Pedro Sun News on Twitter, become a fan on Facebook. Stay updated via RSS