Dia de San Pedro Activities start with history and art
Thursday, June 27th, 2013
The Dia San Pedro events in honor of the island's patron saint kicked off on June 21st. Planned events include religious, cultural and festive functions throughout ten days. While the novenas and other religious events have been ongoing, the cultural aspect was launched on Monday June 24thwith a lecture on the history of the island.
Director of the Institute of Archeology, Professor Dr. Jaime Awe imparted a two hours long lecture to members of the San Pedro Town community. Dr Awe gave an overview of the early inhabitants of Ambergris Caye and some of the events they were engaged in. "There were more than 20 sites all over Ambergris Caye and the prehistoric Maya used to exploit the resources for shell products, salt through a process call Sal Cosida (boiling water until salt particles remain), for fish product and other minor items," said Awe. Evidence of these findings can be supported by the remains of fish and other shell products found in neighboring mainland sites. While the Maya had continuous occupation of Ambergris Caye, Dr Awe explained that a re-occupation took place just before and during the 1847 Caste War. Those two elements in the historical timeline of the island still continue to influence the traditions of the island, but more importantly said Awe, their ancestors continue to live on the island.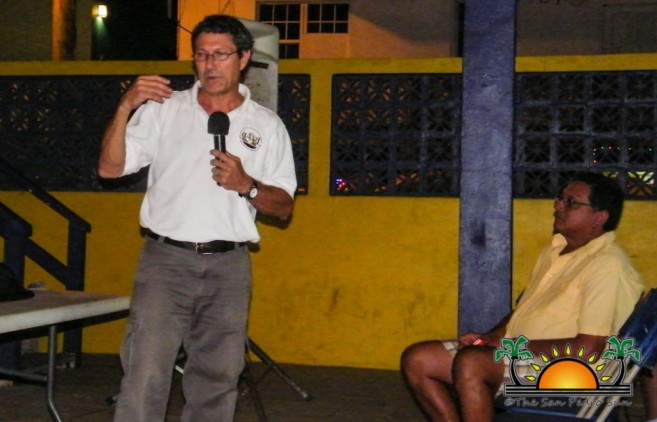 Activities continued on Tuesday June 25th with a display of artwork from artists from southern Mexico and Belize. The three-day event was launched at the San Pedro Town Lions Den with a short ceremony where the artists were welcomed to the island by Mayor Daniel Guerrero.During the short ceremony, the artists also discussed and explained the concept of a historical mural that will depict the history of San Pedro Town.
Lead mastermind of the historical mural is Professor Giovanni Avashador, the Director of the Tulum, Mexico House of Culture. He explained that the mural will showcase the collaborative talent of various artists by painting the history of San Pedro Town. "This is history in the making and we are honored to be a part of it. Events such as these make us understand that despite the boundaries, the history that exists between the two countries brings us together as one people. The mural will show how we are related to the people of this island," said Avashadur.
Mayor Guerrero was invited to symbolically start the mural following the ceremony. While the mural will be a gift to the people of San Pedro Town, it will be displayed in major events in the southern parts of Mexico during special functions. The mural of the history of San Pedro will be unveiled during the official ceremony for the Dia de San Pedro celebration on Friday June 28th. All are invited to attend.
Follow The San Pedro Sun News on Twitter, become a fan on Facebook. Stay updated via RSS