GOB passes law to decriminalize 10 grams of marijuana
Thursday, November 9th, 2017
As of Thursday, November 2nd, the possession of ten grams or less of marijuana (cannabis) in Belize is legal. The law decriminalizing the drug asks consumers who smoke it to do so in the confines of their home. The new law only applies to adults and any intentions of growing and retailing it will be considered a felony.
The intentions to decriminalize a small portion of the said drug was made public by the Government of Belize (GOB) on the 18th of August of this year. The Government introduced a new bill to amend the Misuse of Drugs Act, following the submission of a report in 2015 by a Decriminalization of Marijuana Committee formed in 2012. After looking at the facts presented, GOB decided to introduce this new step towards its control.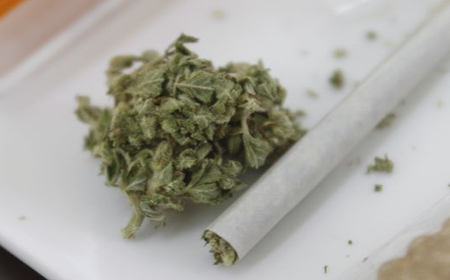 According to Attorney General Michael Peyrefitte, the passing of the law also served to give people a break by decriminalizing a small amount of marijuana. "But like any other drug, please enjoy it responsibly and know that we want to keep it, like any other drug, away from children," said Peyrefitte.
Peyrefitte's comments were met with opposition by the Council of Churches. They strongly disagree with the law and according to Pastor Lance Lewis, President of the National Evangelical Association of Belize, the move will have negative repercussions on the youth and the Belizean society. "I am against the smoking or ingesting of marijuana," says Lewis. "It is going to create more problems for our society." The pastor made it clear that he was in support of marijuana usage for medicinal purposes and use of it as hemp.
Lewis also accused the government of ignoring their arguments prior to the decriminalization of the drug. This outcry by the churches was met with a bold answer by Peyrefitte who bluntly said that the church has no moral authority to judge weed smokers. Peyrefitte further criticized them, pointing out that they are not opposing the sale and consumption of cigarettes and alcohol, which according to him, are more dangerous than marijuana.
On Ambergris Caye, residents are weighing in with different views. Many island residents are happy with the new law as it allows them to enjoy their drug of choice. Others see it as a negative influence on the youth, who will more likely become weed smokers at an early age. "You can never satisfy everyone," said a marijuana user. "But I am glad they decriminalized it. I don't cause any trouble to anyone, so it is not that negative as others think, marijuana is part of my daily life."
Authorities on the island have been monitoring activities more diligently ever since the law went in to effect but they are not all optimistic. In a previous interview, Officer in Charge of the Coastal Executive Unit Superintendent Henry Jemmott stated that the introduction of the law will have both positive and negative effects on the island. "We will have more time to deal with bigger cases rather than being behind all these people for possession of a small amount of marijuana," he said. "On the other hand, the demand of marijuana might increase across the island, bringing about other issues such as increased violence and more marijuana vendors etc.." he did not clarify the cause of expected 'violence.'
So far no incidents have been reported on Ambergris Caye due to the decriminalization of the drug, but, authorities remain vigilant as the new law settles in. They have also indicated that their officers have been briefed on the situation, and whenever they are on patrol and find someone in possession of marijuana they will determine if it is ten grams or less. In case of any doubts, the person found with the drug will be taken to the police station, where it will be weighed. If it is determined to be ten grams or less, the person will not be charged and will be released.
Follow The San Pedro Sun News on Twitter, become a fan on Facebook. Stay updated via RSS