After 18 years under a UDP leadership, San Pedro has a PUP Town Council; Wally Nuñez is Mayor
Thursday, March 4th, 2021
The People's United Party (PUP) slate, led by Mayoral candidate Gualberto 'Wally' Nuñez, was declared the winner of the 2021 Municipal Elections held on Wednesday, March 3rd in San Pedro Town. The swap in power brought an end to almost two decades of control by the United Democratic Party (UDP), which has governed the island since 2003.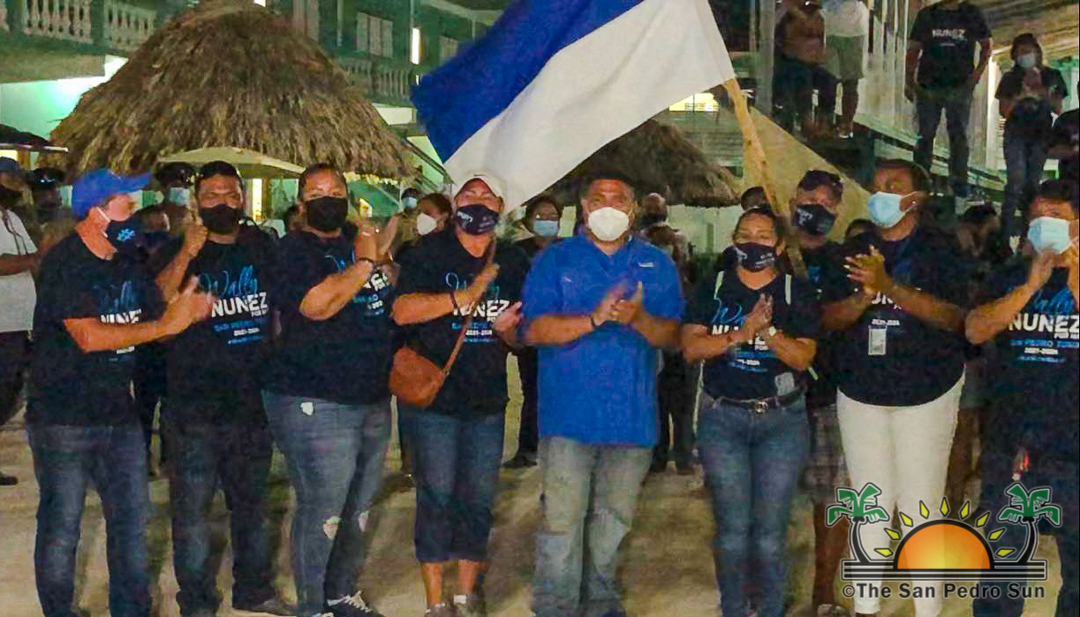 Nuñez and his six councillors, Johnnia Duarte, Adaly Ayuso, Marina Kay, Jose Castellanos, Ernesto Bardalez and Dianeli Aranda thanked islanders for the trust in giving them the opportunity to serve San Pedro for the next three years.  In his first words as Mayor elect, Nuñez said his team will count with an eighth member, beside his six councillors. "We also have Mr. Andre Perez as our Area Representative," he said. "We thank the people of San Pedro for that vote of confidence, we will work for you guys, and we are here for you. Tomorrow is a new day, we are going to the town council to start working." Nuñez said that one of the first things in his agenda is to start working for the people and also conduct an audit of the town council, looking at the administration headed by former Mayor Daniel Guerrero.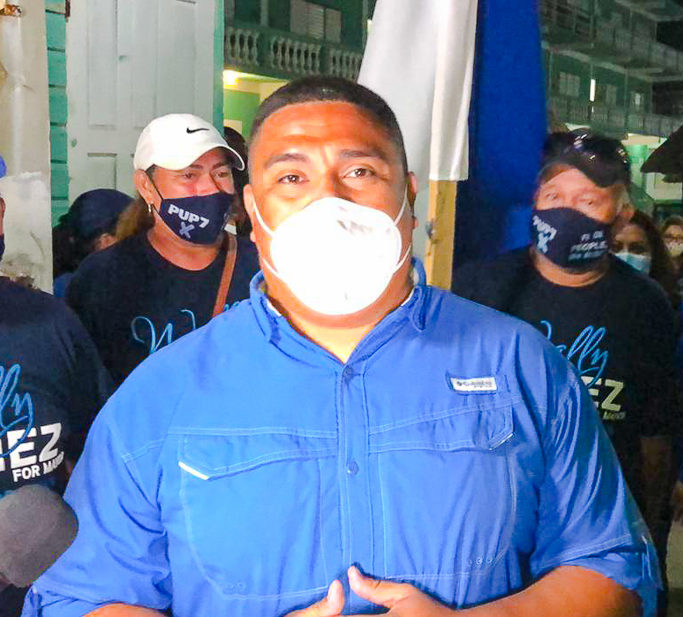 The anticipated political event saw polls opening at 7AM, with a surge of voters in the first 35 minutes. Due to the current COVID-19 pandemic, there were polling stations with the first at the San Pedro High School and the other one at the San Pedro Roman Catholic Primary School. After 7AM, the turnout throughout the day slowed significantly, fluctuating in the last hours before polls closed. Both PUP and UDP teams claimed that their machinery was well-oiled. PUP Mayoral candidate Wally Nuñez said his team will deliver on the changes islanders have been waiting for for over 18 years. He reiterated transparency and accountability.
UDP Mayoral candidate Ruben 'Rux' Gonzalez, a past councillor, said his team of fresh new councillors into the political arena was a sign of a new and dynamic administration. He was confident that people would give him and his brand new team the chance to continue serving San Pedro.
After polls closed at 6PM and the counting started, unofficial reports placed the PUP ahead of the race. At some point, it was believed that the new town council would include councillors from both parties, but at the end of the process, it was a full PUP slate.
San Pedro reports second highest turnout of voters
Out of the 7,983 registered voters, 69.22% the electorate came out and cast their vote. This was the second highest in the country after Corozal Town reported a 72% turnout. The final tallies of each PUP and UDP slates from Elections and Boundaries as presented by Returning Officer Martin Alegria are:
PUP Slate
Mayor Gualberto 'Wally' Nuñez 3,462 votes
Councillor
Dianeli "Danni" Aaranda –3,231 votes
Ernesto Bardalez – 2,994 votes
Jose "Cas" Castellanos – 3,080 votes
Marina Kay – 3,146 votes
Adaly Ayuso – 3,099 votes
Johnnia Duarte — 3,026 votes
UDP Slate
Mayor Ruben "Rux" Gonzalez – 1,701 votes
Councillor:
Jazelie "Jaz" Azueta — 2,092 votes
Lorraine Reid — 1,952 votes
Richard "Richy" Cordova – 2,007 votes
Kent "Bob" Gabourel — 2,303 votes
Raul "Coco" Gonzalez – 1,969 votes
Marceli McCorkle — 2,072 votes
Despite a low turnout of voters of 55% countrywide, the PUP had a major victory, grabbing 65 of the 67 councillor/mayoral seats in this year's municipal elections. The various elected councils are expected to be sworn in after the National Heroes & Benefactors Day holiday, being observed Monday, March 8th.
The country also saw a by-election in the Corozal Bay area for a new Area Representative, following the COVID-19 death of former PUP elected member David 'Dido' Vega. The seat was contested by Corozal Town former Mayor Hilberto Campos for the UDP. Vega's sister Elvia Vega-Samos, under the PUP, took the challenge, emerging victorious with a total of 2,659 votes against Campos' 1,428.
Follow The San Pedro Sun News on Twitter, become a fan on Facebook. Stay updated via RSS