House fire in San Mateo still under investigation; help needed for displaced family
Wednesday, September 20th, 2023
A fire in the San Mateo subdivision, north of San Pedro Town, left Elena Lino and her family homeless over the weekend. Lino, who is blind and diabetic, is raising her three grandchildren with her son-in-law, lost everything and are now in great need. A Go Fund Me account (https://shorturl.at/dxUZ8) was created to raise funds and help Lino. For further information on how to help, please email [email protected].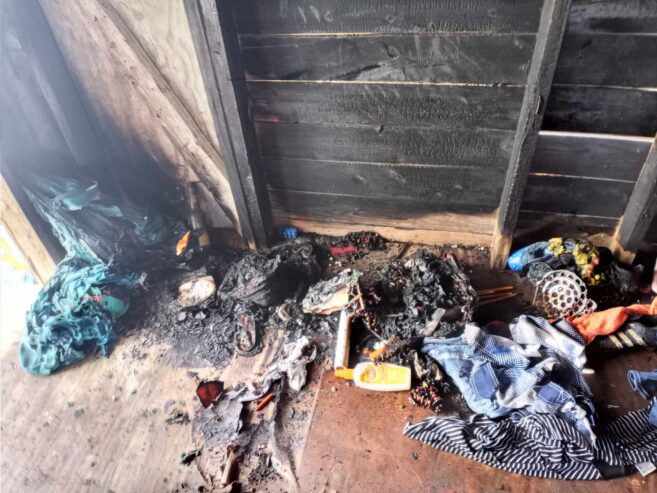 The family's 5lb watch dog named Bella was also affected by the unexpected blaze that took away their home, and while arson is believed to be the cause, the island's Fire Service cannot confirm this allegation yet. The San Pedro Fire Service did not provide much information about the incident but said they will continue investigating and try to verify the exact cause of the blaze. They have been hearing arson reports from the community but are yet to confirm this allegation. As the firefighters investigate, police are reportedly looking for one person for questioning.
Lino lived in a deplorable area of the San Mateo subdivision accessed by improvised London bridges over polluted water. According to those close to the family, Lino does not receive disability assistance from the government and makes a living by selling bracelets. She ended up with the responsibility of caring for grandchildren along with her son-in-law after her daughter, Melanie Lino, suddenly passed away. Melanie, 30, was found dead at the Central Park Hotel in downtown San Pedro on August 10th. The body showed no signs of physical violence of injuries and the cause of death was reportedly due to liver medical conditions.
Donations welcome in any form
The family can be assisted in other ways besides financial donations. Lino's friends say they welcome donations of lumber, PVC piping, and electrical wiring to start building a new home. The family also needs clothing, school uniforms for the children (primary and high school), and household goods. Currently Lino is staying at a temporary place, thus, the urge to start building or finding them a more stable home. Lino has been shown plenty of community support and those concerned about the well-being of the affected family welcome volunteers to assist in upcoming fundraising efforts.
Follow The San Pedro Sun News on Twitter, become a fan on Facebook. Stay updated via RSS