Protected Nurse Shark intentionally killed in San Pedro
Thursday, October 12th, 2017
On Sunday, October 8th, Hol Chan Marine Reserve posted pictures of a Nurse Shark found dead on a beach on Ambergris Caye. The sight caused much outrage in the environmental community, as the animal appeared to have been hacked in half. Nurse Sharks are one of two species of sharks that are protected in Belize, and as such any poaching of this animal is illegal.
"The public is reminded that nurse sharks are fully protected under Fisheries Law. It is an offense, it is illegal to kill a Nurse Shark in Belize. Nurse Sharks are one of the main attractions for tourists coming to San Pedro. The animal in these picture was found dead on the beach, and it was clear that someone had cut the tail off. It was intentionally killed," said a Hol Chan representative.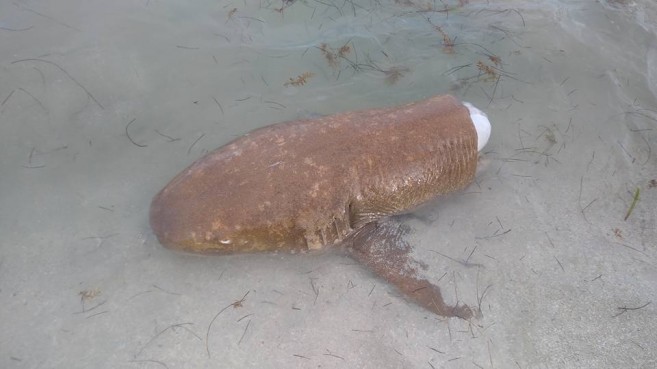 Nurse Sharks are among the most popular animal attractions in Belize. Each year thousands of visitors partake in snorkeling and diving expeditions in hopes of seeing them in their natural habitat. In a further effort to protect this species marine reserves across the country have been established in areas where Nurse Sharks are known to live in. One of the most popular marine reserve for Nurse Sharks is Shark Ray Alley just twenty minutes from San Pedro Town. This top tourist attraction is home to hundreds of Nurse Sharks, and brings in valuable income to the Belizean economy.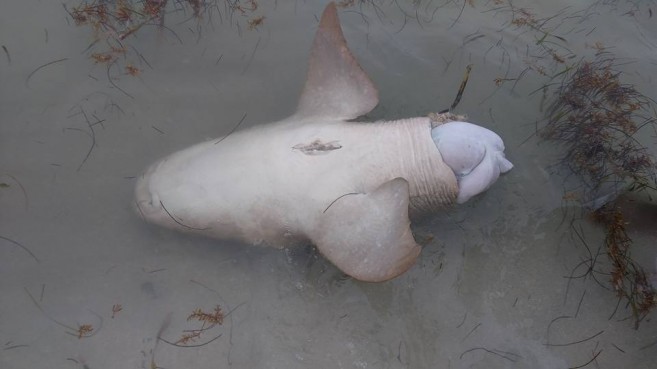 The common sentiment among conservationists is that "live sharks and rays generate far more income to a country than shark fishing for meat". However, shark fishing is legal in Belize from October to July of each year. Most of the product fished during the season is not for consumption in Belize, as shark meat products are mostly exported to countries such as Guatemala during the Lenten Season. With no proper regulations in place, often times shark species are fished out of season, diminishing the wild population.
Authorities are requesting the public to report anyone seen killing or in possession of the two protected shark species in Belize, Nurse Sharks and Whale Sharks, as well as anyone in possession of, or fishing sharks during the closed fishing season from August 1st to October 1st. Reports can be made to the Fisheries Department at 224-4552 or at the Hol Chan Marine Reserve Office at 226-2247.
Follow The San Pedro Sun News on Twitter, become a fan on Facebook. Stay updated via RSS